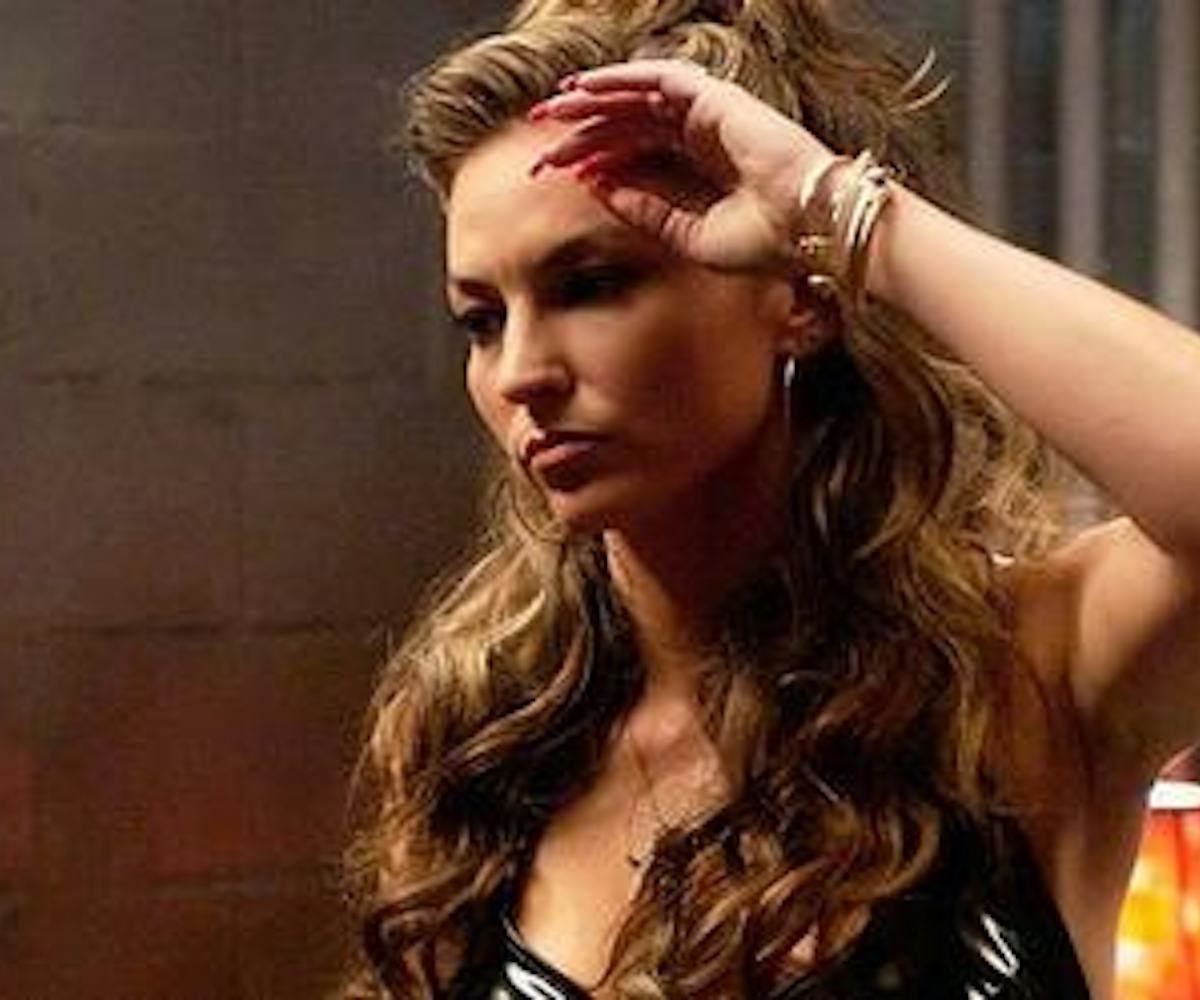 Celebrating The Fashion Legacy Of Adriana La Cerva
A Costume Party tribute to our favorite 'Sopranos' character
The Sopranos—that game-changing, enduringly great, surprisingly funny mob drama—recently celebrated its 20th anniversary. Countless words have been written about the show's legacy, including how the fashion featured onscreen is a huge part of how the distinctive New Jersey mafioso world was created.
Looking back, the fashions—from the men's tracksuits to the women's perilously long nails—offer a perfect time capsule of the late-'90s and early-2000s trends, and costume design is one of the most powerful ways the show navigates issues of class and performance of identities. One could easily write a book on the fashions of the entire ensemble cast of The Sopranos, but perhaps the most recognizably stylish character is the tragically fated Adriana La Cerva, played with a memorable combination of sass and pathos by Drea de Matteo. So, in celebration of the show's anniversary, we're commemorating some of our favorite looks of hers.
Adriana grew up around the mob and, as an adult, is enmeshed in the garish lifestyle. She has a taste for animal prints, and her accessory game is consistently on-point. It would be easy for her to be a caricature of a vapid moll, but underneath her flashy exterior lays a vulnerable, misunderstood woman.
Adriana puts thought into every component of every outfit. She loves a good matching ensemble, like this ultra-cropped short-sleeved denim jacket and low-cut jeans. The silhouette takes casual staples and makes them wholly impractical and revealing. She even has a wildly Paris Hilton-esque cropped sweatsuit. It admittedly doesn't look very comfortable for lounging in, but it's a way for her to show off her figure, putting a feminine spin on the sweatsuits favored by the brusque men around her.
Most everyone on The Sopranos has swagger, and much of Adriana's comes from wearing outfits that could be dismissed as slutty, if they weren't worn with her appealing confidence. Adriana, though, doesn't want to wear the "classy" suburban mom sweaters that Carmela Soprano favors, nor does she want the comparatively more "subtle" French manicure. Adriana keeps her nails long and red, and her hair leonine. She'll wear a black Latex mini dress or a leather jacket and look absolutely fierce, but she accessorizes every outfit with a gold crucifix necklace, adding a subversive touch of modesty. There's a classic fashion rule that you should always take off one accessory before leaving the house, but Adriana would laugh at such a notion. In every outfit she wears, more is more. Leather, gold jewelry, red nails, and fully done makeup come together to create a suit of armor.
We don't often see Adriana look casual. Even when she's wearing something a little more laid-back, like a baseball cap and a sweater, she projects attitude. When she plays tennis, she keeps all her jewelry on and wears a tight, fringed, fire engine red crop top and matching hot pants.
Adriana wears formal outfits with panache. A red dress paired with her side-parted mane gives a touch of old Hollywood glamour. One of her most memorable outfits features a floor-length dress emblazoned with a tiger. Adriana may end up being preyed upon, but she draws power from animal prints in all their glory. The dress is both predatory and unabashedly feminine. Adriana looks the part of the classic femme fatale, with a gaudy twist.
Adriana wears one of her most perfect outfits shortly before her horrible demise. In a tiger-striped catsuit with gold buttons, she looks imposing and fabulous. A diva outfit may not have been able to save her, alas, but Adriana's fashion legacy in all its boldness will never be forgotten.