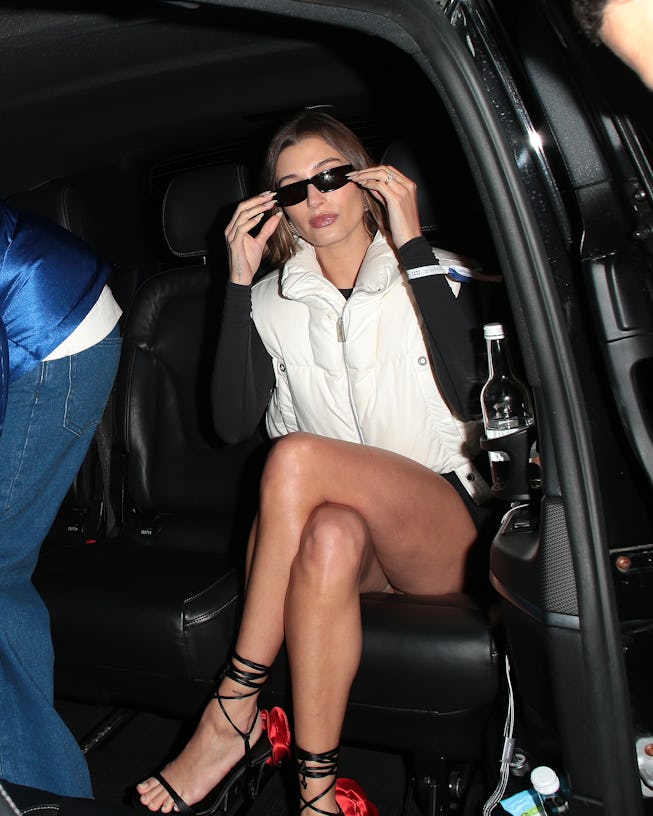 Neil Mockford / Ricky Vigil M/GC Images/Getty Images
Hailey Bieber's Latest Makeup Look Is An Instant Serotonin Boost
The Rhode Skin founder tries out a spring-ready color combo for her makeup and nails.
It looks like the "no-makeup" makeup queen, Hailey Bieber, is open to switching up her signature look for spring. While she's best known for wearing makeup that's barely there — remember her since-deleted TikTok video where the model uses a mere two teeny dots of concealer for her entire face? — she recently tried out a brand new look, featuring fun, colorful makeup, that's meant to stand out and be noticed.
On Sunday, March 5, Hailey posted a cute, spring-ready makeup look to her Instagram grid. The look, created by makeup artist and frequent collaborator Mary Phillips, featured bright baby pink winged eyeliner on the inner and outer corners of her eyes (with a negative space gap in the center of her lids), a glowing pink blush on her cheeks, brushed-up brows, and glossy lips. The rest of Hailey's full glam included a neon yellow manicure on long, almond shaped nails by her go-to manicurist, Zola Ganzorigt, and her new blunt bob styled off of her face with baby braids tied with bows (one of the next big beauty and fashion trends for 2023), by hairstylist Amanda Lee. She also wears a dangling earring of a peach, possibly in reference to her husband Justin Bieber's 2021 hit song, "Peaches".
Each of the artists involved in the glam are clearly loving the look, as they each posted pictures of Bieber's glam to their own Instagrams. Phillip's captioned her post of the vibrant makeup look, "brought the neons out with @haileybieber."
Bieber is among the most influential celebrities in the game when it comes to inspiring viral beauty looks. From the "glazed donut skin" look that gave rise to her skin care line, Rhode Skin, to the "glazed donut" nail look featuring frosty chrome nail polish (also created by manicurist Ganzorigt), to sharing her favorite lip liner and gloss combo on TikTok, everything the model touches seems to turn into major trend. But, after opting for a bubblegum pink manicure last month, it looks like the model is looking to break away from her favorite neutral color palette to something more bright and poppy for spring. Neons appear to be returning for the change of the seasons, and this pink and yellow look just might be our favorite color combination yet.