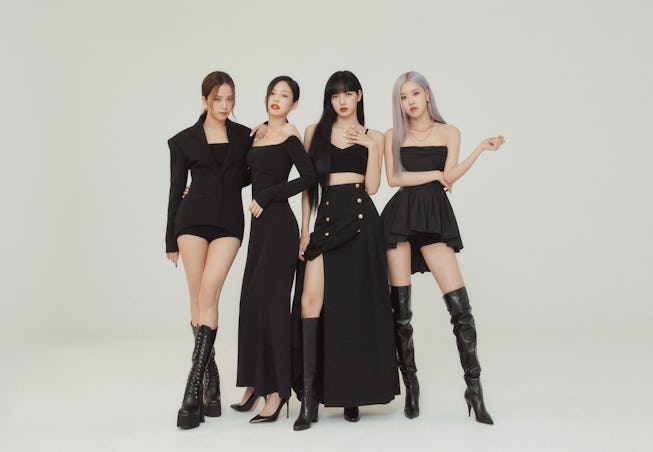 YG Entertainment
Blackpink's Album, Born Pink, Will Be Out Sooner Than You Think
The girl group's next album is on the way.
The biggest girl group in the world is making its comeback.
After two years of solo activity following the release of their 2020 sophomore album, The Album, the girls of Blackpink — LISA, Rosé, Jennie, and Jisoo — are finally ready to release new music. YG Entertainment, their label, officially announced the group's highly-anticipated return on July 5, previewing a massive string of months to come. In addition to new music and the forthcoming release of their new album, titled Born Pink, the members will also embark on "the largest world tour in the history of a K-pop girl group" before the end of the year, per a press release. Indeed, it's no longer a saying and just a fact: Blackpink *will* be in your area.
Although the group hasn't released music as a unit since late 2020, their visibility has seemingly skyrocketed since, with its members becoming staples in the high fashion and beauty arena. Rosé and Lisa also embarked on their own solo projects during the group's break with Rosé releasing her first solo album, R, in March 2021 and Lisa following that up with her own record, Lalisa, in September. Still, demand for the quartet has only grown. Luckily, it seems like there's no dearth of new content coming our way.
Below, find everything we know about the "How You Like That" singers' 2022 comeback including information about their album, release date, tracklist, and upcoming tour.
Blackpink's album and release date
Blackpink is returning with their second studio album officially titled Born Pink. After weeks of waiting, the girl group finally confirmed the record's title on August 9 alongside the release of a new teaser image for the album and the project's release date: September 16.
As of late July, YG revealed that Blackpink has been busy recording their new album and that it was in "the final stages." Per a press release, "a lot of BLACKPINK-esque music has been prepared over a long period of time," and now there's finally a date for when it'll all arrive.
Blackpink's album tracklisting and singles
Born Pink will contain eight songs, including previously released singles "Pink Venom" and "Ready For Love," the group's collaboration with mobile game PUBG Mobile. Notably, one of the tracks on the album, "Yeah Yeah Yeah," officially credits members Rosé and Jisoo as songwriters; it marks another rare addition to the handful of previous tracks the group has previously contributed to in their catalog.
See the full tracklisting below.
Pink Venom tracklist
Pink Venom
Shut Down
Typa Girl
Yeah Yeah Yeah
Hard To Love
The Happiest Girl
Tally
Ready For Love
Blackpink will embark on a huge world tour
Blackpink was the first K-pop girl group to perform at Coachella, and now they're hoping to break yet another record. Alongside new music and an album, the group will also go on the "largest world tour in the history of a K-pop girl group," per a press release.
That tour, also called Born Pink, will kick off in mid-October with back-to-back shows in Seoul, South Korea, and later take the girls to various countries across Asia, North America, Europe, South East Asia, and Australia. So far, a total of 36 shows are scheduled however their website seems indicate more dates will be added later.
See the full list of tour dates and information on how to buy tickets for Blackpink's Born Pink tour, here.
This article was originally published on