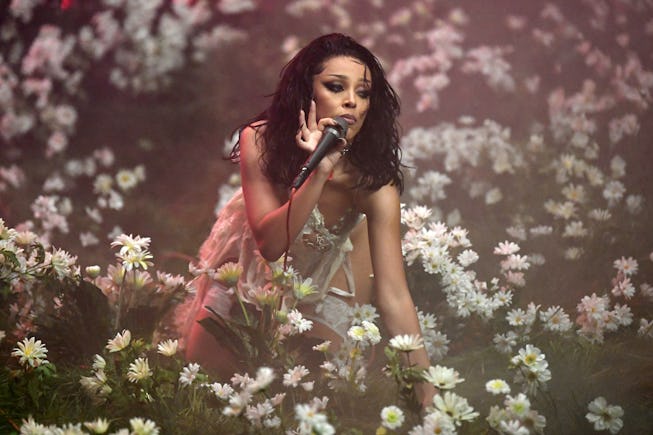 Kevin Winter/Getty Images Entertainment/Getty Images
Doja Cat Joins The NFT Craze With Juicy Drops Marketplace
It was only a matter of time until the queen of online trolling got into the mix.
To be frank, I rue the day celebrities at large found out about NFTs. Everyone has their eye on the blockchain-based art trend that's taken over the internet. The Weeknd released a song as an NFT, Paris Hilton is practically a NFT influencer, and even perennial cool girl Kate Moss got into the game with her voyeur-friendly NFTs releases. What could possibly come next?
Not to be outdone, Doja Cat is the latest to join the mix. The multi-hyphenate rapper, singer, and sh*tposter extraordinaire is launching her own curated NFT marketplace, Juicy Drops, which will also include the debut of her first NFT collection. The drops are categorized as Metallic, Flavored, and Mystery, which can really mean anything when it comes to the queen of trolling people online.
The Metallic drops include Platinum, Gold, and Silver categories, of which Platinum is the most exclusive with only ten individual pieces available. The Flavored drops are categorically juicy with Plum, Cherry, and Watermelon tiers. The most elite tier is Mystery, which only details a "Super Rare Doja Cat" with only ten gems available.
"I'm helping to launch my NFT company so that I can actually own and control my art," said Doja. "I want to be able to make all decisions related to my creative vision and help other artists do the same. My ownership also allows me to direct how we can give back to causes that I truly believe in."
Per Billboard, Juicy Drops is a partnership with Intellectable Holdings, a new NFT-focused company founded by 20-year music executive Shannon Schlappi, and aims to further gamify NFTs. Check out the Juicy Drops launch on April 23.