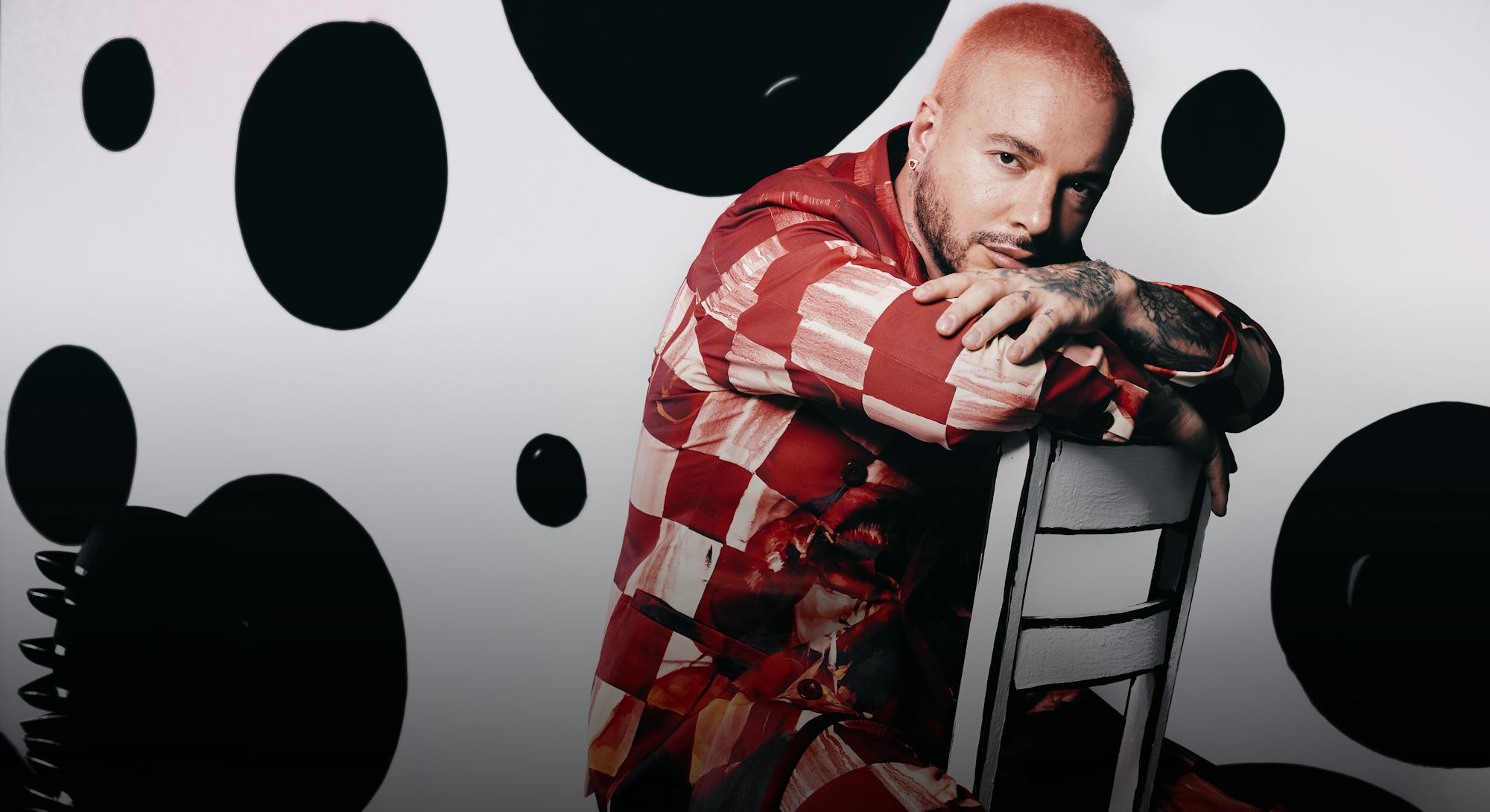 J Balvin Is Ready To Party (Again)
After paternity leave and a social media hiatus, the Latin superstar is back with a new album. "DJs are gonna say, 'Thank God, Balvin made it easy for me.'"
Written by Isabelia Herrera
Photographs by AB + DM
Styled by EJ Briones
J Balvin isn't hiding. The Colombian superstar is at the tail end of a nine-month-long social media hibernation when we meet in late May. But in broad Manhattan daylight, the artist born José Álvaro Osorio Balvin is dressed like a tangerine, sporting a bright orange T-shirt and shorts with a matching creamsicle buzz cut. A hazard-yellow G-Shock watch clings around his wrist, and every so often, he takes pulls from a lavender vape. A few members of his team are talking about the creative potential of microdosing mushrooms, but Balvin, despite his fondness for psychedelic outfits and album art, is skeptical. "I can't do that stuff," he says.
We're in Chelsea, walking toward Marcus Samuelsson's elegant seafood restaurant Hav & Mar, where we find a quiet table. Just a few minutes into our conversation, another, rarer side of the reggaeton titan emerges: His partner, the Argentine model Valentina Ferrer, FaceTimes him to check in and say hi to their 2-year-old son, Rio. The toddler babbles an adorable "Bebé!" into the phone upon seeing his father, and a tiny grin crawls across Balvin's face before he lets out a paternal chuckle and says goodbye. The singer may have once been reggaeton's most suave playboy, but today, his breezy, placid demeanor and sherbet 'fit make him seem more like a cool yet earnest dad.
But even dads like to let loose sometimes, and Balvin is getting ready to unveil his seventh studio album. Expected later this year, it represents the next phase of his lifelong mission to take reggaeton worldwide, this time with new heart-pumping EDM flourishes and an unexpected early 2000s throwback (more on that later). That there is more work to be done on that front may seem surprising: He already is the first reggaeton artist to play at the main stage at Coachella, the first Latino headliner at Lollapalooza, and the first reggaetonero to reach 1 billion views on YouTube. He's collaborated with Beyoncé, Cardi B, and Skrillex; attended the Met Gala wearing a custom Moschino balaclava; and designed not one but three different Jordans for Nike. Breaking big in the United States, however, was never the only endgame. "We are missing a lot more countries to continue to make [reggaeton] grow, to fill out stadiums," Balvin, 38, says. "I know that they can play [the album] at Tomorrowland, and that they can play it at any festival on the planet."
Balvin may be a pop juggernaut, but in person, he does little to embody the rock-star ethos. For one, he declines to drink or eat anything during our chat. And in his fatherly demeanor, he speaks about the industry and life in trite but charming motivational phrases, like a parent who's seen enough to collect a lifetime of wisdom. "There's no way to grow without pain. There's no way to get stronger if you don't overcome your fears," he says. "There is no impossible mission. Everything can be achieved. I believe that it's all a matter of discipline and vision."
Kenzo coat and pants, Dior Men sweater, talent's own earrings, Easton Marlowe socks, Both sneakers
Teenage Balvin would have loved that kind of advice. Growing up in a middle-class neighborhood of Medellín, he developed his artistic ambitions after admiring the careers of artists like Daddy Yankee. When he was 17, Balvin moved to Oklahoma via an exchange program to study English. He eventually landed in New York, where he lived with his aunt and worked as a dog walker and house painter. It was the early 2000s, and the cultural visibility of hip-hop multihyphenates like Jay-Z and P. Diddy inspired him to chase mogul status, too.
"An artist can't be asked to do more than entertain the public. It's their decision if they want to [talk about] politics."
So when he moved back to Colombia at 19, he committed to pursuing music seriously and branded himself as J Balvin "El Negocio" ("The Business"). He'd already fallen in love with reggaeton, a genre with roots in Panama, Jamaica, and Puerto Rico known for its corrosive beats and deliciously filthy lyrics. But a new style of it was brewing in his hometown, burnishing reggaeton with cleaner lyrics and pristine, glossy tracks. Alongside a cadre of producers like longtime collaborator Sky Rompiendo, Balvin struck a balance that mainstream audiences were seeking, cultivating a bad-boy-with-a-soft-heart persona while making tracks with enough commercial appeal to get streaming placement and radio play. "We had a lot of dreams at that time that today are reality. But we started from scratch," Balvin says.
He began playing small clubs in the city's Castilla district, looking for "any place where there was a microphone to show my talent," Balvin says. He even remembers playing a quinceañera party with fellow superstar Karol G, who attended the celebration as a cousin of the birthday girl and asked to sing with Balvin on stage. ("We have that iconic photo of the two of us, 20 years ago," he remembers.) That Medellín scene, Balvin thinks, changed the trajectory of reggaeton forever: "The impact of that movement was to inspire other nationalities to create their own movement, or their own [reggaeton] industry of a different country, one that wasn't Puerto Rico."
And as reggaetón gained global momentum, "The Business" was ready to ride the wave. After releasing his breakout hits "6 AM" and "Ay Vamos" in 2013 and 2014, Balvin quickly became a go-to partner for U.S. pop stars courting Latinx audiences. He jumped on Spanish-language remixes with the likes of Justin Bieber and Ariana Grande before scoring megawatt collabs with Beyoncé (on a remix of his own hit "Mi Gente") and Cardi B (the chart-topping "I Like It"). Meanwhile, his albums Energía and Vibras cemented his signature visual vocabulary — colorful smiley faces and floral creatures designed by Takashi Murakami — and an easy, genre-fluid sound with flecks of Afrobeats, trap, and EDM. "I think we took the risk of writing a new chapter in reggaeton," he says.
True to his nickname, Balvin today speaks about his career goals more like a CEO than an artist. Earlier this year, he signed with Roc Nation management and now takes notes from Jay-Z. "I want to be like him but in the Latin market," he says. "He touches on culture where it matters, influences beyond the music." So Balvin has been securing his place in high fashion — he became an ambassador for New York Fashion Week: Men's in 2017 and has fronted multiple campaigns with Guess — while also launching brand collaborations with the likes of Fortnite and Monopoly. "All of those things allow me to continue to expand the brand as such, not only the music but the brand of J Balvin," he says. "My dream is to be a legend, you know?"
Part of Balvin's mission has been one of cultural affirmation, too. He's never released an English-language album and has stated that his goal is to "change the perception of Latinos in music." Although well-intentioned initiatives around diversity and representation in the music industry have surged, these efforts can often lead to Latinx artists being tokenized or pigeonholed. "We don't have to be put in the inclusion package anymore because we are not that; we're part of the global community," he says. "I haven't fought for inclusion — I've fought to get us out of that package."
Balvin is still grappling with some of the nuances of that pursuit. In 2021, Balvin took the video for "Perra," his collab with Dominican rapper Tokischa, off YouTube following criticism from activists and politicians. The clip, which was directed by Tokischa's manager, featured Black models wearing facial prosthetics styled to resemble dogs. "I didn't really analyze that the concept wasn't going to be taken well," he says now. "It's something that I had to learn as an artist, the responsibility I have to analyze those little details more… You got to be man enough to say, 'OK, yes, I was wrong.'"
Balvin, of course, isn't the only flashpoint in the ongoing racial reckoning around reggaeton. When I ask him whether he thinks musicians have a social responsibility to educate themselves about racial and social issues, he demurs. "An artist can't be asked to do more than what he really has to do, which is to entertain the public. It's the personality of each artist and their decision, if they want to get into politics," he says. "There are things I really don't know in-depth, and I can't give my opinion just for the sake of giving it."
He pivots the conversation to highlight his mental health advocacy. "I feel like I make a bigger impact that way," Balvin says, "and I help the world more, because at the end of the day, what the world really suffers from is mental health." He's long been vocal about suffering from depression, and he launched a bilingual wellness app in September, around when he decided to start his social-media cleanse. Being offline was "very therapeutic," he says. "It's helped me a lot mentally, to not be bombarded with things I don't need."
Fatherhood has offered him a new sense of purpose, too, although the path wasn't easy. "It caused me a lot of anxiety. And when he was born, I realized that it was just the fear — the fear was bigger than the reality," he says. "The responsibility of raising a person, and imparting your values onto them… you kind of start thinking and being a little bit less selfish."
Loewe clothing, Fendi sunglasses, talent's own jewelry, Easton Marlowe socks, Skinz Time custom sneakers
Balvin's new album packs all the energy he stockpiled during his time out of the spotlight. There are sounds he's explored before (old-school reggaeton, Afrobeats) but also new forays into electronic music, like pilita, a Dominican take on EDM. Though Balvin is sometimes considered more of a crowd-pleaser than an innovator compared with his peers, he prides himself on pushing pop in less overt ways. "The album is very advanced, but it's easy to digest," he adds. "The flows, the deliveries — all of this is super updated."
"My dream is to be a legend, you know?"
The forthcoming track "Click, Click, Flash" swells over a gritty dembow riddim, looping hook, and paparazzi camera sound effects, while "Dientes" reimagines "Yeah!", the Usher, Ludacris, and Lil Jon classic. Its unabashed EDM drops feel designed specifically for festival season, or maybe an all-inclusive resort on a remote Caribbean island. "DJs are going to say, 'Thank God, J Balvin, you made it easy for me,'" he jokes. "Like, 'Great, I'm going to play those two so I can have a beer or something.'"
The idea for "Dientes" emerged after Balvin sat next to Usher at a Paris Fashion Week show. "I asked him, 'Hey, do you think I could sample 'Yeah'? And he said, 'Yeah,'" Balvin chuckles. Usher even contributed a new verse to the track, which features production from Mura Masa, Fred Ball, DJ Luian, Mambo Kingz, Tainy, and Michael Brun. Balvin has also recorded a collaborative album with Ed Sheeran, which he hopes will be released in 2024. "It came about in an organic, natural way. We met; we had coffee; we'd run into each other at the same gym, at the hotel," he says. "That's going to be another album that will offer a lot to talk about, because it's like merging two worlds."
This is how Balvin thinks about his life and career: worlds he's conquered, worlds he hasn't, and worlds he keeps to himself. As much as he aspires to ubiquity, his journey to fame has also taught him a lot about boundaries. "Balvin is a character created to make music," he says. "We're very passionate about our career, and we end up mixing it as if it were one." But that hasn't always served him. "We all put our energy into our work, as much as if it were our personal life. Actually, sometimes more than our own lives, we take care of our work. And that's where the struggle of finding balance is."
As the conversation comes to a close, the Colombian star visibly softens. He mentions his excitement around the Miami Heat's NBA Finals run and even teases me about my Dominican accent. It's almost as if he decided to give me a glimpse of José mode. J Balvin isn't hiding. But José? "José is untouchable," he says. "I know what I'm worth as a person, and J Balvin can't define me."
Top image credits: KidSuper suit, talent's own earring
Photographs by AB+DM
Styling by EJ Briones
Set Design by Montana Pugh for MHS Artists
Grooming: Melissa DeZarate
Talent Bookings: Special Projects
Video: Devin O'Neill, Ryan Mitchel
Associate Creative Director, Video: Samuel Schultz
Photo Director: Alex Pollack
Editor in Chief: Alyssa Vingan
SVP Fashion: Tiffany Reid
SVP Creative: Karen Hibbert