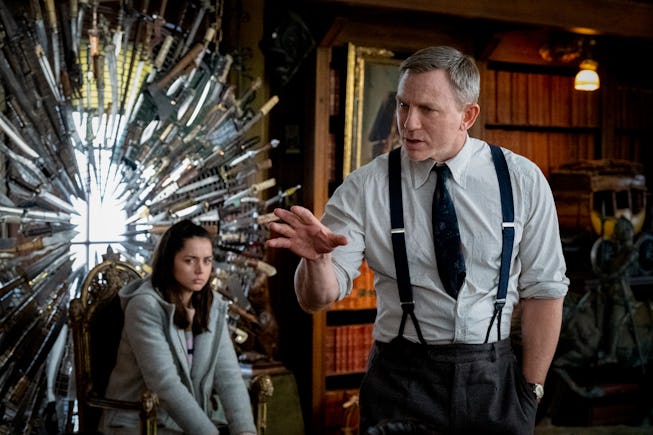 Claire Folger/Lionsgate
Star-Studded 'Knives Out 2' Finally Got A Release Date
'Glass Onion: A Knives Out Mystery' is "a fantasy vacation with a killer twist."
$400 million and almost two years later, we finally have some real information about the upcoming sequel to Rian Johnson's hit 2019 whodunit Knives Out. After revealing its cast (which, let's face it, is simply transcendent) and giving a release period (not a date, exactly), Netflix has now confirmed that the new film will premiere on its streaming service in December after an initial run in select theaters.
The first film featured a host of marquee names, including Queen of Halloween Jamie Lee Curtis, Captain "America's Ass" Chris Evans, The Sixth Sense Oscar nominee Toni Collette, Blonde's future Marilyn Monroe Ana de Armas, 13 Reasons Why's Katherine Langford, and the late Oscar-winning Christopher Plummer. Daniel Craig, who played Detective Benoit Blanc and helped the film bring in over $300 million at the box office (on a comparatively small budget), is the only original star to return.
The upcoming second installment was confirmed in a headline-making deal in March 2021, when Netflix forked over $469 million to Rian Johnson and his producing partner Ram Bergman for the rights to Knives Out 2 (and Knives Out 3, to be released at a later, still undisclosed date). And after the near-universal acclaim for the original Knives Out, anticipation is quite high for the second in the series. Who knows — maybe we'll even get another Best Original Screenplay Oscar nomination?
Below, find everything we know about Knives Out 2.
What is Knives Out 2 called?
Though you might default to calling it "Knives Out 2" (and who could ever really blame you), the upcoming film is technically called Glass Onion: A Knives Out Mystery.
The title, according to director Rian Johnson, pays homage to the Beatles song of the same name. The director settled on it while searching through music on his iPhone in the hopes of finding a song that would reflect his lead character's "penchant for bombast," according to a new press release from Netflix. "I'm always fishing for something to grab onto as an overwrought metaphor that [Benoit Blanc] can beat to death," the director said. "This is all in plain sight from the very start. So, the idea of glass came to me, something that's clear."
What is Knives Out 2 about?
Well, first off, don't go into this expecting a direct continuation of what we saw play out in the first Knives Out. According to the press release, the upcoming film is "less a traditional sequel than the second installment in a narratively cohesive universe." Much like Agatha Christie's trademark Detective Hercule Poirot character, on whom Daniel Craig's Benoit Blanc is based on, Johnson hopes to see his suave detective in a variety of differently-themed stories.
The first way this new installment pivots away from its predecessor is in the film's central locale. Described by Netflix as "a fantasy vacation — with a killer twist," Glass Onion "trades in Knives Out's creaky Massachusetts mansion for a billionaire's compound in Greece."
The billionaire in question is Miles Born, who made his money in tech and "invites some of his nearest and dearest for a getaway on his private Greek island." Alas, "it soon becomes clear that all is not perfect in paradise. And when someone turns up dead, well, who better than Blanc to peel back the layers of intrigue?"
If you couldn't guess, the next big pivot is in Glass Onion's central group of characters — namely, this is no longer a film about family. "If Knives Out was about the murderous ties of flesh and blood, Glass Onion makes a good case for being just as wary of one's closest friends," teases Netflix.
That doesn't mean we'll be deprived of the classic ensemble-ready setpieces, though. "It's structured around a group of friends, or frenemies, who all have a power dynamic with one of their successful friends. It begins with him sending an invitation for them come and play this murder mystery game at this exotic locale," Johnson says of the film. But the director also promises that Glass Onion would shine a bigger spotlight on the Benoit Blanc character, in particular. "You definitely get to know him a little bit better," said Johnson. "In the first one, because of the way it was structured, Marta…was very much the protagonist. In a big way, Blanc was the threat." But in Glass Onion? Well. "In this one, Blanc gets an invitation to come to this murder mystery on this island. We're very much meeting these people and getting into this world through his eyes."
Who is in Knives Out 2?
Part of the central appeal of the first Knives Out was its sprawling, star-studded cast — and thankfully, Johnson has not pulled any punches for this second go-round. Describing his casting process as "throwing a dinner party," the director said, "You try and invite people that you like. But the reality is you never know. At the end of the day, [you're] just trying to get the best actors in each part, the actors that are most right for each individual part. So, you also just throw the dice and hold your breath. Luckily, we got a great group that really meshed."
That "great group" includes three-time Oscar nominee Edward Norton as the aforementioned tech billionaire, and of course, Daniel Craig, reprising his now-iconic role of the Southern drawl-sporting Benoit Blanc. Hidden Figures' Janelle Monáe, WandaVision Emmy nominee Kathryn Hahn, One Night In Miami's Oscar-nominated Leslie Odom Jr., Game of Thrones' Jessica Henwick, Outer Banks breakout Madelyn Cline, Almost Famous Oscar nominee Kate Hudson, and Dune's own Dave Bautista round out the cast.
When can I see Knives Out 2?
Are you going to Toronto International Film Festival? Then, lucky you — you'll be able to check it out as early as this September, when the highly-anticipated film hosts its world premiere there, complete with a star-studded red carpet.
Otherwise, you'll have to wait like the rest of us and see the movie when it hits Netflix globally on December 23. The film will play in select theaters during a limited ruin, which will be announced at a later date.