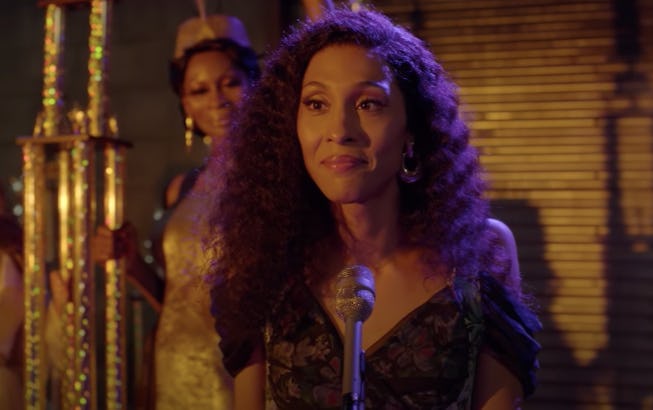 Screengrab via Youtube
'Pose' Returns For Last Hurrah In Final Season Trailer
The groundbreaking series will premiere its final season in May.
"Is this about your legacy?" inquires Elektra (Dominique Jackson) towards the beginning of the just-released trailer for the third season of Pose. "No. It's about our legacy," counters Blanca Evangelista (Mj Rodriguez). It's a response that feels appropriate in the moment, but also oddly prescient, considering that the upcoming season of the groundbreaking FX series will be its last.
In 2018, Pose debuted to a rather unsuspecting public. For decades, the trans community had been either shut out of mainstream narratives completely or only used as the butt of unsavory jokes. But suddenly, in a sweeping melodrama spearheaded by Ryan Murphy, Janet Mock, and original pilot writer Steven Canals, the trans community had taken center stage in a story that focused on their experiences, their trials, tribulations, and success stories, and their day-to-day lives. And perhaps more important than anything else, these characters were portrayed by actual trans actors, acting out scenes that were written by actual trans writers and producers.
For two seasons, Pose told the inspiring, heartfelt, and sometimes very sad story of several LGBTQ+ people living through the AIDS-ridden world of 1980s and 1990s New York, spotlighting how they managed to survive through it all with the love and support of their chosen families. Unfortunately, Pose is coming to a grand conclusion with its upcoming third season — a fact many members of the cast and crew understandably feel bittersweet about. Speaking about the end of the show last month, Canals said, "It was a very difficult decision for us to make, but this has been an incredible journey and we have told the story that we wanted to tell the way we wanted to tell it."
Thankfully, Canals also promised that "this season will be filled with all the love and laughter and tears that you have come to expect from the Evangelista family" — and judging by the trailer, he wasn't lying. There are still an abundance of family meals, frank discussions about the havoc wreaked on the queer community due to the HIV/AIDS epidemic, touching romantic subplots (Angel and Lil Papi are still going strong), and of course, big, splashy balls with plenty of envy-worthy clothing to drool over.
Season three of Pose will stretch across seven episodes, making it shorter than both of its predecessors. But with Tony nominee (and Hollywood breakout) Jeremy Pope joining the cast and all our favorite series regulars — including the aforementioned Rodriguez and Jackson, Emmy winner Billy Porter (Pray Tell), Indya Moore (Angel), Angel Bismark Curiel (Lil Papi), Ryan Jamaal Swain (Damon), Hailie Sahar (Lulu), and Dyllon Burnside (Ricky) — all set to return, there's no denying that Pose's final hurrah will be one for the her-story books.
Check out the trailer for the third (and final) season of Pose below.
Season three of Pose premieres May 2 on FX.