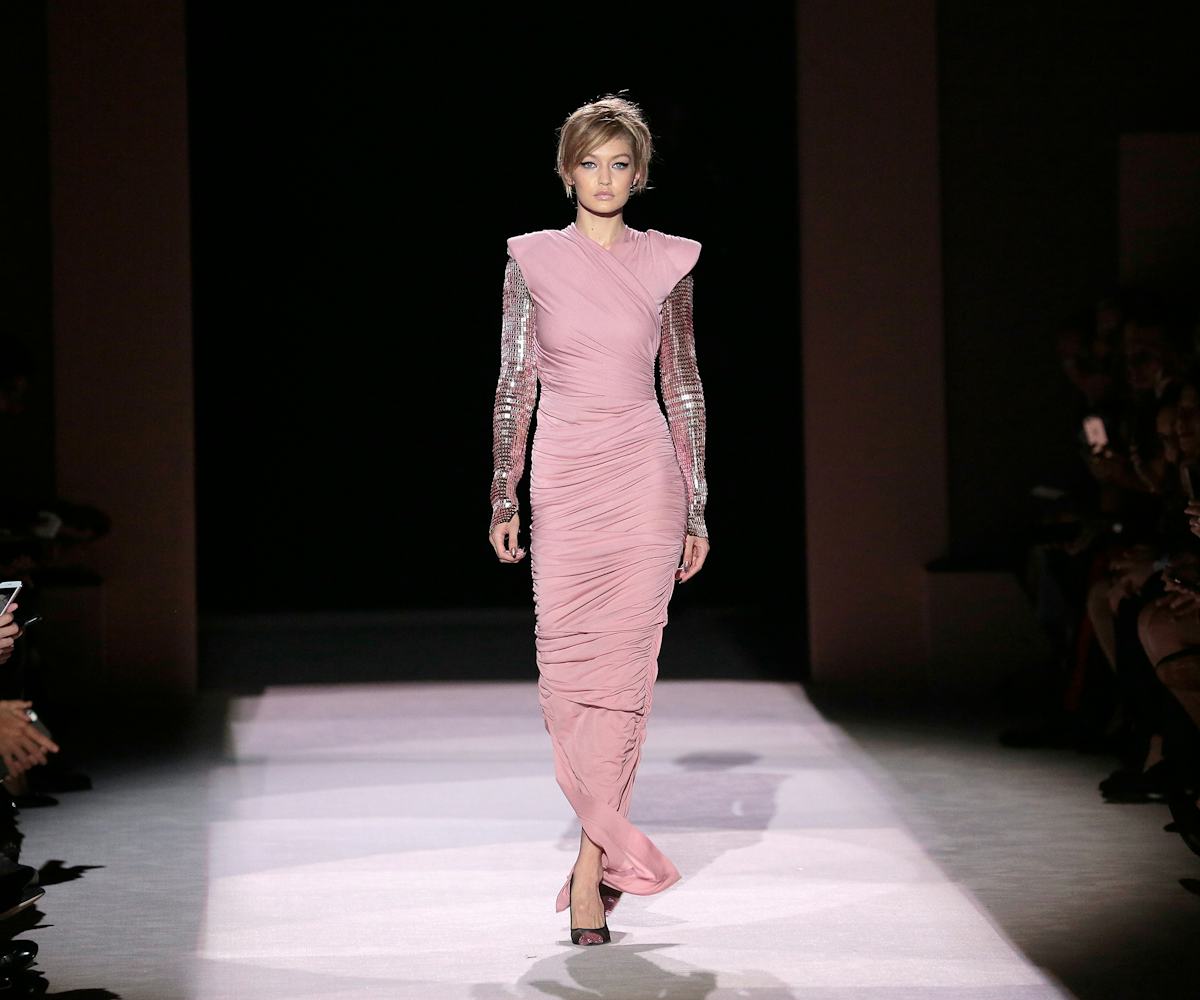 Randy Brooke/Getty Images Entertainment/Getty Images
Everything We Know About Fashion Month's Comeback For Spring 2022 — UPDATE
Here's what to expect in New York, London, Milan, and Paris.
Editor's Note: This post has been updated from its original version to include news about fashion week in New York, London, Milan, and Paris.
September's fashion month is set to look much different than any other in 2020 as the four major fashion hubs begin to re-open to a post-pandemic world. New York is planning a full comeback with as many in-person shows and events as possible, putting an emphasis on American fashion after brands were forced to show their resilience during the COVID-19 pandemic. London is hoping for something similar, with a mix of physical and digital events.
Below, everything we know about Spring 2022 fashion weeks in New York, London, Milan, and Paris.
What To Expect At New York Fashion Week Spring 2022
New York is preparing for an illustrious return to the fashion weeks of yore. After two seasons of mostly digital shows and online collection debuts, New York Fashion Week is back for Spring 2022 with in-person shows happening from Sept. 8 to Sept. 12, along with a slew of marquee names, and, yes, the return of the Met Gala.
On Monday, July 26, the CFDA in partnership with IMG released its official NYFW schedule for Spring 2022, which is stacked with a whopping 91 shows and presentations, along with plenty more designer names that have yet to be confirmed. Ulla Johnson will kick off the week while Tom Ford's namesake brand will be the closing runway show, which will happen at the same as the MTV VMAs.
Altuzarra, Thom Browne, and Moschino are planning their returns to New York. Jeremy Scott, who traditionally presents Moschino at Milan Fashion Week, once staged a runway show for the Italian brand in New York back in 2019. For Browne, the decision is a gesture of support for his partner, Andrew Bolton, who is currently curating the Met's In America: A Lexicon of Fashion exhibition for the museum's Costume Institute. The designer is set to present both his men's and women's collections, revealing no other details.
Speaking of the Costume Institute, the Met Gala is also making its return after its 2020 cancellation. Instead of its usual First Monday in May date, the "Super Bowl of Fashion" will take place on Sept. 13 with co-host chairs Timothée Chalamet, Billie Eilish, Naomi Osaka, and Amanda Gorman. The red carpet's dress code will tie in with the exhibit's focus on American fashion.
Additionally, IMG announced the debut of the IMG Fashion Alliance, which includes a group of designers who will continue to show in New York for the next three seasons from September 2021 through 2022. The designer brands involved and showing at NYFW are Altuzarra, Brandon Maxwell, Jason Wu, Markarian, Monse, Prabal Gurung, Proenza Schouler, Rodarte, Sergio Hudson, Telfar, and LaQuan Smith, who has teamed up with IMG's sponsor Afterpay to debut a "see now, buy now" runway show in September. Plus, emerging luxury designer Peter Do will make his NYFW debut on Sept. 8 as he presents his Spring 2022 collection.
The CFDA is stressing the value of American fashion and designers this season after many brands left the NYFW calendar prior to or because of the COVID-19 pandemic. The recent surge of virus cases, due to the Delta variant, are a growing concern in New York City, and due to the newest government-mandated guidelines, taking effect on August 16, all NYFW guests, from show attendees to designers and their teams, will require proof of vaccination.
"Together, we encourage the broader industry to follow suit and protect the wellbeing of our fashion community this September," a CFDA spokesperson said in an official statement. "We will closely follow updates and recommendations from the CDC, New York State and City, releasing comprehensive health and safety guidelines in mid-August."
According to BoF, both the CFDA and IMG will decide on additional health-related rules, including wearing mask indoors (currently enforced by the Met Gala), in the coming weeks.
You can view the full NYFW Spring 2022 schedule here with more updates to come.
What To Expect At London Fashion Week Spring 2022
The British Fashion Council has unveiled some of its plans for the upcoming July (men's) and September (women's) fashion weeks. London Fashion Week for Spring 2022 will take place Sept. 17 to Sept. 21 and mark a "cultural reopening," according to the council. As of now, there will be a mix of in-person and physical events.
While many brands are working to figure out how they'll navigate a newly-opened world, digital ready-to-wear brand Auroboros is planning its virtual debut at LFW. Its virtual 14-piece collection will be presented in June, making it the first fashion brand to show a digital-only collection at a major international fashion week.
What To Expect At Milan Fashion Week Spring 2022
With Milan Men's Fashion Week in full swing this summer, the Italian fashion capital will also be hosting physical shows for its women's collections. Milan Fashion Week is scheduled for Sept. 21 to Sept. 27, and will include 42 live in-person events out of a total of 61 so far, according to BoF. Fendi, Prada, Versace, Armani, and more are among the designer brands set to host a runway show, while Gucci, which decided to forgo the usual fashion week calendar in May 2020, is absent from the latest schedule lineup. The Italian fashion house is expected to present its latest collection in Los Angeles on November 3.
What To Expect At Paris Fashion Week Spring 2022
Paris went full-steam ahead on in-person shows during couture week in July and Paris Fashion Week is due to return from Sept. 27 to Oct. 5. Balmain is already planning something big for the event, as creative director Olivier Rousteing announced a two-day music festival at The Seine Musicale where he will present a Spring 2022 show on Sept. 29. The runway event will host up to 3,400 people to help celebrate Rousteing's 10-year anniversary with Balmain.
In collaboration with (RED) and the Global Fund, organizations that help fight against HIV and AIDS, the first night of Balmain's music festival will be free and open to the public on Sept. 28. The following day, the first 1,200 people who donate a minimum of 15 euros (about $18) to (RED) and the Global Fund will receive two tickets to the Balmain show and musical events. Tickets will be available starting Monday, June 21, at 11 a.m. EST.
Plus, after a brief hiatus, Saint Laurent is back on the Paris Fashion Week schedule, reported by BoF. The luxury brand will present its latest collection with a runway show on Sept. 28. In April 2020, the French fashion house announced that it would not be following the traditional fashion calendar schedule due to the pandemic. "Conscious of the current circumstance and its waves of radical change, Saint Laurent has decided to take control of its pace and reshape its schedule," the brand said in a press release.
According to WWD, Paris Fashion Week will close with a runway show from AZ Factory and dedicated to the late designer Alber Elbaz, titled "Love Brings Love" and scheduled for Tuesday, Oct. 5. Elbaz passed away unexpectedly due to COVID-19 in April 2021, just a few months after his highly anticipated second act in fashion. After designing for Lanvin from 2001 to 2015, Elbaz took a break from the industry to reassess his next move. AZ Factory made its official debut with a fashion film in January 2021 during Paris Couture Week.
We'll continue to update this post as announcements are made.
This article was originally published on