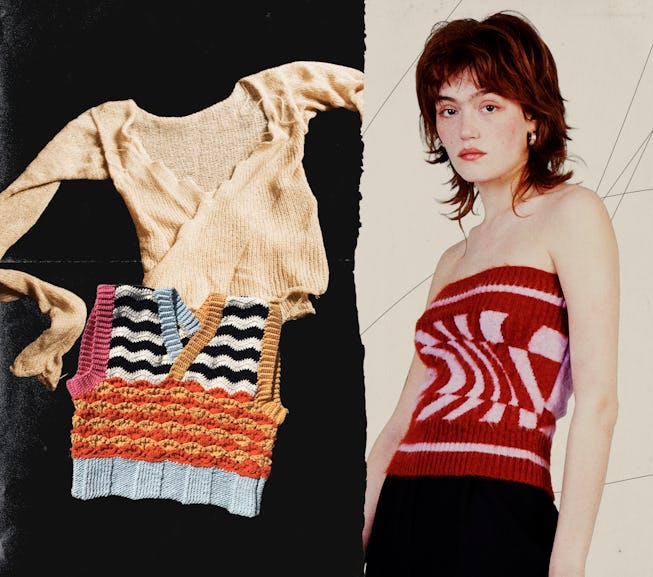 Courtesy of designers
7 Indie Knitwear Designers That Are All Over Instagram
If 2020 was the year of loungewear, 2021 is firmly the year of knitwear.
If 2020 was the year of loungewear, 2021 is firmly the year of knitwear. After months spent indoors with many people trading their usual jeans or day dresses for sweats, there seems to be a new mindset of dressing comfortably but still stylish. Enter: artsy, often hand-knitted sweaters and crochet pieces that feel like special pieces of art that can perk up your entire day (or closet).
The indie knitwear trend has also been defined by none other than Ella Emhoff, who solidified herself as a style icon earlier this year when she made her celebrity debut at the presidential inauguration wearing Miu Miu. The Parsons student and stepdaughter to Kamala Harris has since signed with IMG, made her runway debut at fashion month, and can also be seen on her Instagram wearing her own knitwear pieces, such as striped hats, bikinis, sweater vests, and bags. Plus, she released a small collection of designs in February that immediately sold out and has a fashion collaboration in the works with Batsheva.
Likewise, there's been a cadre of emerging knitwear designers that have fully shaped and grown their business through Instagram, whether it's garnering a following for custom designs or managing to get a coveted shoutout in a fit pic. Read on to learn more about a few of our favorites.
Hope Macaulay
Based in Northern Ireland, designer Hope Macaulay crafts uniquely surreal confections that look like they came straight off the runway. Her chunky, hand-knit sweaters boast an array of pastel colors and she may be best known for her colossal knit jackets, which are made using super chubby yarns. Macaulay also makes knitted sweater vests, crop tops, and dramatic floor-length cardigans with her small team of knitters. She is most inspired by the idea of making wearable art and emphasizes sustainability in everything she does. For example, all pieces are made-to-order (her team of knitters can only take on so many at a time) and most of her work is made of 100% jumbo merino wool, which is better for the environment than artificial materials, such as acrylic.
Rui Zhou
Looking at one of designer Rui Zhou's pieces is like going down a colorful rabbit hole where knitwear itself has been entirely reinvented. Since the line was founded in 2019, Zhou has been inspired by the idea of imperfection: Gossamer-thin, lightweight knits in sand, lilac, or lime green reign supreme and are held together with pearlescent beads, revealing cutouts that stretch across the skin. The designer's work has been seen on nearly every stylish celeb, from Dua Lipa to Lil Miquela, making Zhou's creations instantly recognizable across social media.
Lulu Kaalund
Designer Lulu Kaalund is creating crochet for a new era. The Denmark-based former chef turned designer makes beautifully handcrafted pieces that look like murals you'd want to put on full display — swirls of organic stripes go in different directions and tap into the craftcore aesthetic that fashion has been obsessed with lately. In fact, you've probably seen some of Kaalund's work before, even if you don't know her name, as she's created pieces for both Danish brands Ganni and Soulland in the past. The sweaters from her namesake line take approximately 25 hours to complete.
Erika Maish
The sweater vest may have already reached peak popularity, and Erika Maish is only helping propel the humble garment into some of our favorite closets. Based in Los Angeles, Maish works between fashion, textiles, and custom while exploring the ideas of craft and Americana. She first started knitted and crocheting when she was a kid, but only recently started incorporating the technique into her work. (She also makes her own patterns available for people to DIY.) "I gravitated towards crochet even more in 2020 because I find it so comforting and that's why I also started selling downloads for my crochet patterns," Maish tells NYLON. "I started getting messages about pattern releases after the JW Anderson cardigan phenomenon. For me, it's been a way to make fashion more accessible without problematic labor practices."
AGR
Enter the colorful world of AGR, where neon swirls and vibrant stripes are the norm. London-based designer Alicia Robinson recontextualizes the heritage of knitwear from her local England, such as Fair Isle motifs and chunky ribs and cables. Robinson works with luxe materials, including mohair and merino, to create classic cozy shapes with a bright and futuristic edge, like tie-dye crewneck sweaters or mini dresses done up in eclectically vibrant colors. Ultimately, the designer blends old and new as she looks to traditional techniques and materials to mash up with the wild culture of London's street style scene.
JBD Apparel
"My biggest inspiration for the new collection is femininity and comfortability," Saudia Isalm, founder of JBD Apparel tells NYLON. "I enjoy the idea of being sensual while also being comfortable in the clothes you're wearing — you can be sexy in loungewear...period." It's no wonder then that the brand has become a favorite of Kim Kardashian. The form-fitting crop tops, bodycon maxi dresses, and keyhole-style sweaters allude to femininity while still retaining sophistication. Plus, the color palette of bright red, neon green, yellow, and purple keeps JBD Apparel's pieces looking modern.
Fiona O'Neill
The geometric warped patterns of Fiona O'Neill's tube tops and checkered pants bridge the gap between comfort and formalwear. The designer constructs her tube top bustiers out of chunky mohair and also hand-knits graphic mohair dresses and silk screens onto chunky wool skirts. "The inspiration for the line is a mix of surrealism, Irish heritage, and retro prints," O'Neil tells NYLON. "I also try to use sustainably sourced materials where I can, so the Knit Mohair Bustiers are made of certified sustainably sourced yarn."