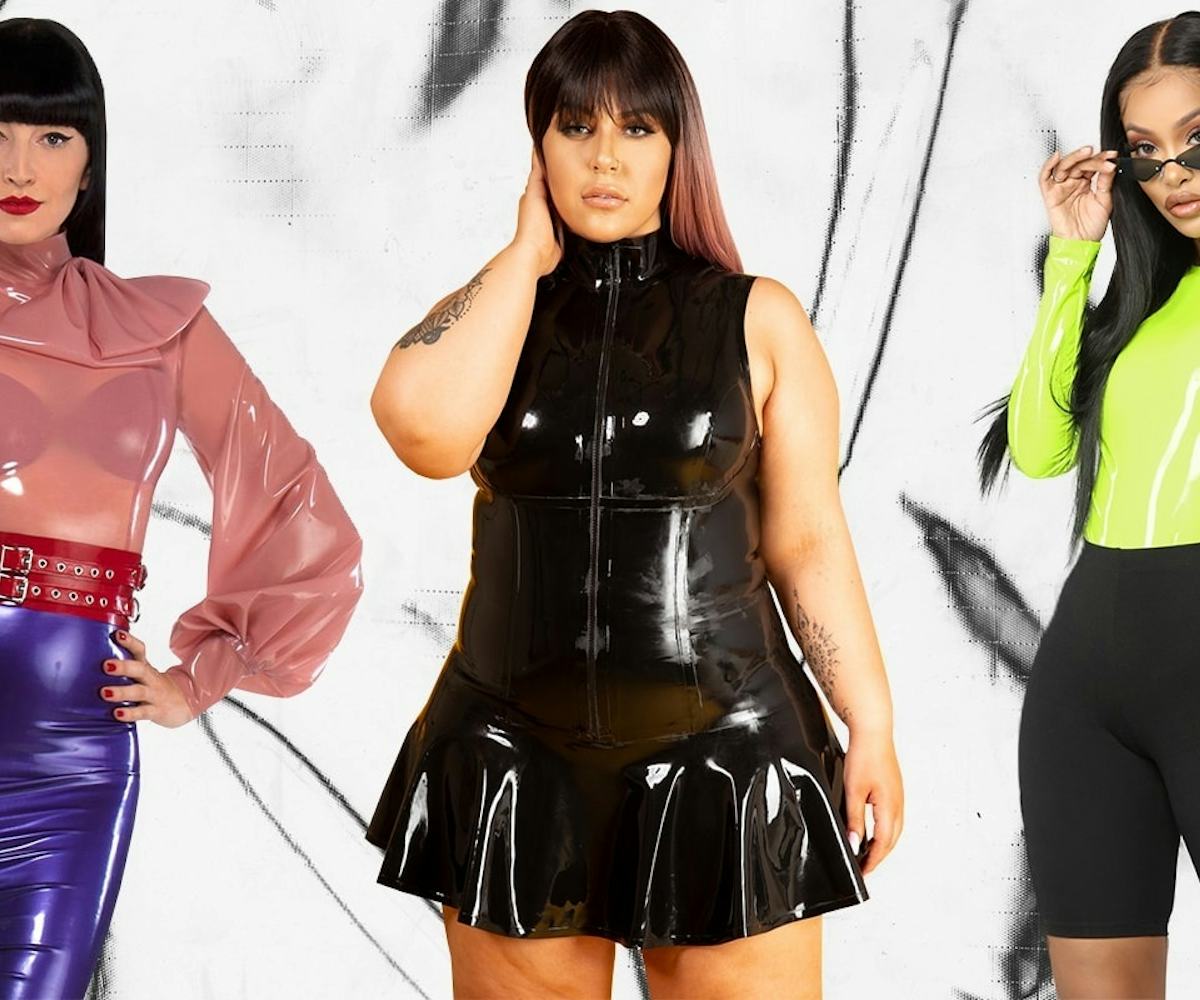 How To Wear Latex Outside The Bedroom
It's actually highly versatile
The year 2019 has seen a number of trends emerge, from in-your-face slime green to channeling your inner sea nymph, to fully embracing hair accessoriesof all sorts. But there's one trend that has the power to deter even the biggest fashion risk-takers: latex—which, interestingly enough, has emerged from the celebrity world, rather than from the runway.
Seen on many a Kardashian-Jenner, and often worn by some of today's biggest pop stars and seen on their world tours and music videos, latex is beginning to break free from its fetish-only reputation and into the world of high fashion. I mean, hello, did you see Kim Kardashian at the Met Gala after-party?
And while we'll admit, latex is a pretty intimidating fabric, you definitely don't have to be a Kardashian in order to wear it. To prove that, we turned to the experts to get their advice and tips on how mere mortals can own this trend.
The first you may be wondering: Is latex right for me? The answer, of course, is yes (duh). "Fashion is all about self-expression, and what better way to express yourself while being sexy and bold?" says Wilford Lenov, the fashion stylist behind our April cover story with Bebe Rexha (which, yes, featured a lot of latex). "Latex can 100 percent be a high fashion statement, and I've actually seen a few brands doing amazing things with it. However, to the everyday consumer, it can be scary and odd to be wearing an oversized condom for clothing. Being called 'sexy' should be embraced, not feared."
On the other hand, Atsuko Kudo, who has her own namesake couture latex label, feels that latex doesn't always have to be sexy, either. "I have always thought that latex can be for everyone, and can potentially be worn in any situation," she says. "It is, of course, a highly sensual fabric, but our senses are complex and are not only just 'sexy.' Though, of course, latex is a fetish fabric, I have always designed entirely with latex, and I design every type of garment." Which is why you'll see Kudo's designs everywhere from the red carpet to the bedroom.
Laura Petrielli-Pulice, founder of latex label Vex Clothing, agrees that latex has begun to lose its fetish reputation, which is the reason she began her label in the first place. "I think that over the past couple of years, latex has made a splash and is now being associated with high fashion and streetwear, which I think is amazing. It's the whole reason I started working with latex—I wanted to see more fashion pieces in this amazing fabric."
So, how can we begin to work this magical fabric into our own wardrobe? Lenov suggests starting with layering in pieces, making sure there is a bit of balance between latex and non-latex. "For example, try a cute latex bra layered over a button-down with a pair of denim jeans and booties," he says. "Also, I would recommend pairing statement pieces with more neutral pieces for balance, such as a latex skirt with a crop top, or a pair of latex pants with an oversized T-shirt or jacket. You always want to make sure it's balanced to avoid the look of trying too hard."
In general, opting for a simple, essential piece (you know, rather than a full catsuit or a ruffled gown) is also a great way to start playing with latex. "I always recommend a basic piece, like an accessory or a pencil skirt," says Petrielli-Pulice. "For men, a T-shirt or a tie—pieces that are easy to mix with items that are already in your closet."
Lenov points out that there are different kinds of latex materials used in clothing—shiny and matte. If you're just heading for drinks and not a full-on party, he suggests opting for matte, not only because it's a bit more subtle, but it's also much easier to wear and care for. "The shinier latex requires special lubrications and can be more difficult to deal with other fabrics, and just the feeling on your body may feel uncomfortable," Lenov says. "Whereas the matte latexes are much easier to wear with other clothing and will avoid damaging other layered fabrics."
In general, you should go into buying a latex product knowing that it requires special care and can't just be tossed in the wash with the rest of your clothing; it requires upkeep.
It also takes some practice to get it on your body. But, never fear, there are steps that will make putting on your latex a smooth process, such as applying talcum powder and lube (yes, lube, but not your bedroom KY Jelly). Talcum powder helps with matte latex, while lubricant oils work for shiny latex, Lenov explains.
If you're working with a shinier latex, you'll need a polish to keep it looking fresh. Kudo stresses the importance of this step and even has her own polishing formula, that keeps the latex moisturized the same way a lotion would moisturize the skin. "We recommend opting for a latex polish that doesn't leave a residue and treats latex like a skin moisturizer," says Kudo. "It's water-based, as oils damage latex. It also helps with the cleaning process, helping to remove talcum powder and dirt."
Your latex pieces will need to be washed in between wears, but note that you cannot machine wash, dry clean, or do any kind of heavy wash. "Wash it in warm, soapy water—preferably Palmolive dish soap— which takes off oil and helps preserve and clean the fabric," says Lenov.
It's also important to keep in mind that UV rays can have an impact on latex clothing. "UV rays can damage latex, so you'll want to keep it out of the sun when you're not wearing or enjoying your piece," says Petrielli-Pulice. Additionally, she recommends opting for a UV-protected polish if you are wearing your pieces in the sun.
But the most important tip of all is to simply have fun with it. According to the experts, you can (and should!) wear latex anytime you feel like jazzing things up. "Wearing latex is like wearing glitter, or something that's loud and bold," says Lenov. "It's not something you can wear every single day, but on the day you feel like you want to make a fashion statement for whatever, adding latex to the mix will spice up your look."
Though, keep in mind, with summer weather right around the corner, opting for a full latex look on a particularly sweltering day might not be the best idea. "There really isn't a way around it, heat and latex do not mix," says Lenov. "But, if you are bold and ambitious, lubricant is essential for shinier latex, and matte latex just needs a prayer; sweat will be inevitable."
Below, we rounded up our favorite wearable, "everyday" latex pieces.
Fashion Nova, Jodie Latex Bodysuit in Neon Yellow, $34.99, available at Fashion Nova.
Syren, Lada Dress, $385, available at Syren.
Vex, The Kitty Bra, $99, available at Vex.
Honour, Zip Latex Leggings in Black, $107.99, available at Honour.
Kim West, High Neck Crop Top, $114, available at Kim West.
House of CB, Pascha, $68, available at House of CB.
Vex, Angel Skirt, $500, available at Vex.
Honour, Plus Size Glamazon Latex Dress in Black, $121.99, available at Honour.
Atsuko Kudo, Sleeveles Linde Top, $234.66, available at Atsuko Kudo.
Pretty Little Thing, Orange Vinyl Zip Detail Belted Mini Skirt, $45, available at Pretty Little Thing.
Syren, Garbo Blouse, $360, available at The Stockroom.
Fashion Nova, Lollipop Latex Skirt in Burgundy, $42.99, available at Fashion Nova.
Polymorphe, Marbled Pareo Skirt, $195.12, available a Polymorphe.