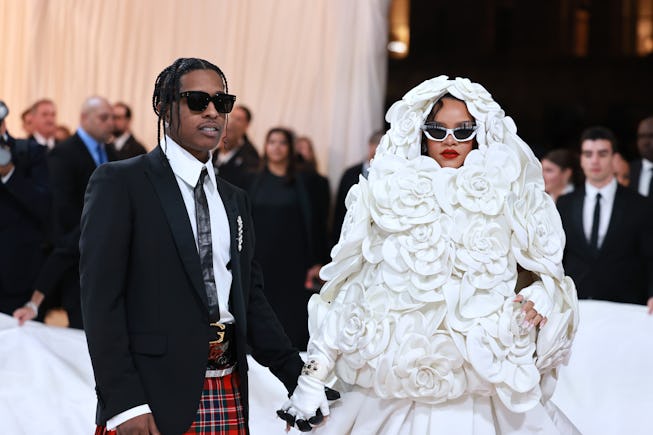 Finally, The Met Gala Has A Promising Theme
Calling all "Sleeping Beauties."
Right when fashion enthusiasts were growing impatient, the 2024 Met Gala theme finally dropped — and it sounds promising for the first time in years.
On Wednesday, Nov. 8, The Costume Institute of the Metropolitan Museum of Art revealed that the theme for its Spring 2024 exhibit and its annual Met Gala celebration centers around "Sleeping Beauties: Reawakening Fashion," which, according to the official press release, isn't as straightforward as it may seem.
Rather than the assumed angle of fairytales, "Sleeping Beauties" refers to a display of approximately 250 treasured garments and accessories in the museum's collection that are so fragile they need to be housed in glass "coffins." On top of that, it will be organized around three main "zones"— Land, Sea, and Sky — that pay tribute to the natural world. The assortment of historical garments and contemporary fashions spans 400 years and aims to "explore notions of rebirth and renewal, using nature as a metaphor for the impermanence of fashion." In other words, breathing new life into storied objects that "can no longer directly interact with the body."
Fashion week aside, the Met Gala is the most anticipated time of the year for both industry insiders and onlookers alike. Dubbed the "Superbowl of Fashion," people look forward to pop culture's biggest spectacle mainly for one thing and one thing only: to see the biggest style stars dress to impress — and maybe adhere to the night's theme.
Viktor & Rolf, Fall 2005Michel Dufour/French Select/Getty Images
Alexander McQueen, Spring 2001LEON NEAL/AFP/Getty Images
The Met Gala has tapped into some interesting themes, but many weren't successfully executed by guests, if we're being honest. The event previously focused on broad (and very vague) themes from Heavenly Bodies to Gilded Glamour, and who can forget the highly divisive camp theme of 2019? Even 2023's homage to Karl Lagerfeld was a mixed bag. While it would've been the perfect time to pull from the late designer's archival silhouettes, especially from his pre-Chanel reign, many went off the rails dressing outside of Lagerfeld's designs, expectedly mimicking his signature black tux and slicked-back ponytail, or embodying his beloved cat Choupette.
Despite that, the 2024 Met Gala theme has the potential to go beyond the "Sleeping Beauties" headline. The environmental aspect of it could bring focus to more sustainable, technologically-driven craftsmanship, or explore the sensory experience of fashion (think AI and CGI). "Reawakening" iconic pieces could mean pulling from rarely-seen ensembles from the exhibit's highlighted designers like Christian Dior, Alexander Mcqueen, Yves Saint Laurent, or even discontinued labels from decades before. While fairytales aren't the target for 2024, we can't say we wouldn't mind a fantasy-driven tribute from celebrities (Zendaya, we're looking at you) or a literal interpretation of a "sleepy beauty." See, there's so much to play around with!
While we wait to see what the A-listers bring to the 2024 Met Gala on the first Monday in May, the "Sleeping Beauties: Reawakening Fashion" exhibit will be open to the public from May 10 to Sept. 2, 2024.