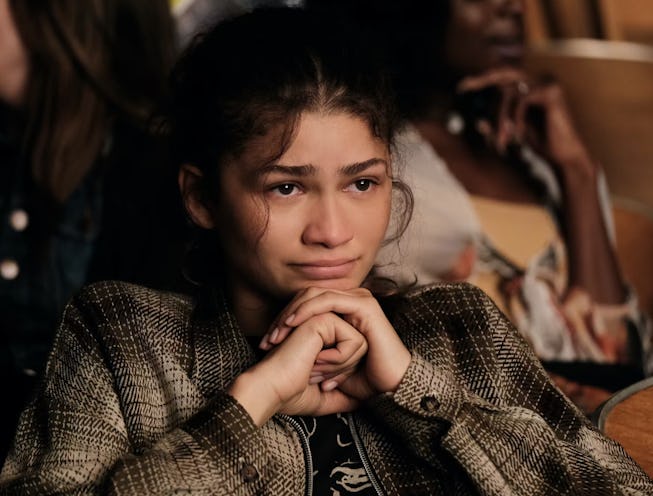 Eddy Chen/HBO
Everything We Know About Euphoria Season 3
The wildly popular teen drama is gearing up to return for Season 3.
Spoilers for Season 2 of Euphoria ahead.
It's been over a year since Euphoria wrapped its tumultuous, wildly popular second season. The teen drama has become an international phenomenon, earning Zendaya her first Emmy win and taking over Twitter feeds with full force every Sunday night. Euphoria is locked in to return for a highly anticipated third season, with new information about what to expect trickling in at a steady pace. Below, find out everything we know about Euphoria Season 3 so far.
Which cast members are returning for Euphoria Season 3?
Naturally, Zendaya will reprise her role as Rue Bennett for the show's third installment, and it seems like most of the cast will be following her lead.
Along with Euphoria's principal cast — Alexa Demie as Maddy Perez, Hunter Schafer as Jules Vaughn, Sydney Sweeney as Cassie Howard, Maude Apatow as Lexi Howard, and Jacob Elordi as Nate Jacobs — actor Eric Dane, who plays Nate Jacob's closeted father Cal, has also confirmed his return. "There's gonna be redemption. That's the trajectory he's on," Dane told Variety. "I can't imagine Cal's life from solitary confinement. It's tough to work Cal into the storyline when he's behind bars."
Dominick Fike fans can rest easy as well; back in February 2022, the actor and singer told Jimmy Fallon that his character, the messy, guitar-wielding addict, Elliot, would "absolutely" be back for Season 3.
Unfortunately, Barbie Ferreira's Kat Hernandez will not be part of the show's new season. After speculation that she was feuding with Euphoria creator Sam Levinson, Ferreira spoke to Jax Shepard about why she wouldn't be reprising her role in Season 3.
"I think it was a mutual decision," Ferreira told Shepard on his podcast Armchair Expert with Dax Shepard. "I think my character who I love so dearly, I don't think there was a place for her to go. She had run her course, story-wise."
Ferreira also alluded to the stereotype Kat filled in the show — and how it was limiting for her character arc. "I don't know if it was going to do her justice and I think both parties knew that I really wanted to be able to not be the fat best friend, you know? I don't want to play that and I think think they didn't want that either," she said. "So I would have played her for as long as I was asked to depending on what the material was."
What is Euphoria Season 3's plot?
What's set to go down in Euphoria Season 3 is one of the most heavily guarded secrets in America, but we have our guesses.
Per the show's costumer designer Heidi Bivens, a time jump is involved. "I'm really excited to read the scripts," she told Vogue in April 2023. "There is talk of it being approximately five years in the future, and that they're not in high school anymore. Dorothy's not in Kansas anymore. I mean, it might be a total trip. Who can say? But knowing Sam's brain, it's gonna be exciting, and he will challenge all of us, because he won't want to repeat himself. It'll be something new for the audience to discover."
The time jump theory was also confirmed by Zendaya, who told The Hollywood Reporter that she's excited to explore Euphoria's characters outside the confines of high school. "I want to see what Rue looks like in her sobriety journey, how chaotic that might look," she said. "But also with all the characters, in the sense where they're trying to figure out what to do with their lives when high school is over and what kind of people they want to be."
When will Euphoria Season 3 premiere?
So far, Levinson, the actors, and the suits at Max have kept their lips zipped about when to officially expect Euphoria Season 3 — but it's safe to say it'll be sometime in 2024. Zendaya confirmed the theory more than denying it: "I think that might be true," she said in April 2022. "I honestly don't know. There [are] some executives that know better than me, you might wanna ask them. I'm gonna be busy for a while."
Where is the Euphoria Season 3 trailer?
A Euphoria Season 3 trailer will likely drop at some point during 2023, but that day has not yet arrived. Stay tuned.