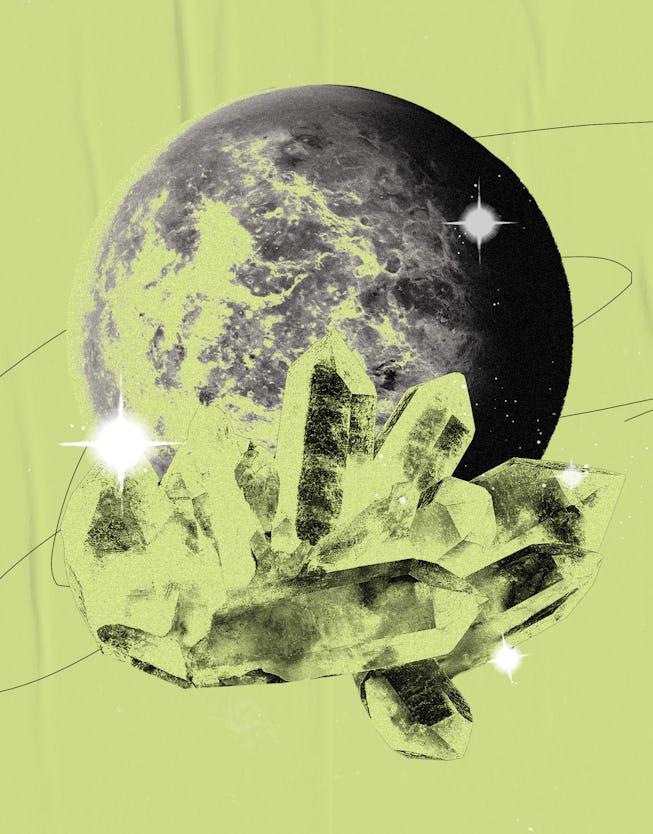 Your July 2023 Horoscope Calls For Romance — And Revenge
With Venus retrograde in Leo and a new moon in Cancer, there's no shying away from chemistry and conflict.
From March to June, the great destroyer Pluto dipped into Aquarius, and suddenly, everything went Battlestar Galactica. In a flash, the burgeoning AI of today announced itself as the Ultron of tomorrow. Will this lead to crippling unemployment, (more) mass manipulation, and the loss of authentic humanity? Or is this the beginning of a utopian, cyber-feminist tomorrow in which we evolve past labor and towards collective consciousness? All this, at just zero degrees into the Age of Aquarius.
But for now, a reprieve: Pluto is back in Capricorn, only returning to Aquarius in 2024. A pause in the discourse on post-humanism, so that we may return to the tsuris of post-capitalism. Oy, this again? Much has changed since Pluto entered Capricorn in 2008: our understandings of authority, manipulation, surveillance, and the past. To close this saga out, we'll have to accept our place in it, and the complications therein.
Start with the full moon in Capricorn on July 3. Follow the example of Capricorn's Tarot tether, the Devil, and face your own relationship with power. The north node enters Aries on July 17, rewarding those who can take responsibility, affirm a Conflict is Not Abuse ethos, and fight for individual authority, autonomy, and authenticity. If you want to be on the John Connor side when the machines rise, you're going to have to be OK with human messiness — especially your own.
Beyond human ugliness, we rediscover human beauty. Enter Venus in Leo, the placement of empresses, movie stars, and living legends. Venus has been in Leo (along with vengeful Lilith) since June, and begins a months-long retrograde saga here starting July 17. On the 11th, Venus welcomes Mercury, followed by the sun, starting the 22nd.
At its highest vibration, Leo inspires our elevated, unlimited solar dignity, radiating upon all others our capacity for right over might. During the same week that Venus retrogrades, a new moon sparks in Cancer, the same of love in the face of survival. There's plenty to fear as both sides of the bridge collapse around us. But is there a possibility that your imagination, positivity, point of view, or self-presentation could be enough to light the way forward, just a little bit? Reclaim the power of influence away from those who don't deserve to wield it. Live your values. Show us a way out of this mess.
Though horoscopes apply to sun signs, we advise that you read the horoscope based on your rising.
ARIES & ARIES RISING
Jupiter was in your home sign for hot bits of 2022 and 2023, blasting open a multiverse of new identities, callings, and missions for you to claim. Though Jupiter moved on, the reboot has only just begun. On July 17, the north node enters Aries, here through 2025. This is a massive karmic return, not experienced since 2006, an initiation into the projects and purposes which will give shape to your life. Sounds lovely and trippy, but where to begin? All the action this month goes down between Cancer and Capricorn, in your fourth house of home and 10th house of career. This axis reveals the expectations which fuel our ambitions. Start here. What outdated dreams (belonging to you or your parents) are creeping back, begging for a good slaying? Cleanse this arena in your life, so that you can cross through the great gate that awaits you.
TAURUS & TAURUS RISING
Venus continues her summer tour of Leo, in your fourth house of home and rootedness. On July 22, just as Leo season launches, Venus goes retrograde. Right now, the beautification of your home — or, perhaps, the discovery of new palaces and summer residencies — is your means of self-discovery. It's been another year of profound change, with Uranus and Jupiter in Taurus, much of which is too heady to fully access at this point. To make sense of it all, you're best served accessing the tangible: fancy bed linens, hotel balconies, and anything that gives you a sense of rootedness. Make it creative, glamorous, and adventurous — so long as you make it your own.
GEMINI & GEMINI RISING
The Gemini rising assignment isn't always an easy one. You're often at the command of the winds, awaiting your next role, assignment, or calling. This month, we get some answers. On July 10, the asteroid Pallas, a.k.a. Athena, goddess of military strategy, and the warrior god Mars both enter Virgo, in your fourth house of psychological stability and emotional rootedness. At the base of your chart, Virgo acts as a command center, ensuring that you feel whole and at home, no matter where you're thrown. Get into details. Make lists. Delight in saying no to unsavory offers. Now's the time to lay out an attack plan and cover your bases, so that you feel clear and confident for the adventures to come.
CANCER & CANCER RISING
Expand and contract: you know the drill. This month, your home sign sets off a volley of combustive, propulsive transits, arming you to speak triumphantly for yourself. With every score in Cancer, in your first house of intrinsic selfhood, comes a reaction in Capricorn, in your seventh house of relationships. At your moments of victory, you may receive a text from a long-lost ex — or your mother. Consider this a back-and-forth between the sun and Pluto, between the surface and underworld: both realms contain majesty and magic, so long as you always have a round-trip ticket. Take the Capricorn full moon, on July 3, to unleash the beast on your relationships, then give yourself a chance to reintegrate with the Cancer new moon on the 17th.
LEO & LEO RISING
Much of the spectacular change in your chart comes courtesy of Jupiter (expansion) and Uranus (awakening), in Taurus, in your tenth house of career. These great liberators favor bombast and divine mandates, issuing glorious calls for you to answer. Sounds spectacular, but where does this leave you, in all the clamor and the clangor? With Mercury joining Venus and Lilith in Leo on July 11, followed by the advent of Leo season on the 22nd, you get some say in the matter. Venus begins her summer retrograde of Leo on the 22nd, giving you a chance to arrange your debut. Start by setting some terms. If the gig of your dreams were to make itself available to you tomorrow, where should they reach you? How would you like to be cast? What role would you prefer to play? Where should we stage your audition? The world is watching, so let us know.
VIRGO & VIRGO RISING
Mercury, Mars, and Venus have been at the cauldron in Leo, in your 12th house of the unprocessed, cooking new desires, ideas, and drives just out of your view. This month, you finally get some conscious release. On July 3, a full moon in Capricorn, in your fifth house of creative expression, invites you to splatter paint, spill drinks, and release the beast. Then comes the Virgo awakening, as the asteroid Pallas, a.k.a. Athena, and the warrior god Mars enter your home sign on the 10th, followed by Mercury on the 28th. It's time to fire your volleys and announce your plans for conquest. In your sign, Mars craves decisive action. Don't let all this firepower implode into crippling anxiety. No more waiting in the wings: do, do, do!
LIBRA & LIBRA RISING
On July 17, the north node enters Aries, in your seventh house of relationships, and the south node crosses into your home sign, until 2025. When Jupiter was in Aries, your friendships, collaborations, and intimate relationships became gates to higher possibility. Now, those relationships take on a karmic verve. You're going to have to push yourself beyond the old games, hierarchies, and escapes, and really cultivate those bases of support you've developed over the last year. Of course, as Pluto retrogrades in Capricorn, in your fourth house of family and origins, you'll encounter those past demons which have made intimacy difficult in the first place. Dispatch them to their coffins and resume course. Nothing can slow your momentum now.
SCORPIO & SCORPIO RISING
How does the word visibility make you feel? With Lilith, Venus, Mars, Mercury, and the sun all blasting through Leo this month, in your 10th house of public glory, you're more exposed than ever. The challenge comes not in being seen, but being seen in ways you cannot control. With squares from the Leo planets to Jupiter (growth) and Uranus (change) in Taurus, in your relationship arena, you'll find yourself submitting to new, challenging, and revelatory points of view from the people in your life. Inevitably, these perspectives are meant to deliver you from myopia. Don't shy away from the attention — even if it brings a reckoning.
SAGITTARIUS & SAGITTARIUS RISING
Venus continues her summer-long expansion of Leo, in your ninth house of expanding horizons, inspiring new courses of travel, study and personal development. There's more out there for you. Meanwhile, Jupiter (growth) and Uranus (awakening) deliver gold in Taurus, in your sixth house of the body and its limits. You're having a fascinating conversation about what's possible, what's sustainable, and all the ways you no longer want to push yourself to extremes. You're electing the pursuits of your next decade. Take your time, honor the demands of your somatic system, and trust that you can meet every adventure with sobriety and integrity.
CAPRICORN & CAPRICORN RISING
On July 3, a full moon in your home sign kicks off the month with ambition and clarity. Cancer season seeds love, support, and possibility in your seventh house of relationships, with a Cancer new moon on the 17th inspiring a new romantic cycle. All this sounds lovely, but for the return of Pluto, retrograding back to your sign from Aquarius. As planets move through Cancer, they'll activate your underworld master, raising long-buried anxieties and insecurities. To be clear, these are revenants, shadows of old selves, meant to test how far you've come. Here's how to get out of your head: embrace Venus in Leo, in your eighth house of sexuality, and let yourself lose control. Explore loving submission, and let your inner Persephone reign over your fears.
AQUARIUS & AQUARIUS RISING
This oughta be good! As Venus (love) begins her retrograde in Leo, in your seventh house of relationships, she squares Jupiter (expansion) and Uranus (inspiration) in Taurus, in your fourth house of home and rootedness. On one hand, you're on a deeply interior journey to build a sense of home for yourself, and to cultivate experiences which only you can enjoy. On the other hand, what are you supposed to do? Turn away love? Ideally, you'll find a way to welcome verdant life in both the home and relationship arenas, but it will take some finessing. Fortunately, Mars enters Virgo, in your eighth house of sexual expression, on July 10. If you want a release from your problems, you might as well seek it in the bedroom.
PISCES & PISCES RISING
Keep dating, dancing, and experimenting creatively this month; only through exposure in the wild can you collect useful data. With Saturn in your home domain and Venus touring Leo, in your sixth house of boundaries, we know you're claiming new ways to affirm your desires and discretions. On July 10, the fire planet Mars enters Virgo, in your seventh house of relationships, introducing challenging lovers, collaborators, and even enemies to test your limits. These encounters are likely to set you off, but you can't deny that the friction is hot. Let the blowouts act as catalysts for new possibilities.