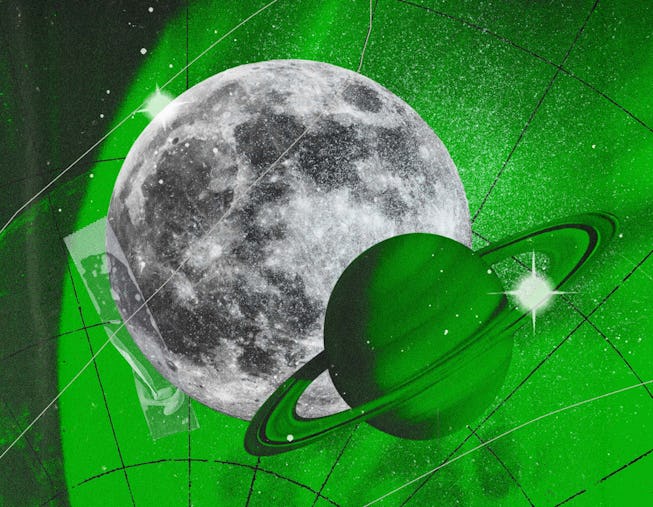 March 2023's Full Moon In Virgo Preps You For Uncertainty
Coming right as Saturn enters Pisces, March 2023's full moon in Virgo rewards the focused.
Have you heard? Big things are happening in the sky. Professional astrologers and enthusiasts alike have been screaming about March 2023 for months — nay, years! — as two definitive cosmic chapters close and new ones start to unfold. First, there's Saturn in Pisces, kicking off a reality check from pharmaceuticals to cultural delusions and everything in between, along with a new slew of Saturn return transits, starting March 7. Then on March 23, Pluto shifts into Aquarius, signaling a new reckoning and technological age. But before these massive transits take hold, there's a full moon in Virgo on March 7 at 7:40 a.m. EST, offering up one last opportunity to get your sh*t together before life hits you on the head with the celestial hammer.
March 2023's full moon in Virgo could not be more peculiar. The full moon hits its peak while both Saturn and Pluto are at their final 29 degree mark. Known as the critical degree, this signature is massively important in astrology — it's the last moment before a planet goes into a new sign, and is heavy with culmination before a big release. Finally, approximately one hour after the full moon in Virgo, Saturn begins its transit in the waters of Pisces. I cannot stress this enough: This is a huge deal.
"On a macro level, we have a few guesses of what's to come in the immediate," writes NYLON astrologer David Odyssey in his March 2023 horoscope. "It wouldn't take a brilliant astrological mind to predict an even deeper downfall for the tech and media industries, a pileup bonfire which Pluto in Aquarius will dance around for years to come. Saturn in Pisces, meanwhile, will very quickly shift the conversation from one-size-fits-all collectivized humanism to personal responsibility: How are you handling your messiness?"
While Pisces is the final sign of the zodiac and the symbol of the expansive collective unconscious, Virgo, its opposite sign, is the sign of systems and the nitty-gritty details of life. Virgo's values are often misunderstood as insignificant, maybe even annoying, but the earth sign knows that their skills are the building blocks necessary to make something great, something that's part of the bigger picture. Per Odyssey, "the Virgo full moon on March 7 rewards clarity, focus, and hard boundaries." Look to where Virgo lands in your birth chart and devise a game plan that goes the distance. Put in the effort and you'll eventually see that the rewards are yours to reap.