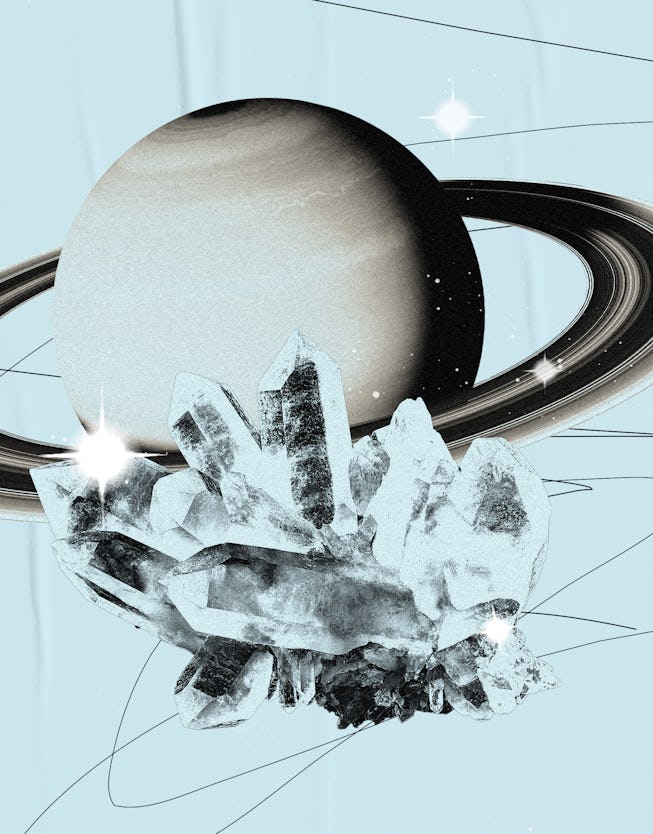 Your March 2023 Horoscope Is A Game Changer
This March, Saturn enters Pisces, Pluto hits Aquarius, and a new world order gets rolling.
How was your February? Relaxing and restorative, like those cot naps firefighters take between explosions? We hate to say it, but for once, all the astrological hype is true: March promises to be a game changer of a month, with Saturn entering Pisces on the 7th and Pluto dipping into Aquarius on the 23rd. It's likely that the impacts of these transits won't be felt immediately in the personal realm, but, considering that Saturn only made it one degree into Aquarius from March through June 2020, all bets are off.
On a macro level, we have a few guesses of what's to come in the immediate. It wouldn't take a brilliant astrological mind to predict an even deeper downfall for the tech and media industries, a pileup bonfire which Pluto in Aquarius will dance around for years to come. Saturn in Pisces, meanwhile, will very quickly shift the conversation from one-size-fits-all collectivized humanism to personal responsibility: How are you handling your messiness?
Luckily, you'll have support for this plunge into uncertainty. On the second, Venus makes a conjunction to Jupiter in Aries, firing the month off with a spirit of propulsive courage. Invoke the great Aries warrior women — think Sarah Michelle Gellar, Jennifer Garner,, and Shannen Doherty — as you embody power and purpose. More rewards come for those with a plan. The Virgo full moon on March 7 rewards clarity, focus, and hard boundaries. Then, Aries season drops on the 20th, followed by an Aries new moon on the 21st. But the real boon for conquerors is the arrival of Mars in Cancer, on the 25th. Since August 2022, Mars has lost the plot in Gemini, falling into traps of vagueness, ambiguity, and overwhelm. By the end of this month, the planet of drive hits a cardinal sign, and the race to victory is back on.
If it helps, categorize it this way: Saturn and Pluto will soon change everything. Jupiter, Mars, and the rest of your private planets want to help you find stability, linearity, and clarity so that you can weather the storm to come. You've been over the global discourse for some time now: the late-capitalist meltdown, the generational battle royale, and all the drab cultural moralism. Now that the seasons are finally changing, are you going to stay in a fugue or embrace the bright possibilities? Clean up your act, make a plan, and get ready. This is only the beginning.
Though horoscopes apply to sun signs, we advise that you read the horoscope based on your rising.
ARIES & ARIES RISING
Last month, we encouraged you to express your shadow side, to integrate what's in your underworld into the surface projection. Before the advent of Aries season on March 20, and the Aries new moon on the 21st, you'll be called to further meld your opposites: good and evil, strong and weak, masc and femme. The month starts on horseback, with Venus hitting Jupiter on the 2nd, activating a surge of battle diva ferocity. Then comes the reversal: On the 12th, Jupiter hits Chiron, the asteroid archetype of wounds transformed into lessons. On the 16th, Venus squares Pluto, activating another wave of underworld phantasms and emotional reprisals. It's the lesson Buffy had to learn the hard way: "The Slayer forges strength from pain." This Aries season promises to be one of the most spectacular ever. But it's nothing if you can't meet it with an open heart.
TAURUS & TAURUS RISING
Pluto's dip into Scorpio will set off a decades-long relationship reinvention for you. But it begins now. The asteroid Juno (aka Hera), queen of Olympus and no stranger to dramatic displays of power, enters your sign on March 11. Then, your ruling planet Venus hits Taurus on the 16th. With the dark femme Lilith in Leo, in your fourth house of home and roots, you're challenged to speak up, express yourself, and defy anyone (past or present) who has kept you small. Deck yourself out, make yourself resplendent, and start making demands of your lovers, friends, and, most importantly, yourself. Ditch the affected humility; it's time to unleash the diva from the depths.
GEMINI & GEMINI RISING
The barrier between the dream realm and our reality melts down for you this month, as the Pisces pileup inspires your 10th house of career ambitions. But to bring your dreams into fruition, you'll need to check in with your body, and your support systems, to see what's doable. Take the Virgo full moon on March 7, in your fourth house of home and roots, to ensure that you have a home base for the changes to come. Throughout the month, the Piscean planets will square Mars, the planet of the body, in your home sign, inspiring conversations about your limits and needs. No compromise of your dreams is required, but knowing how far you can go before burnout will ensure unprecedented progress.
CANCER & CANCER RISING
Let's go. From start to finish, March promises to be a spectacularly combustive month. Remember that Aries rules your 10th house of career and public glory, meaning that all the action here is for the fulfillment of your greatest dreams. Take the Venus-Jupiter conjunction in Aries on March 2 to make yourself visible and discoverable. Mercury hits Aries March 19 through April 3; concentrate all your pitches, emails, and bold, all-or-nothing asks for that two-week period. And take the Aries new moon on the 21st to concentrate and even hallucinate the grand final endgame, your immortal and imminent legacy. Of course, the main event comes on March 25, when Mars finally enters your home sign, awakening your inner Alexander the Great for a ride into the unknown. You've had months of ambivalence, second-guessing, and doubting what you're capable of. No more waiting in the wings. This is it. Believe that you're ready, and you will be.
LEO & LEO RISING
On March 7, Saturn ends its tour of your seventh house of relationships, continuing into your eighth of metamorphosis. No more mirror projections, shadow selves, and relational pitfalls. It's not about them, but about you, and the role you wish to evolve into. The Virgo full moon on the 7th illuminates your second house of self-worth and earning. Then, on the 16th, Venus hits Taurus, in your 10th house of career and public esteem. If there's an invitation to start something new, to be the originator on a risky project, go for it. You're no longer awaiting anyone else's approval. It's time to take the lead.
VIRGO & VIRGO RISING
You've been picking up steam in your career arena, having Mars burning in Gemini, in your 10th house, since August. As Pisces season awakens new life and sensitivity in your seventh house of others, you'll have to reconcile the recent blast of career momentum with the relationships in your life. First, take the Virgo full moon on March 7 to get clear on your point of view, mission, and starting point. Then, the negotiations begin. Who do you need to recruit to take your career to the next level? Which collaborations serve you right now, and which are stuck in stasis? What is the balance between love and ambition? You're at the start of launching a new creative community; begin by clarifying the most important relationships in your life, so that you can build something new together.
LIBRA & LIBRA RISING
The surge of bright planets in Aries lights up your seventh house of public visibility like a Hanukkah Bush. You are absolutely in the spotlight as the romantic lead and career dominator, with Mars entering Cancer, in your tenth house of ambition, on March 25. In the past, at moments like these, you may have subsumed your fears, heartbreaks, or insecurities to prove that you weren't difficult, or wouldn't ask for too much. Not this time! Jupiter hits the asteroid Chiron on the 12th, synthesizing old relationship wounds. On the 16th, Venus squares Pluto, the underworld in your fourth house of family and roots. To move forward, you'll have to bring the baggage with you, and risk letting your uglier sides be seen in the spotlight. You don't need to be perfect to be a star.
SCORPIO & SCORPIO RISING
An excellent month for romance, pleasure, and partying with your chosen community. Pisces season sparks delight in your fifth house of romance; Venus brings intrigue to Taurus in your seventh house of relationships on March 16th; and Mars continues to surge in Gemini in your eight house of sexuality. February felt like a purge, a reboot from the ground up. Enough introspection and hermitage; it's time to reach out, grab another, and leave the rest to fate. See how this latest incarnation of you does out in the wild. Only through immersion can you gain more data.
SAGITTARIUS & SAGITTARIUS RISING
With Venus in Aries, in your fifth house of romance, and Mars still in Gemini in your seventh house of others, you should be out and making contact. Over the last six months, what have you learned about yourself in relationships? What sets you off? What makes you act like a lunatic? What stimulates you? March is an excellent month for trial and error, for striking out, then coming home, and recording your findings. You don't have to feel like a perfect extrovert all the time; the cocooning is just as essential to your process as the adventure.
CAPRICORN & CAPRICORN RISING
We know you're sick of hearing about how Aries rules your fourth house of family and psychological rootedness, how this action at the base of your chart rewards peace, psychological firmament, and the cultivation of home. Fine — we've got badder fish to fry. First, there's the matter of the full moon in Virgo on March 7 in your ninth house of expanding horizons. This is an invitation to strategize on who you're targeting in the months to come. Make lists of gatekeepers, mentors, and teachers you need to reach out to. Then, on the 25th, Mars enters Cancer, in your seventh house of relationships and public visibility. Now we're cooking with gas! Balance out your investments in a steady home life with some extracurricular engagements. Schedule studio sessions with your collaborators, one-on-ones with your lovers, and chances for you to emerge out in the wild. Just because you're rooting in the present doesn't mean you can't look to the future.
AQUARIUS & AQUARIUS RISING
After over two years, Saturn leaves your sign on March 7, the same day as the Virgo full moon in your eighth house of metamorphosis. Time to change the narrative. Much of the internal processing (and navel-gazing) is processed; it's time to start reintegrating into the world around you. On the 16th, Venus enters Taurus, in your fourth house of home and roots, inviting you to beautify your surroundings, ground down in your sense of belonging, and make sure you feel like you're really here. You're embarking on a new course of embodiment; make sure you've got both feet on the ground to really begin.
PISCES & PISCES RISING
This promises to be one of the most dazzling, dizzying, overwhelming Pisces seasons you'll ever live through. On March 7, Saturn enters your home sign and a full moon goes down in Virgo, in your seventh house of relationships. Meanwhile, as planets pour through Pisces, they square Mars in Gemini in your fourth house of home and rootedness. Many won't feel the immediate impacts of the coming months, but you certainly will, all at once. The excitement, good times, shake-ups, and burnouts will come concurrently. Pay attention to what's falling through the cracks, what's rising up from the unconscious, where you need support, and what's changing for the better. It's not on you to fight the coming changes, but to build a better container to meet them.