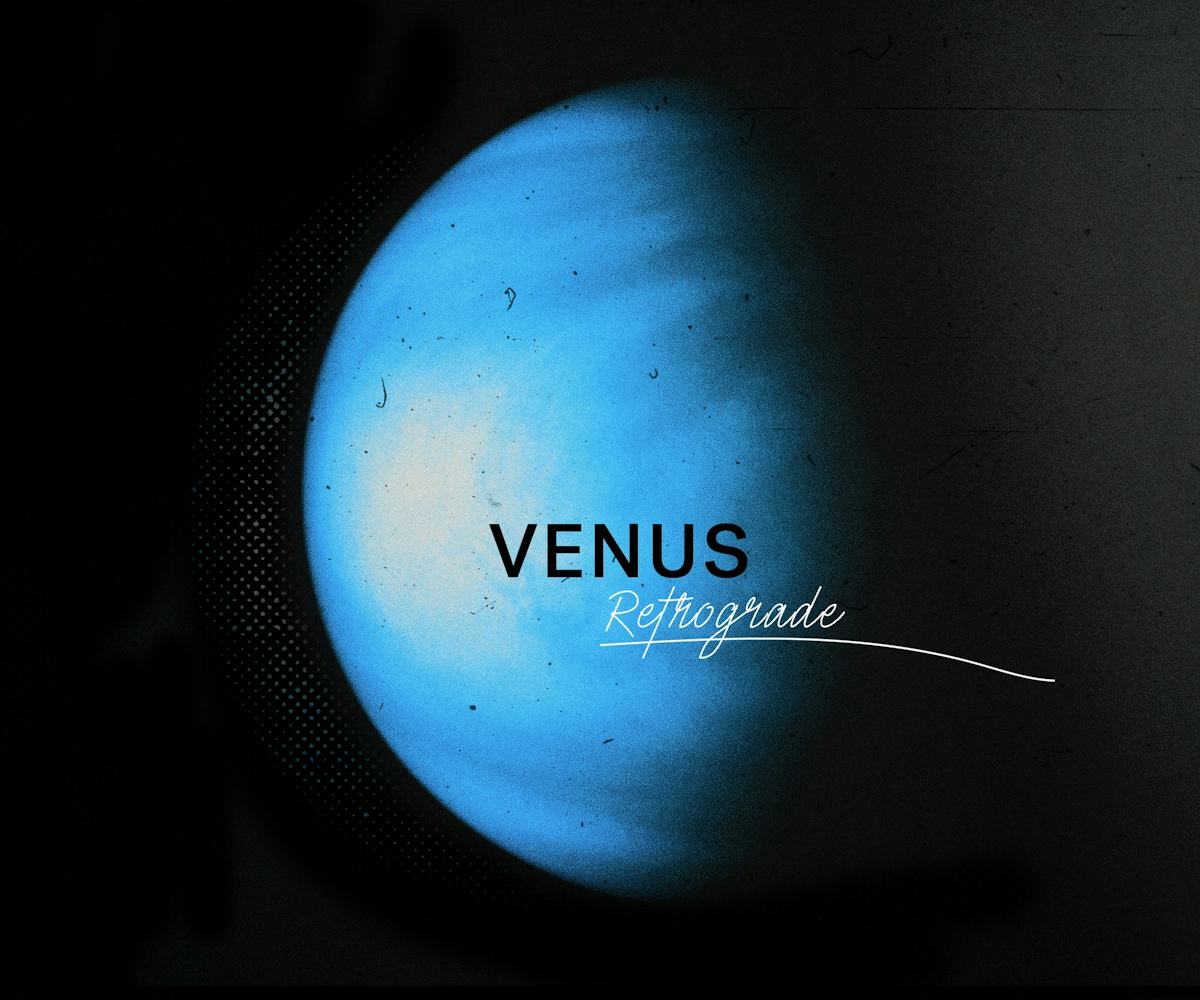 Your Venus Retrograde In Leo 2023 Horoscope Ends The Delusion
Venus retrogrades in Leo this summer, inspiring new looks, lovers, and ways of creating.
From July 22 through September 3, Venus goes retrograde in Leo, inspiring cinematic makeovers, romantic reprisals (for better or for worse), and an opportunity to deepen our relationships with beauty and pleasure. Venus retrogrades about every 18 months, calling for a review in the ways we connect with others, ask for help, announce ourselves to the world, debut our creativity, and fall in love.
Including the retrograde period, Venus will be in Leo from June 5 through October 9: a long and dramatic tour in the sign of talent realized and inner worth affirmed. This retrograde will likely reveal the ways you've sold yourself short — or hidden behind a flimsy show of precarious self-delusion. It will ask you to confront the modes of public presentation which no longer suit you. And you can count on old and new lovers to knock on your dollhouse. To get deeper insight into Venus's plans for you, consult our horoscopes…and let the makeover begin.
Though horoscopes apply to sun signs, we advise that you read the horoscope based on your rising.
ARIES & ARIES RISING
With the south node entering Libra, in your seventh house of relationships, we know you're due to release old relational patterning. But that doesn't mean you can't enjoy yourself through the purge. Venus is currently loving life in your fifth house of pleasure, dating, play, and creative expression. She wants to know: What do you like to do for fun? If we're to realign your relationships to match the new you, it would help if you knew what you wanted. Take yourself — and plenty others — on dates, and let yourself discover new and relevant stimuli: find a new ice cream flavor; try windsurfing; go to one of those awful raves where everyone wears headphones. No one can drag you along, not when you're inspired, curious, and excited by what's on the itinerary.
TAURUS & TAURUS RISING
With Jupiter in your home sign, you're enjoying a once-a-decade homecoming, a declaration, an arrival. We know that to get here, you've had to crawl through mud and barbed wire, and that for you to enjoy the spoils of your labor, you need to feel safe and situated. Venus sets up shop in your fourth house of home, family, and rootedness, calling for a home renovation to honor your metamorphosis. Whether this is a setting down of roots or designing your roving harem tent, you're served situating yourself in time and space. Focus on the tangible aspects of your surroundings to help ground you as you land on earth.
GEMINI & GEMINI RISING
Jupiter is in Taurus, in your twelfth house of undiscovered gifts. Saturn in Pisces is rebooting your tenth house of career and public visibility. We have yet to hit the upper threshold of your talents. As you uncover new gifts, Venus cruises through your third house of rituals, routines, and daily life, helping you to integrate the reboot. Invest in your morning stretches, meditations, and prayers. Turn the walk to the coffee shop into a cinematic entrance or buy pretty gloves for washing dishes. In short, make the mundane riveting, and invest in your day-to-day, so that the big changes can seamlessly download along the way.
CANCER & CANCER RISING
Jupiter is currently raving in Taurus, in your eleventh house of community and good times. The eleventh house introduces you to the friends, patrons, collaborators, and fans who truly get you. But do you know how to introduce yourself? Count on Venus in Leo, in your second house of self-worth, to take the initiative on this one. If ever there was a time to dress, talk, and party like Samantha Jones, it's now. Start with your wardrobe, then go deeper. Do you flinch when you receive a compliment? Are you good at introducing yourself? Sort it out. We need you in the spotlight — and pronto!
LEO & LEO RISING
What a playful summer you have before you, in which you can try new forms, styles, and sensibilities before stepping out into the world. By this point in 2023, you know that the spotlight isn't fading any time soon. Even if you're not quite set on what this era looks like for you, you're comfortable enough letting yourself experiment. (Look to the shapeshifting Leo Madonna for inspiration.) What do you want to try on? What do you want to scrap? What feels like a layer of the old you, no longer necessary for protection? See what fits, and let us enjoy the show while you're at it.
VIRGO & VIRGO RISING
Venus and Lilith have taken residence in your twelfth house, the dark domain of unprocessed experiences, gifts and feelings. This should be good. When Venus retrogrades, she is said to cross into her throne in the underworld, incarnating as Persephone, Ereshkigal, or any dark majesty you prefer. You'll feel this transit more potently than anyone else. As Saturn in Pisces commands a reboot of your relationship life, Venus wakes you up to the power you've been denied, the gifts you've betrayed, and the dramatic retribution everyone has coming. See what is rising up from the depths. Embrace it. If you can unleash your dark side, and recognize its beauty, the people in your life will have no choice but to do the same.
LIBRA & LIBRA RISING
The north node is now in Aries, in your seventh house of others, which makes every relationship a vehicle to your future. Great leaps of trust are called for, as you forge binding unions, collaborations, and contracts with the creative partners who will take you beyond. With Venus in Leo in your eleventh house of community and audience, you'll have to take a look around at who's at the party with you. Do these people get you? Are you giving them a chance to? How are you displaying your talents to the masses? There is a creative and joyful way for you to represent your values on the grand stage, and attract the followers who can go a hundred miles. Let yourself be the curator of your presentation.
SCORPIO & SCORPIO RISING
An epic summer if ever there was one. Jupiter in Taurus brings suitors and seduction to your seventh house of others, while Venus continues to soak in adoration in your tenth house of career and public visibility. You've made so much progress in letting yourself be seen, discovered, and helped along on your path. Keep experimenting! You have time, now, to think about which projects and collaborations you're enjoying, and where you feel like you're still struggling to ask for help, or take the next big leap. This isn't a crisis or a reboot, but a subtle turning, in which you can refocus and reframe what happens next.
SAGITTARIUS & SAGITTARIUS RISING
Through summer and late fall, Mars surges Virgo and Libra, in your very public, career-focused 10th and 11th houses. This is a time of clear-willed execution, of intentional progress. But to go forward, you'll need to meet the right guides and masters. Venus takes residence in your ninth house of gates and gatekeepers. Here, she wishes to introduce you to the teachers, mentors, editors, authorities, or connecting figures who will help you along. This is an essential time to ask for help, and to trust in new friends and community. These connections will blast you far beyond the world you know.
CAPRICORN & CAPRICORN RISING
Jupiter is cruising through Taurus, in your fifth house of romance and pleasure, so know you're due for a good time. Making matters more interesting is Venus, in your eighth house of sexuality. Here, Aphrodite challenges your vulnerability, and your ability to receive love, affirmation, and even financial support. Do you let your lovers and collaborators even see you? At this stage in your life, do you need to be in control? What would it feel like to let someone charming and sweet carry your purse? Accepting love isn't always easy. But it's always worth it.
AQUARIUS & AQUARIUS RISING
A Venus retrograde, in your seventh house of relationships? Could it be necessary? Even…helpful? The last few months have fundamentally shifted the way you view relationships, and introduced some challenging figures to shake you out of complacency. You have a chance now to let the shock recede as you invest in these new bonds, and find a way to deal. Who is pushing you? Who is frightening you? What is setting you off? What are they seeing that you wish they wouldn't? You're undergoing a massive opening, and Venus wants to teach you how to better connect. All you have to do is let go of your grip.
PISCES & PISCES RISING
Mars fires off into Virgo and Libra, in your seventh house and eighth houses of love and the carnal. There's firepower in the relationship arena, going into the fall. Venus stages her home renovation in your sixth house of embodiment, boundaries, and limits. You have an opportunity to drop into your body, set your terms, and feel totally centered as you engage with others. If it feels like you're being a primadonna and asking for too much, you're probably heading in the right direction. Let yourself be the heavenly body. They can orbit you for once.