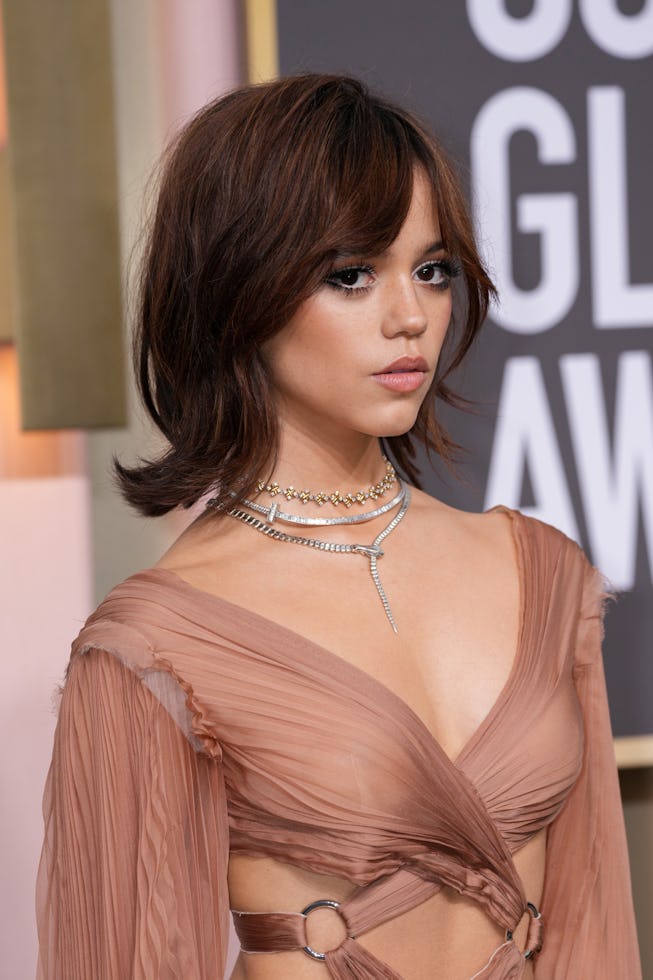 Kevin Mazur/Getty Images Entertainment/Getty Images
Jenna Ortega Embraces Emo Bangs and Eyeliner At Saint Laurent's Menswear Show
After the success of the first season of the highly anticipated Netflix series Wednesday, Jenna Ortega has been doing the rounds at numerous star-studded events and fashion shows, further establishing her status as the goth It girl of the moment. She wore a Versace corpse-bride style dress with heavy black eyeshadow to the Netflix premiere of Wednesday, following it up at the 2023 Golden Globes with a soft Hollywood glam look tempered with a choppy wolf cut. Next up, on January 17, the actress attended the Saint Laurent Menswear fashion show in Paris in a black hooded dress and a return to gothic style.
Ortega's hair and makeup for the show channeled her now well-known emo style, featuring wet, slicked-in-place side bangs peeking out from under the hood of her draped gown and thick black eyeliner fully encircling her waterline and upper eyelids. With dewy skin, no blush, and a soft matte neutral lip, the result was a fashion collaboration that even Wednesday herself would be down to wear. Ortega was joined at the show by fellow Wednesday actor Percy Hynes White, who also wore all black and slicked back hair.
Both side bangs and moody black eyeliner have been having a major comeback lately, with the likes of Kim Kardashian switching it up with a side part and Demi Lovato bringing back their goth eyeliner phase. With celebrity approval, and Y2K beauty trends making a major comeback, it seems the return of the side bangs is also well underway. Other celebrities, like Bella Hadid, have started rocking the style in recent months,
Ortega's latest look for Saint Laurent's latest fashion show is already being compared to the iconic Grace Jones in the comments online (a major compliment for the young starr). She's also drawn comparison to fellow actress Taylor Russell. With the side bangs and heavy eyeliner combo comeback alongside the current Tumblr renaissance, it's clear emo beauty is making its full return with Ortega (and her alter-ego Wednesday) becoming the face to bring it into a new decade.