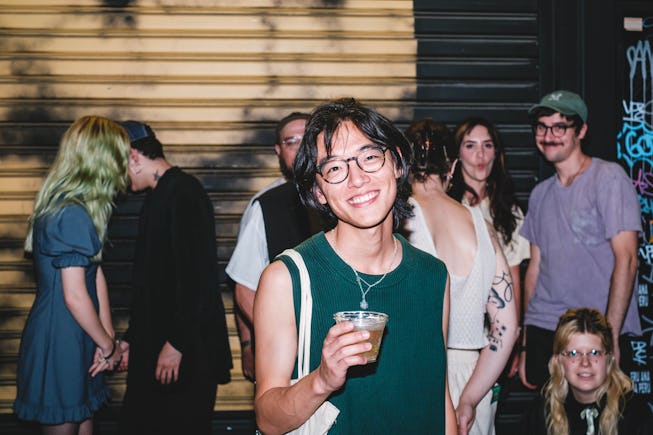 In Brooklyn, "Dirtybag Twee" Bands Are Making Earnestness Cool Again
Bands like Precious Human and Big Dumb Baby are crafting guitar music that revels in big emotions.
On a Wednesday night in August at the popular music venue Baby's All Right in Williamsburg, Brooklyn, a gentle scene is taking place.
Though the local hot spot has become a home base for rowdy shows dominated by "Dimes Square" scenesters like Blaketheman1000, May Rio, and Frost Children, tonight's late-night programming is offering something different. Dozens are crowded in the venue's back room, lovingly swaying along to the headlining set from local indie act Precious Human, a seven-piece live band that plays songs filled with "du du dus" and lyrics about how deep one's love goes.
Toward the end of the 40 minutes, the band's frontman and brainchild Christian Medrano lulls into the mic, "I like that I can write these songs/ I like that you could sing along/ I like that I'm here with my friend/ I like that I know that this'll never end," while playing his song "i love u." The crowd dances and raises their hands, stretching their fingertips as if trying to touch the sweet sensation permeating from Medrano's twang into the room; as if doing so, the moment really could "never end."
This sweetness is a distinct quality of an emerging micro music scene in Brooklyn of which Medrano is a part, called "dirtybag twee." Taking shape over the past year, the tight-knit community has amassed just as many members as their "indie sleaze" revivalist peers, who have become somewhat of a viral media sensation.
While their friends who make alt-pop, electroclash, and hyperpop have responded to the way their lives were interrupted by the pandemic by throwing copious parties and crafting snarky, tongue-in-cheek songs about sex and escapism, "dirtybag twee" artists like Precious Human, Big Dumb Baby, Grumpy, Richard Orofino, Jane Lai, and others are crafting guitar music that revels in earnestness.
"[A lot of artists in New York] right now seem to be making music that is responding to a given set of conditions in the world and asserting in some way what they want from the world instead," says 27-year-old musician Logan Chung, who plays in the live bands for Precious Human, Jane Lai, Katy Kirby, Fenne Lily, and workwife. "There's the sleaze response, [which is], 'Let's have a really good time, let's party, let's drink, let's have fun.' Then the twee side is more towards earnestness. Like, 'Feel this, talk about that.'"
Collectively and individually, they write songs from a sincere perspective about the minutiae of life that become inside jokes or loving memories and the moments that inevitably become diary entries. For Chung, "dirtybag twee" music focuses on documenting how awesome it is to "go on a little road trip with your friends or be shown [the band] Told Slant by a new friend," he says. Or, to search "for a job to get by that doesn't involve screwing over other human beings."
Brooklyn musicians like Big Dumb Baby (right) are ushering in "dirtybag twee."Emilio Herce
Logan Chung (left) plays in the live bands for Precious Human, Jane Lai, and more.Emilio Herce
Christian Medrano, 32, is the force that connected many of the artists in NYC.Emilio Herce
"Dirtybag twee" essentially started as a meme, according to Brooklyn-based musician Ashley Mayorquin, 27, who performs as Big Dumb Baby. As she explains it, the phrase first appeared in early 2023 on a hyperlocal Instagram meme page that a handful of NYC scenesters have login access to. Although it's unclear who exactly coined the term, it was seen on a post referring to an area in the Brooklyn neighborhood of Bushwick where many of these artists spend time. So while their "indie sleaze" peers came by their label from a nostalgia Instagram, TikTok, and the media, the twee crowd adopted and embraced their label themselves.
"We all just ran with it because we thought it was really funny that [the meme account] called it 'dirtybag' instead of 'dirtbag,'" says Mayorquin, who's since used the term to promote her and her friends' shows. The way the phrase has taken off, Mayorquin jokes, is like they're "shitposting to relevancy."
Whoever codified the scene was on to something, though. Aside from differing musically from their sleaze peers and collaborators, "dirtybag twee" really has taken off in the past few months through frequently hosting shows together (which they've dubbed "friend fests"), collaborating on songs and superbands (like the temporarily named Precious Baby), and playing in each other's bands.
Then there's the twee of it all, which Heaven Schmitt, 27, who performs as Grumpy, sums up as their "making sweetness cool." It's in their work, lyrically, and even down to the etymology of their stage and band names.
"It's very juvenile," says Mayorquin of her and her friends' monikers. "I think that has more to do with us as people and why we get along so well. We have similar senses of humor and are similar people in a lot of ways. We just happened to find each other."
Meet the bands like Precious Human and Big Dumb Baby who are crafting guitar music that revels in big emotions. Playlist courtesy of Logan Chung.
Many of the artists serendipitously found each other over the past two years. Several came from Nashville, where they were like ships passing in the night, before relocating to New York. Chung and Schmitt went to school together in Nashville with other artists like May Rio and Blake Ortiz-Goldberg (aka Blaketheman1000). Shortly after school, Schmitt was considering quitting music altogether and launched Grumpy as a means of finding the fun in making music again.
Medrano, 32, ended up being the force that connected many of them in NYC; Mayorquin befriended Medrano at the Bushwick bar where he worked and many artists gathered, while Chung attended his former classmate Blaketheman1000's gig at Medrano's apartment in fall 2021. ("The number of people who owe him a profound debt, either for just helping them have a place to land in the city or introducing them to every person in the world, is astronomical," Chung says.)
What's drawn them together is their emphasis on songwriting. "The thing that joins Christian, Ashley, Heaven, Richard, and Jane's music, and a bunch of the people who are in our larger community together, is a sense of earnestness and a willingness to accept the fact that you are at all times susceptible to feeling big emotions," Chung says, "and you shouldn't withhold yourself from expressing that and sharing it with other people."
"The twee side is more towards earnestness. Like, 'Feel this, talk about that.'"
Several of the "dirtybag" singer-songwriters consider twee music predecessors like NYC twee-folk legends The Moldy Peaches as inspiring that sincerity in their work. Mayorquin references the early-aughts band as a group she grew up listening to, while Jane Lai, who also plays in "dirtybag twee" bands and hosts house shows, mentions Belle and Sebastian and Death Cab for Cutie as major influences whose songs she couldn't get out of her head as a teen.
Those influences, particularly those bands' taste for specificity, are clear in the work of artists like Lai. "Writing songs is my favorite way to remember and stamp parts of my life," the 26-year-old says. "It's a moving photograph, a moving book, a moving movie. There are names and places and seemingly mundane details in my songs, like failing to hail a taxi or spooning chocolate almonds. There's something so alive and walking that a song can create that no other type of media even comes close to."
That sentiment resonates across the scene — from Lai's "Coffee Etc" tenderly recalling how a friend takes a cup of coffee or Big Dumb Baby's love letter to a grimy yet comforting apartment to Precious Human's commitment to always being there for friends, especially in the face of ennui.
The "dirtybag" part also reflects their tendency to write unfiltered, stream-of-consciousness verses that embrace their own indiscretions. "I like to say exactly what my thought was when I'm writing something because I think that's the hardest, scariest thing to do, even if it's a little self-deprecating or embarrassing to admit," says Schmitt, who's managed to artfully integrate details like nose-picking in songs and painstakingly play on the concept of being a "loser." "I think that is totally what the 'dirtybag' would be in this world that we've made up, without taking it too seriously — the grungy, say anything because everything is allowed."
The way "dirtybag twee" has emerged and coalesced in Brooklyn arguably recalls the moment The Moldy Peaches had in the early aughts; in many ways it parallels how sleaze stars such as The Dare have been called LCD Soundsystem revivalists. As these bands integrate indie pop production or alt-country elements into their sound, one could argue that they're pushing twee forward — even as the genre itself is seldom recognized or given its merits.
Several years ago, TikTokers helped inspire a resurgence of twee, or rather, its aesthetic. On the app, fashion accounts boasted twee as simply being Peter Pan collars, tights with ballet flats and Oxfords, or whatever Zooey Deschanel might've worn while performing as She & Him. Few, as Pitchfork pointed out in 2022, seemed to recognize its rich musical history in bands like Beat Happening and Tiger Trap, who were first associated with the term in the '90s. In actuality, twee originated as a movement in which bands used their pleasant guitar music and words as a means to demonstrate the inherent, overlooked power in softness.
Although the "dirtybag" group admit they never intended to write the next chapter in the genre, their value of being "cringy and sincere" is undeniably what ties them back to it — and what they're fervently keeping alive (albeit with a bit more shameless dirtbag-isms).
Back at that August Baby's All Right show, Medrano passes the mic to Lai, who's on keys, so they can duet some of her own songs. They serenade the crowd with the endearing "Not All, But a Lot," and the room feels welcomed into their secret inner circle as Lai name-drops her own bandmates: "Christian makes me a bagel/ Listens to Nana Grizol/ Logan dances to The Beatles/ Draws stories on napkin books/ Some secret interaction/ Don't you know where it's coming from/ I know it by heart/ Is a darn good breath for a poem."
They all seem to know by heart how uplifting the community has become for them as artists and friends. "I think the important thing to recognize is how unique the situation is for young people who have any sensitivity at all to the conditions of the world right now, and how I truly believe, and I think a lot of us believe, it's pretty unprecedented," says Chung. "If you find a group of people to share a given response to that with a way to understand it and get by with each other, like, shit, that's awesome."