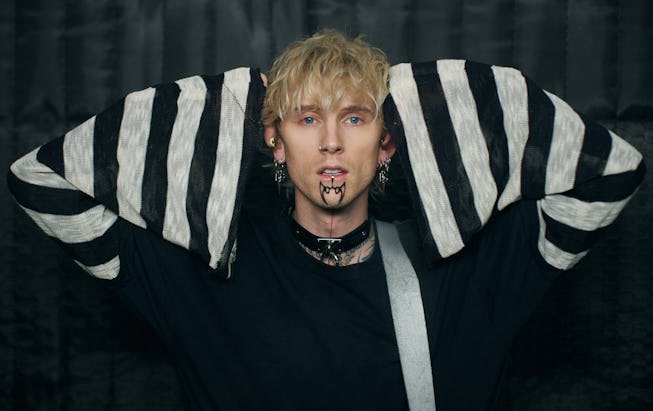 Meeno
Machine Gun Kelly Shared "Emo Girl" & Confirmed His Album's Release Date
The rapper-turned-pop-punk-prophet's next era is here.
Nearly one year after Machine Gun Kelly released his game-changing record Tickets To My Downfall, the rapper-turned-pop-punk-prophet is gearing up to release his next album titled Mainstream Sellout. The album will be executive-produced by Travis Barker and, thematically, serve as the predecessor to Tickets.
Kelly previously announced that the project would be titled "Born With Horns" via matching arm tattoos with friend and musical ally Barker, but he has since since scrapped that name. It's high-stakes change and an unfortunate one at that especially for Barker, who we imagine has to figure out what to do with the now-random phrase emblazoned across his forearm.
The upcoming album will be MGK's sixth studio record and second under the pop-punk sonic umbrella. Tickets To My Downfall, which he released at the tail-end of September 2020, was a major departure from his previously established rap persona and culturally helped kick-off a new golden age for the guitar-driven mid-aughts genre. The genre's playing field is now dotted with a slew of new acts and actors including TikTokers Lil Huddy, Nessa Barrett, and Jxdn, alongside cult musicians Maggie Lindemann and all-women band Meet Me @ The Altar.
It's clear pop-punk's renaissance is just getting started. Here's everything we know about Machine Gun Kelly's next album.
Second single "Emo Girl" with Willow is out now
Kelly has released the second single from his upcoming album, a rollicking, classically pop-punk love song titled, "Emo Girl."
Also featuring Willow Smith, the song was first teased by Kelly when he posted a snippet of its sweet and tender (and maybe a little cringe?) chorus on TikTok featuring the lyrics: "I fell in love with an emo girl/ I'm in love with an emo girl." Now that the full song's out, it appears the rest of the song doesn't go much deeper than that but who cares! It's a playful and fun track with cute lyrics that also give us '90s vibes: "Makeup by the mirror in her bedroom/ Thigh high fishnets and some black boots/ Nose pierced with the cigarette perfume/ Half dead but she still looks so cute."
Hear it below.
The album is out in March 2022
Kelly's upcoming album will be released March 25, 2022 via Bad Boy/Interscope Records.
The album is called Mainstream Sellout
The previously-titled Born With Horns album is now called Mainstream Sellout according to Kelly, who announced the name-change by posting a video of him hilariously breaking the news to Barker.
"Okay, we're friends no matter what, right? Remember when we got the new album name tattooed on our arms? I'm changing the album name," MGK says to Barker in the video as they both break out laughing.
In August 2021, Kelly first revealed the album title as born with horns by making the announcement in the most Machine Gun Kelly-way possible: getting arm-length matching tattoos of the title with Barker. All we can say is, hindsight is 20/20 and it's too bad they weren't temporary ink tattoos.
Mainstream Sellout's first single is called "papercuts"
The album's as-of-yet untitled lead single, "papercuts" arrived on Wednesday, August 11.
Prior to its release, Kelly teased the single on Instagram, playing a snippet of the brooding head-banging track which includes the lyric: "signed a deal, I got paper cuts." The dark-sounding emo track was released alongside a music video directed by Cole Bennett. Watch it below.
Yes, Travis Barker will be heavily involved with Mainstream Sellout
If the whole matching tattoo debacle wasn't enough to convey Barker's commitment and scope of involvement in the album, then we don't know what to tell you.
The Blink-182 drummer and pop-punk's unofficial godfather is coming on as MGK's executive producer for Mainstream Sellout, a promotion from his previous role as just producer on Tickets To My Downfall. The jury's still out on what roles Megan Fox' (and/or Kourtney Kardashian???) might play.
This article was originally published on