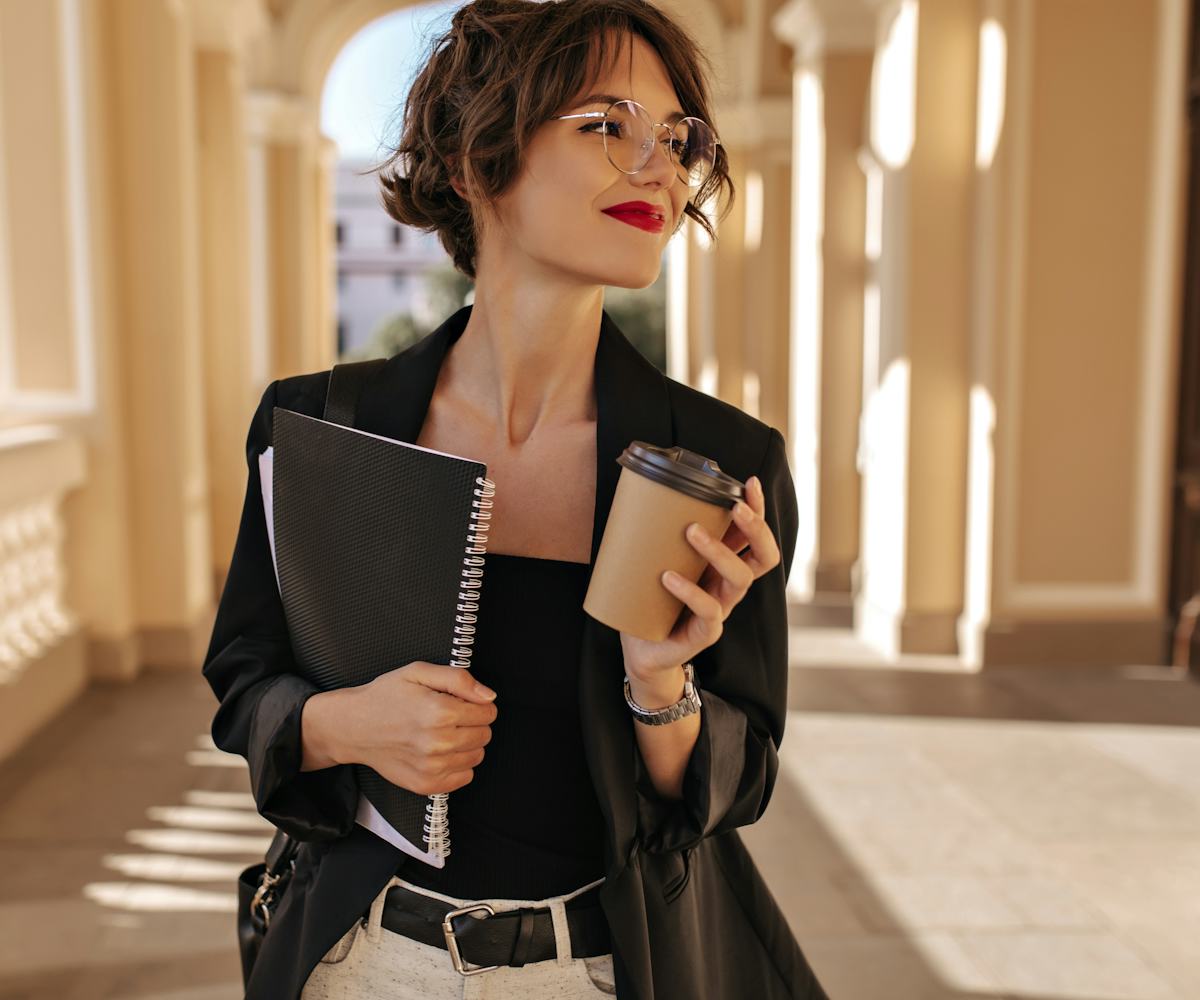 Shutterstock
30 Ways to Make Yourself Look Older In 30 Seconds
Fake it 'til you make it.
We live in a culture that worships youth, but sometimes looking older — or rather, more mature — really pays off. Yup, we're talking about professional settings. How you dress is one of the most obvious ways to look more established, but smart body language and other behaviors can also do you a solid. 
Here, 30 ways to make yourself look older in 30 seconds:
1. Sit up straight. 
Slumping shows zero confidence, but you also don't want to look like a toy soldier. Go for straight and strong, but relaxed. (Breathe!)
2. Ditch "umm" and "I think."
These are fillers — we all say them, but you can practice doing it less. Get rid of 'em and you'll sound instantly more polished.
3. Go monochrome.
Dan Lawson, costume designer for The Good Wife, told Glamour he often puts his high-powered women in one color from head to toe. "I do it with myself, too… dress people in what I call 'a column of color' because that honestly, automatically makes you feel stronger."
4. Do a morning bra check. 
Because when your straps are showing, so is your youth.
5. Lower your voice. 
A 2012 study found that people prefer lower-pitched voices in both men and women. "Overall," the authors note, "the influence of voice pitch on perceptions of leadership capacity is largely consistent across different domains of leadership." This doesn't mean you should walk around trying to talk like George Clooney — just that you should speak with authority.
6. Take care of your heels. 
Invest in a really great pair of heels, and preserve 'em well. Take them in for cleanings and have the heel replaced. This is why we still have cobblers!
7. Sign up for a gym membership. 
Strong minds and strong bodies. 
8. Find a good tailor. 
You don't have to have the most expensive wardrobe, but you should get your most important work pieces tailored. Those pricey black pants will look even more expensive and polished when they fit perfectly.
9. Wear a white blouse on the reg.
It's a professional wardrobe classic — simple and clean. If you are wearing it with a suit, look for one with a bow or ruffle to add a touch of femininity.
10. Listen, actively. 
Leaders not only command a room when they are speaking, but they also pay attention when other people speak.
11. Reach for the black. 
We all love earth tones, but when in doubt, go with black. It just looks sharper.
12. Practice your confident attitude in the mirror.
If you find yourself ending sentences with a higher tone of voice out of nerves, you might be feeling insecure. That nervousness can put you at risk of looking less credible. To break the habit, stand in front of the mirror and practice before a meeting or presentation.
13. Start using a steamer. 
No time for the dry cleaner, no problem. Steam your blouse while watching TV and leave it hanging in a room with open windows, which will also help get rid of odors.
14. Buy a chic handbag. 
A statement bag is a work-wardrobe must, but most of us won't be getting the Birkin anytime soon. Try looking for a really good leather bag, large enough to accommodate your life, without a lot of hardware or funky accessories. Keep it simple.
15. And a great coat. 
It was fine to wear your fleece jacket back in the day, but now you need a proper coat. Black and camel are always great options.
16. Update your makeup and skin care routine.
Read: Less is more. You want to do that thing where you're wearing makeup but in a natural, you-still-look-like-you way. If makeup isn't your thing, focus on creating a skin care routine that helps you look and feel your best.
17. Limit the accessories. 
We all love a great pair of earrings, a statement necklace, and bangles — but for work, only pick one.
18. Get skinny heels.
Kat Griffin, the founder of Corporette, wrote on the career advice blog, "I think that skinnier heels (even for wedges) tend to read 'older' than chunkier heels — until, at least, you get to the orthopedic shoe section, but then that also reads older."
19. Go for power flats. 
Just because they're flat doesn't mean they aren't powerful. Have you seen Meghan Markle in her go-to Rothy's flats?
20. Strengthen your handshake.
Firm grasp, two shakes, release.
21. Wear glasses. 
Yes, it is the oldest trick in the book, but it works.
22. Make eye contact. 
Meeting someone's eyes shows that you aren't afraid — and over time, eye contact builds trust.
23. Stay informed on current events. 
As Paul Rudd said in Clueless, "It's considered cool to know what's going on in the world." The abundance of great news podcasts make it easy to do just that, even during your morning commute.
24. Wear bold colors. 
Red, in particular, is the universal power color. For inspiration, turn to Alicia Floorick on The Good Wife or Selina Meyer on VEEP. 
25. Get your chignon on. 
Any hairstyle that sounds better with a French accent is automatically sophisticated.
26. Smile. 
Christine Clapp, a public-speaking expert at George Washington University, told Levo, "Smiling not only makes your voice more pleasant to listen to, it also conveys confidence. You will appear friendly, approachable, and composed." Do it, do it.
27. Know your drink.
A rum and coke may have worked in college, but nothing makes you look more sophisticated than being able to pick a good wine or order a vodka soda with confidence.
28. Buy a nice suit. 
If the whole thing is too pricey at once, start with separates. Not sure how to wear it as one, beautiful ensemble? Look to Cate Blanchett or Olivia Pope.
29. Experiment with a bold lip. 
A 2013 poll by the British Heart Association, as reported by HuffPost, showed that 26 percent of women had felt like red lipstick boosted their confidence.
30. Believe in yourself. 
Sometimes, you've just got to fake it 'til you make it. And when in doubt, just remember what Amy Poehler says, "As the old saying goes, 'Don't ask for permission to sit on George Clooney's lap, beg for forgiveness once you do."