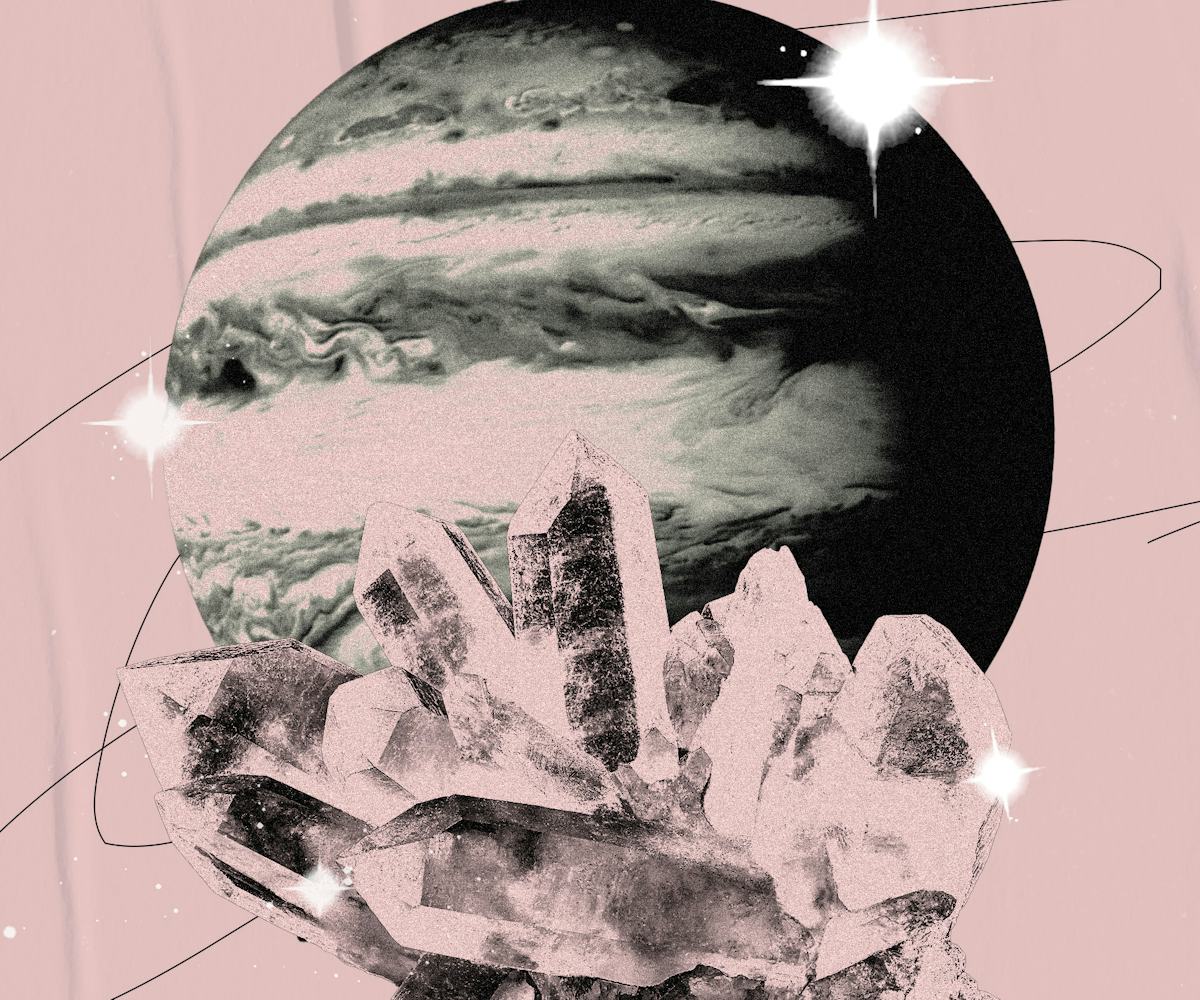 Lindsay Hattrick
Your May 2023 Horoscope Is A Walk Through Fire
With a new moon lunar eclipse in Scorpio and Jupiter entering Taurus, May 2023's astrology out of isolation and into the fire.
The first day of May marks Beltane, the Gaelic festival of the spring, at which maypoles are erected, bonfires blaze, and all sorts of hardcore Mists of Avalon revelry goes down. May 1 is also International Workers' Day, when laborers celebrate the power of solidarity. Not incidentally, this year's rites are amplified by a sun-Mercury cazimi, a special conjunction between the cosmic archetypes of light and voice.
Why these three events, on the same day, just as Pluto begins its retrograde in Aquarius? Since March, Pluto has given us but a brief taste of the future to come — an AI holo-state panopticon which renders us mortals into fuel units — making this year's International Workers' Day feels more vital than ever. Centuries ago, the Church branded those who gathered around the Beltane fire as witches and devil-worshippers, recognizing liberated bodies as threats to the mainframe. The terms have not changed in 2023, only the players.
This year's unusually charged Taurus season will reward those warriors who fight for agency and bodily autonomy, live authentically, and refuse to sell short their art and talents. Meet the leaders of the Jupiter in Taurus age, which begins on May 16. With a sun-Uranus alignment on the 9th, and a Taurus new moon on the 19th, it looks like the battle for embodiment has come to a head, and come to Gondor at last.
If this feels like a tall order, take May 5's full moon lunar eclipse in Scorpio as a chance to throw your old life into the bonfire and let it burn. The current Mercury retrograde in Taurus — which runs until the 14th — is about decluttering, unloading and doing inventory on your life. For you to take on your new role in the age of heroes, you'll have to clear some room. Recognize what is dead and let it go. There's no time to waste.
Creative release is supported as Venus joins Mars in Cancer on May 7. Cancer is the sign of the storyteller; it demands that you honor your story and share it with the world. With both the grande femme and masc in the crab's domain, you're called to cut the winter isolation and find communion: start a writer's group, gather around a Beltane bonfire, join a movement, hit some sh*tty open mic nights. On the 20th, Mars enters Leo, the sign of visibility and affirmation. If you're going to exhibit your gifts to the world, you need to build an inner circle to support your journey forward.
Of course, at the end of all this release, self-empowerment and awakening beckons Gemini season, starting on May 21. Gemini will launch us into a discourse of new ideas and possibilities. But we can't engage with the world until we feel like we know ourselves, and our value. Root down and face Taurus's trials so that you feel centered, strong and whole for the fun, and chaos, which the start of summer always promises.
Though horoscopes apply to sun signs, we advise that you read the horoscope based on your rising.
ARIES & ARIES RISING
The full moon solar eclipse in Scorpio goes down on May 5 in your eighth house of metamorphosis. It will likely reveal, over a reverberative drip, the ways in which you've changed, the roles you're ready to leave behind, and the refined self-definition you're ready to debut to the world. On the 7th, Venus joins Mars in Cancer in your fourth house of home and nourishment. As your position and grounding shifts this summer, you'll find solidity in your surroundings, and the physical and mental structures which gird you. Beautify your home furnishings and invest in any rituals or processes which help you deal. This is a major transition moment, which calls for deep rooting.
TAURUS & TAURUS RISING
You won't live through a month like this again for a long time. There are too many Taurean awakenings to mention in one horoscope, but let's do our best: sun-Mercury cazimi (May 1); full-moon lunar eclipse in Scorpio (May 5); sun-Uranus conjunction (May 9); the end of Mercury retrograde (May 14); Jupiter entering Taurus (May 16); and a new moon in Taurus (May 19). This is exciting, explosive astrology, meant to liberate and awaken, which can be stimulating one moment and totally enervating the next. This is absolutely the time to make dreams come true, to go too big to fail, and to leave nothing behind. But you knew that already. Your real work is to take care of yourself between spin cycles, to ensure that you feel fortified for the next rebirth, and the next. By June, you'll be reborn and unstoppable. Until then, keep yourself nourished.
GEMINI & GEMINI RISING
Your global career reboot continues. On May 7, Venus joins Mars in Cancer in your second house of earning and self-worth, helping you sell yourself to the world — and believe you're worth it. The advent of Gemini season on the 21st delivers you to a different event every night, at which you can see and be seen. To enjoy this blast of propulsion to the fullest, take this current Mercury retrograde in Taurus (running until the 14th), in your twelfth house of the unseen, unprocessed, and unrefined to clear out space. Which old projects, baggage, and expectations can you close out? What do you want to release, and what do you want to pursue? Spend the first half of the month unloading, so that you can fly with freedom come Gemini season.
CANCER & CANCER RISING
You're stronger than you think. This month's Taurus firestorm sets off your eleventh house of tribe and belonging, initiating questions of your own place in the big picture. What is the value of your work? Who is your audience? Will anyone ever get you? Whatever's going on in your social life, you have to be able to lean on yourself. On May 7, Venus joins Mars in your home-sign, imbuing you with double the willpower, embodiment, and wholeness to make it through any ragnarok. Trust that you know what you want, that your instincts are correct, and that your desires shouldn't be questioned. What do you want out of all this excitement? Make yourself the source, the driver, the protagonist. Trust in your calling.
LEO & LEO RISING
On May 2, the asteroid Pallas — a.k.a. Athena, goddess of military strategy — enters your home sign, followed by the warrior god Mars, on the 20th. Meanwhile, a particularly explosive Taurus season lights up your tenth house of career like a Christmas tree. This will be a definitive month of proving your power as a leader — and accepting the consequences. As you step into yourself like never before, you will inevitably court conflict, bruised feelings, and conversations about what needs to change. Take responsibility for your myopia, obstinacy, and self-aggrandizement, but don't compromise your momentum for any reason. This is no brief turn in the spotlight, but a permanent role shift. Learn how to handle the friction. You're not turning over the crown any time soon.
VIRGO & VIRGO RISING
The Taurus-Scorpio eclipse cycle has lit up your third house of daily life, and your ninth house of expanding horizons. The central question offered: How does life as you know it differ from the life you desire? The full moon lunar eclipse in Scorpio on May 5 reveals those routines, relationships, and rigidities of lifestyle which feel stagnated, dead, and in need of reinvention. Before Gemini season lights up the runway to your tenth house of career on May 21st, decide where you'd like to arrive, and how you want to get there. The way to world domination is in the details.
LIBRA & LIBRA RISING
The Scorpio full moon lunar eclipse on May 5 goes down in your second house of self-confidence and financial worth. Let it burn down decayed narratives of underearning and undervaluing yourself. We need you feeling confident — or at least faking it until you make it — because two days later, Venus joins Mars in Cancer in your tenth house of capital-C career. You're starting the summer at peak visibility, ready to embrace a new public role, and receive the sort of attention that used to make you cringe. Focus on embodying your values on the main stage, and asserting that you deserve to be there. The expansion isn't slowing down anytime soon.
SCORPIO & SCORPIO RISING
The May 5 Scorpio full moon lunar eclipse reveals how far you've come, how much you've shed, and what immortal elements remain through the fire. Embrace dissolution and rebirth, but don't dwell too long. The first three weeks of the month blast open portals in Taurus in your seventh house of public visibility and others. Now's the time to take risks with relationships. Take your new friend group out for a spin, lock down a new collaborative project, or book a holiday with your lover. On the 20th, Mars enters Leo, in your tenth house of career, fueling a powerful voyage to glory. Your relationships are the chariot to that arrival. Invest in the ones which will take you far.
SAGITTARIUS & SAGITTARIUS RISING
The planetary barrage in Taurus, in your sixth house of self-definition, helps you set terms for your relationships. In love and work, how much of yourself can you offer, and what do your limits look like? Spend the first two weeks of May contemplating the practical application of your boundaries. Come the 21st, Gemini season lights up your seventh house of others, paying off all the work you've put into your relationships. Root yourself in your non-negotiables, so that you never feel compromised in the great romances to come.
CAPRICORN & CAPRICORN RISING
Last month, you were advised to root down and make your home an incubator for love to come. Now, you get to open the harem tent and have a good time. On May 7, Venus joins Mars in Cancer in your seventh house of others. Meanwhile, the planetary blowout in Taurus ignites your fifth house of pleasure, romance, and creative experiences. You dove in this winter, and really invested in yourself. Now that you're rooted, you deserve to enjoy the payoff. Don't worry too much about big commitments or long-term consequences. Right now, you're best served welcoming in new lovers and embracing the expansion.
AQUARIUS & AQUARIUS RISING
The time of new beginnings is at hand. An atomic stockpile of planetary activation goes off in Taurus in your fourth house of home, roots, and family. Your old complacencies have long drifted into the rear view. Whether you're moving into a new home, starting a track of inner exploration, or changing your lifestyle, now's the time for bravery, optimism, and curiosity. No looking back, no comparing who you are now to who you were then. On May 20, Mars enters Leo in your seventh house of others, propelling you to take the offensive, meet new faces, and command how you'd like to be seen. These new friends and lovers don't know or care about your old baggage, so why should you?
PISCES & PISCES RISING
As Venus and the sun pass through Gemini, they shine light and beauty upon your fourth house of home and foundations. They also square, or challenge, Saturn and Neptune, in your home sign. If you haven't invested in a hardcore spring cleaning yet, this May's retrograde season is the exact right time. Does your home reflect the ways you've changed? Does it feel stifling or expansive? We know that this Saturn in Pisces saga will reboot your identity from the ground up, so there's no need to declare a new aesthetic just yet. Instead, cultivate peaceful neutrality. Clear out the shmutz of the past and let yourself breathe. It's a new era! Give yourself some room for discovery.