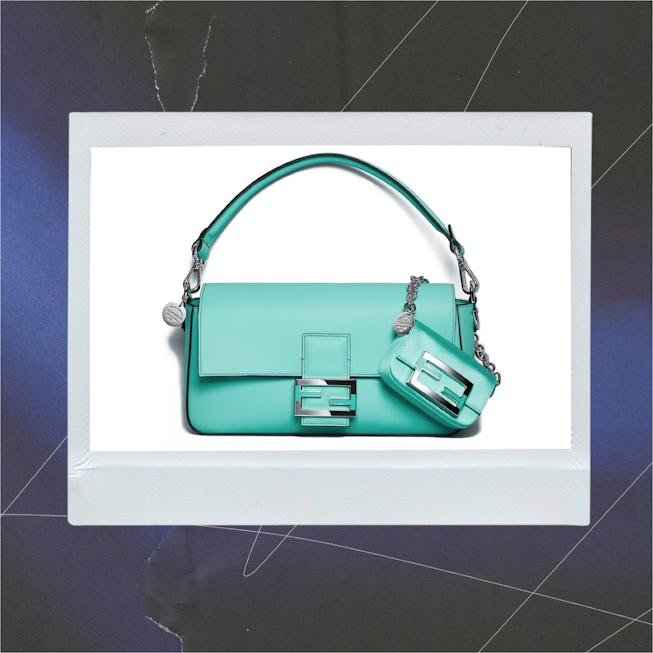 NYLON Daily Newsletter: January 9, 2023
The Fendi x Tiffany & Co. collab is here, Coachella just confirmed its 2023 dates, & more.
A version of this content appeared in NYLON's daily newsletter on Jan. 9 2023. If you like what you see, sign up to receive it in your inbox right here.
The Fendi Baguette Just Got A "Tiffany Blue" Upgrade
Created by Silvia Venturini Fendi in 1997, the Fendi Baguette was often seen on the arm of Sex and the City's resident frivolous shopper Carrie Bradshaw and in countless standout colorways over its 25 year tenure as an It Bag. Now, the Fendi Baguette's link up with Tiffany & Co. features four sizes, ranging from the nano and pico versions to the classic medium size. READ MORE
MUSIC
Ice Spice's "In Ha Mood" & 9 Other New Songs Out This Week
Coachella Just Confirmed Its 2023 Dates
Must-Read
MEET THE DATA EXPERTS ANALYZING THE KARDASHIANS
MJ Corey has been keeping up with the Kardashians in a big way. Since 2018, she's run Kardashian Kolloquium alongside with her sister Marie, taking an academic and critical view of the Internet's most powerful family, applying media theory and postmodern philosophy to the many deliberate actions of the extended Kardashian family.
In her work, typically showcased across the Kardashian Kolloquium Instagram and TikTok accounts, Corey has had more than a few doors shut in her face, and more than a few emails and DMs left on read; a lot of people, still, are resistant to take subject matter like the Kardashians seriously. But this year, Corey is upping her critical Kardashian studies with her latest project: the Kardashian Data Koalition. READ MORE
FASHION
Christina Ricci Stars In Warby Parker's Spring 2023 Campaign
Rihanna Drops New Super Bowl Savage x Fenty Game Day Collection
ICYMI
The 21 Most Anticipated Books Of 2023
The books we're most excited about in 2023 include a stunning collection of sharp debuts, sensual romps into nightlife, and tender and reckless coming of age stories. We're excited about everything from Earth Angel, the debut short story collection of Forever Magazine's Madeline Cash, about godlessness and digital life, to Dizz Tate's debut novel Brutes, set in A24's version of Florida, to an anthology of writing from Black punks. In short, it's going to feel especially good to hold a book this year. READ MORE
FURTHER READING
The Year I Decided To Dress Like Myself
Cindy Crawford's Best Outfits From The '90s Will Never Go Out Of Style
10 Bombshells From Prince Harry's TV Interviews
Get all this (plus more) in your inbox — subscribe to the NYLON daily newsletter.