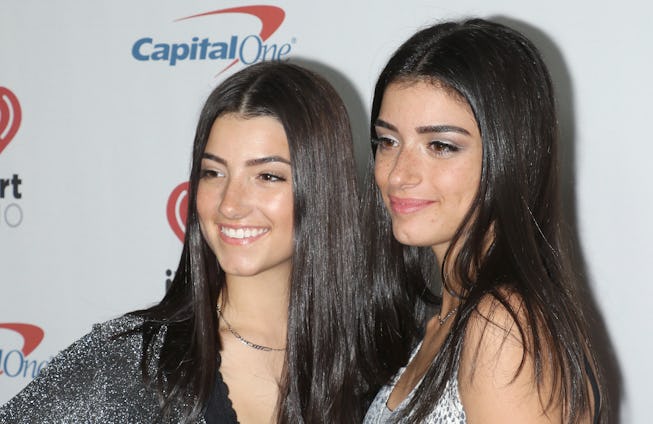 Photo by Jim Spellman/WireImage
The 30 Most Major Celebrity Hair Transformations of 2020
From Bella Hadid's DIY bangs to Lizzo's red hair.
Much of 2020 hasn't gone to plan for anyone, but in the world of Hollywood, celebrity hair transformations are a reliable constant. For a time, changes in color and length were a DIY process, as celebs like Bella Haidd and Rosaliá took on the role of temporary stylist. However, celebs have recently resumed their regular beauty routines, debuting major changes in hair that include a shave, a silver dye job, and a new red-headed identity.
Below, scroll through some of the most major celebrity hair transformations you might have missed.
Dixie D'Amelio
Previously a brunette, Dixie D'Amelio decided to go silver, showing off a new look that featured darker roots, and metallic ends. Only a few short weeks later, she made another change in color, unveiling a color block technique that featured blue dye near the front of her head.
Kylie Jenner
Kylie Jenner added some serious length to her winter hair, debuting baylage extensions. She later revealed another change in color, taking to Instagram with long auburn hair, and a question for followers, "what should we name her?"
Kendall Jenner
Kendall Jenner welcomed the winter season with a bright new take on her traditional brunette coloring. Posing for an Instagram Story selfie on November 30, the model revealed honey brown hair.
Charli D'Amelio
Charli D'Amelio added more pink to her brunette hair. The TikTok star had been previously spotted with the creative coloring, but in a new Instagram photo, she shared a selfie that featured coloring throughout her hair.
Lizzo
Lizzo celebrated the start of Halloween festivities, revealing a red wig that came with voluminous curls.
Halsey
Halsey shaved her head, going from long hair to a short buzz cut.
Bella Hadid
Bella Hadid took bangs and longer hair for a test run, and donned a wig with short fringe. The hair curled inwards, and when paired with her all-green outfit, the look made for a serious social distancing fashion statement.
Ashley Benson
Ashley Benson added some length to her once short hair, Allure reported. Previously wearing a chic lob, the former Pretty Little Liars shared an Instagram Story pic of her new extensions. She credited the look to Violet Teriti, tagging the stylist on her Story.
Kaia Gerber
Kaia Gerber has gone with a lighter shade of blonde for her quarantine hair. She shared her DIY dye process with Refinery29, reporting that she had used hydrogen peroxide. "I don't know if I'd recommend this, but I just used hydrogen peroxide, a random DIY thing I saw online somewhere," she said. "I literally put the straight peroxide on my hair and then dried it with a blowdryer — just to hit it with heat — and it definitely lightened my color a shade or two, just a subtle change."
Sarah Hyland
Sarah Hyland took a cue from Ariel for her hair change. She went from brunette to red, and referenced the Little Mermaid, writing, "I wanna be where the people are..." #QuaranTINT crew (I did this all by myself! Very proud."
Taylor Swift
Taylor Swift went back to colors inspired by her Lover era, debuting blonde hair with streaks of pastel pink and dark blue. In keeping with her newly colored hair, she wore matching makeup, including pink eyeshadow.
Keke Palmer
Keke Palmer took inspiration from an emoji for her latest color change. After sharing a selfie with red and black hair, she went slime green, posing for a photo that featured glamorous wavy wig.
Ruby Rose
For those moments when you absolutely can't decide between two colors, Ruby Rose is there to help. Incorporating both pink and blue dye, Rose debuted a two-toned dye job, writing, "What can I say!? Sometimes you just need to feel blue and other times you need pink to lighten your day."
Hayley Kiyoko
Instead of going with a single color, Hayley Kiyoko selected a rainbow of inspiration for her coloring. "Created my own rainbow," she wrote of the look, which featured dye in shades of green, red, and purple.
Cardi B
Cardi B has made numerous changes to her hair throughout 2020. After wearing red hair and then blue hair, she shared a pink wig that was transformed into a bow.
Megan Thee Stallion
Not so much a transformation but surely a change of pace, Megan Thee Stallion shared her natural curls, writing, "Natural Meg. Ate the girls right up."
Kristen Stewart
Kristen Stewart was photographed with orange ends in this photo from hairstylist Cj Romero. "Who said you can't be cute in quarantine," Romero wrote.
Dua Lipa
Aided in the dye process by boyfriend Anwar Hadid, Dua Lipa shared a peek at her pink hair. For her choice of color, the singer applied pink only to her bangs, which made for a striking two-toned look. The singer later made another color change, and was spotted with orange bangs. After that, she changed her hair color two additional times, revealing a strawberry-inspired shade of pink and then a deep cherry red.
Rosaliá
Rosaliá surprised fans when she debuted a set of DIY bangs.
Bella Hadid
Bella Hadid acted as her own hairstylist, sharing a selfie of her bangs. "I cut my bangs," she announced on Instagram Story.
Kylie Jenner
Kylie Jenner made the decision to wear her natural hair and nails for the duration of her social distancing. The Kylie Cosmetics founder shared a number of selfies that featured her natural hair, which is currently short and a shade of honey brown.
Ariana Grande
Ariana Grande went the natural route, showing off a two-toned updo compromised of curls.
Kendall Jenner
Kendall Jenner appeared to get highlights, Elle reports. The color appeared slightly more pronounced in an outdoor photo shared by Jenner. She later shared another look at the lighter shade in a May Instagram Story post.
Bretman Rock
Bretman Rock made multiple changes in hair color throughout social distancing. After sharing a silver look with followers, he later posed for a photo that showed a bright pink coloring.
Cody Simpson
Cody Simpson made the choice to shave off his once long hair. As for the stylist he entrusted with the DIY buzz, a video of the process showed Miley Cyrus manning the razor.
Miley Cyrus
Cyrus made news for her choice of quarantine hair. While hosting her Instagram Live talk show, fans noted that her latest hairstyle looked very similar to Joe Exotic's noted mullet. Weeks later, Cyrus let her mom cut her hair, and shared a look at her new pixie mullet.
Vanessa Hudgens
Like other celebs practicing social distancing, Vanessa Hudgens chose the natural hair route. She snapped this selfie of her voluminous curls.
Elle Fanning
Elle Fanning took a color cue from her phone case, sharing a selfie of her newly dyed pink hair.
Hilary Duff
Hilary Duff went with an aquamarine shade for her dye.