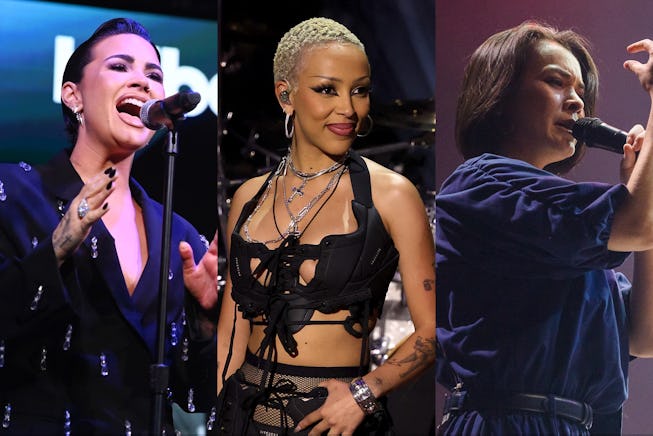 17 Of The Biggest Albums Still Left To Drop In 2023
From Taylor Swift to Nicki Minaj, and a brand new K-pop girl group.
Summer might be over but music's busiest season has arguably just begun. As we enter the second half of 2023, some of the biggest albums of the year are on the docket for release: Taylor Swift's sure-to-be gargantuan 1989 rerelease, as well as highly anticipated records from Doja Cat, Demi Lovato, Mitski, a brand new K-pop girl group, and many more.
Below, NYLON rounded up the 17 biggest projects we have on our radar — and that you should have on yours, too.
Angie McMahon
In an interview with NYLON, Australian singer-songwriter Angie McMahon revealed how her upcoming album Light, Dark, Light Again is about "how I could have a positive relationship with myself and my thoughts, and also what kind of resilience I had." Her sophomore record, out Oct. 27, will be all about changing rigid thought processes while skewing more band-oriented with a fuller and more rich sound: a welcome change that you can hear on the rolling, forgiving lead single, "Letting Go."
BABYMONSTER
In March 2023, BABYMONSTER, the newest girl group out of YG Entertainment (and the record label's first new girl group since BLACKPINK's arrival in 2016), released its pre-debut single "Dream." For the first time, the world got a glimpse of the band's very fresh-faced and very young seven members, whom their record label is betting on to become K-pop's next big sensation. With over three million followers on Instagram alone the odds are already in their favor — but we'll be watching how it really shakes out come September 2023, when they officially arrive on the scene.
Corinne Bailey Rae
That's right — the velvety smooth vocals and creative mind behind one of the '00s greatest albums is back with a new record. Now over two decades into her career, Rae is finding inspiration in other peoples' (or objects') stories rather than her own. The forthcoming Black Rainbows, out Sept. 15, is a collection of tales written from the perspective of the various objects and artworks collected by artist and professor Theaster Gates from Chicago. One of those tales is "New York Transit Queen," Rae's rollicking punk lead single for the project that's based off of a Miss Subway poster campaign in NYC from 1941 to 1976 and already has us excited to hear more.
Demi Lovato
Over the past year, Demi Lovato has embarked on the curious exercise of reimagining some of her biggest pop hits as rock records. That's all culminating to the release of Revamped on Sept. 15, her forthcoming record that will group all of her reimaginings into one complete project. There's the rockified "Sorry Not Sorry," "Cool For The Summer," "Confident," and more, as well as guest features from Slash, and The Maine, and The Used.
Doja Cat
First, it was German rave music. Then it was punk. Now, it's a rap-focused album that will be leagues different from the chart-topping pop that saturated her last two projects, Amala and Hot Pink, so she says. Of course, we're talking about Doja Cat's highly anticipated (and already highly controversial) new album Scarlet, scheduled to arrive on Sept. 22. And based off its first three singles "Attention," "Paint The Town Red," and "Demon," it certainly is showing off a defiant, more horror-loving new side to the pop star, as she tackles issues of fame, celebrity, and gossip.
Holly Humberstone
Holly Humberstone's debut album has been at least three years in the making. The British-born singer-songwriter first broke out in 2020 with her spare ballad "Falling Asleep At The Wheel" and has since been enrapturing fans with her confessional, soulful songs. Two EPs and tours with girl in red and Olivia Rodrigo later, a full project of tunes just as heart-piercing as that one is finally on the way in the form of Paint My Bedroom Black. Now, you'll just have to wait until Oct. 13 to hear it.
Jorja Smith
Five years after landing on the scene with a Drake co-sign and a thunderous debut record, British crooner Jorja Smith is returning with her sophomore effort, falling or flying, out Sept. 29. She's already released a slew of warm, lightly dance-y soulful singles to prepare for its release, which she's described as a welcome return to her roots.
Kylie Minogue
Fresh off the heels of releasing the unofficial song of the summer "Padam Padam," Kylie Minogue is due to release her 16th studio album, Tension, out Sept. 22 — a whopping feat for the musician who's now over three decades into her career. And she's still in her prime: second single "Tension" is another sparkling, bubblegum pop masterpiece that has us restlessly dancing for more.
Madison Beer
Madison Beer is a pop star who frankly deserves more attention for her music. Her 2021 debut album, Life Support, was stunning lesson in vulnerability and soon she's following that up with her new record Silence Between Songs, out Sept. 15. Already, the melancholic singles "Reckless" and "Spinnin" have shown several degrees of growth from the singer while granting a deeper look into her psyche — all the while her vocals are as gorgeous as ever.
Mitski
Another sure-to-be heart-wrenching record from Mitski is on the way. The Land Is Inhospitable and So Are We is scheduled for release on Sept. 15, and three of its songs are already here: the quietly affecting "Bug Like an Angel," and two songs about love "Heaven" and "Star." In fact, per the singer, the entire album is said to probe that grand and fickle emotion, how it inflames or soothes our experiences in this world. "This is my most American album," Mitski has said.
Nicki Minaj
Nicki Minaj is finally releasing a follow-up to her world-dominating debut album Pink Friday. Pink Friday 2 is out Nov. 17, and will be her first album since 2018's Queen. Our wigs are already secured.
Olivia Rodrigo
Just like SOUR, you likely won't be able to escape GUTS, Olivia Rodrigo's long-awaited sophomore effort due out Sept. 8. The "good 4 u" singer has already released two singles off the project, "vampire" and "bad idea right?," and they've already become inescapable. It's said to be a more rock-centered album than her last, with shades of punk and riot grrrl, which means there are definitely more bangers to come.
Romy
Romy from The xx released their first-ever solo single in 2020 and it immediately made NYLON's best songs of the year list. It's been a little bit of wait to hear more from the otherwise reserved musician-turned-dance-music-producer, but now a full-length album is on the way: Mid Air arrives Sept. 8. We've already got our club shoes on in anticipation.
Sufjan Stevens
Sufjan Stevens' most recent releases have learned more esoteric than singer-songwritery. But now our beloved indie father is returning with Javelin, his first solo release since 2020 and his first in full singer-songwriter mode since 2015's Carrie & Lowell, out Oct. 6. A first single, "So You Are Tired," has already arrived and it's classic Sufjan: hand-picked guitar, calming piano, and his incomparable voice.
Taylor Swift
Another turn in the season, another Taylor Swift release. This time it's 1989 (Taylor's Version), perhaps the most heavily anticipated rerecording in her catalog. The album contains some of her biggest hits, "Shake It Off," "Blank Space," and more, and was her first-ever purely pop record (and first time collaborating with Jack Antonoff). In classic Taylor fashion the album's not even close to be out yet — it's out Oct. 27 — but there's already at least three different versions you can buy.
Troye Sivan
Troye Sivan's third studio album, Something To Give Each Other, is "a celebration of sex, dance, sweat, community, queerness, love and friendship," per a press release. It's also going to be a hell of a good time if its first single "Rush" is any indication. Mark your calendars for Oct. 13.
yeule
Over the past five years, the Singaporean singer yeule has been turning heads with her glitchy but cute ambient pop creations. But her upcoming album, inferno, out Sept. 22 via Ninja Tune, just might be what boosts her into the (indie) mainstream. The record is still distortedly idiosyncratic, but with more compelling pop-leaning melodies, pleasant guitar strums, and her voice that's clearer than ever.