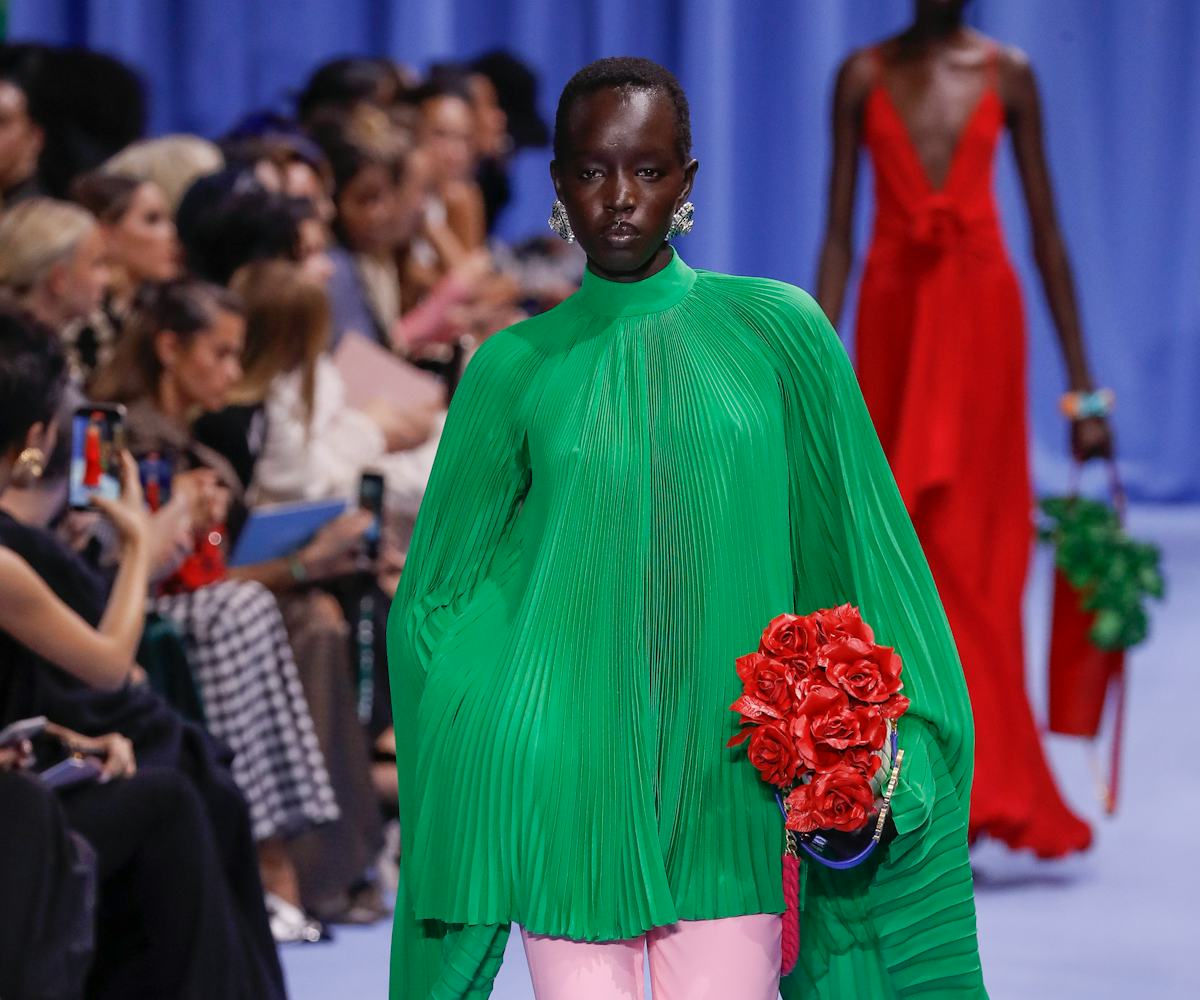 Victor VIRGILE/Gamma-Rapho/Getty Images
The Best and Buzziest Moments at Paris Fashion Week Spring 2024
Here's everything you missed.
Paris Fashion Week is officially over, and with it, the Spring 2024 season.
The 10-day event kicked off with a bang — Dior and Saint Laurent brought out buzzy collections and a star-studded front row, including Blackpink's Jisoo and Rosé, which made the runway even more of a spectacle. Celebrities were abundant throughout the week overall, leaving lots of memorable appearances and street style inspiration.
Paris is arguably the biggest of the international circuit, which means expectations were high. Days before the Balmain show, creative director Olivier Rousteing said most of his pieces were stolen, but it didn't stop the mega-designer from putting on a show filled with lots of florals and vibrant hues. After a critically underwhelming spell for Helmut Lang at New York Fashion Week, Peter Do brought out his very best for his namesake label here. There were some designer farewells, too — Gabriela Hearst said goodbye to Chloé through a dance party, and Sarah Burton ended her time at Alexander McQueen after 26 years.
There's a lot to take in from the past week so if you're looking for a roundup of the most memorable moments, see our recap ahead of everything you missed from Paris Fashion Week.
Paris Brought Out the Best Celebrity Front Row
We don't like to pick favorites, but if we had to choose, Paris had the best guest list for fashion month. First and foremost, Blackpink made their way to Dior, Saint Laurent, and Chanel, but the celebrity rollout didn't stop there.
Stars like Jennifer Lawrence, Rosalía, and Jenna Ortega pulled out in style at Dior, while Kylie Jenner made some of her best fashion appearances in recent memory. Elle Fanning wore a jaw-dropping gown from the Alexander McQueen archives, Taylor Russell brought out a (literal) metal jacket to Loewe, and Zendaya rocked a leg-baring gown to Louis Vuitton. And when it comes to our boys, Penn Badgley's midi skirt and Andrew Garfield's bubblegum pink jacket were the talk of the front row at Valentino.
Rosalía and Kylie Jenner at the Acne Studios Spring 2024 runway show.Pierre Suu/Getty Images Entertainment/Getty Images
Penn Badgley and Andrew Garfield at the Valentino Spring 2024 runway show.WWD/WWD/Getty Images
WWD/WWD/Getty Images
Celebrities Made Surprise Appearances On the Runway
Fashion month was awfully quiet when it came to celebrities on the runway — that was until Paris. The Parisian catwalks enlisted a bevy of stars for models: Paris Hilton joined the likes of Angela Bassett and more donning a corset ensemble for Mugler, Troye Sivan closed out the week in nautical shorts for Miu Miu, and singer FKA Twigs performed at Valentino.
Troye Sivan for Miu Miu Spring 2024WWD/WWD/Getty Images
Kendall Jenner for Schiaparelli Spring 2024Estrop/Getty Images Entertainment/Getty Images
Paris Hilton for Mugler Spring 2024Marc Piasecki/WireImage/Getty Images
Gigi Hadid for Chanel Spring 2024WWD/WWD/Getty Images
FKA Twigs for Valentino Spring 2024Marc Piasecki/WireImage/Getty Images
Sarah Burton Says Goodbye to Alexander McQueen After 26 Years
Sarah Burton's reign at Alexander McQueen is no more after 26 years – 13 of which were spent leading the house since Lee McQueen's death. In honor of the late designer and her time with the brand, Burton dedicated her final show in memory of her predecessor "whose wish was always to empower women, and to the passion, talent, and loyalty of my team," as quoted in the show notes. She honored McQueen's legacy through intricate tailoring, anatomically detailed gowns, and glossy silhouettes. Burton made a case for the gardencore trend via blossoming rose motifs, a signature of his work that was handpainted onto elaborate dresses.
After her departure, Sean McGirr, who was most recently the head of menswear at JW Anderson, is set to succeed Burton at the creative helm starting next season.
Dave Benett/Getty Images Entertainment/Getty Images
Dave Benett/Getty Images Entertainment/Getty Images
Dave Benett/Getty Images Entertainment/Getty Images
Dave Benett/Getty Images Entertainment/Getty Images
The Gardencore Trend Sprouted All Over the Catwalk
The gardencore trend was amok in Paris. Rosettes and other kinds of earthy sproutings appeared all throughout fashion month, especially in the fashion capital. At PFW, designers from the likes of Marni, Givenchy, Balmain, and Undercover gave groundbreaking florals a whole new meaning by turning the catwalk into a garden. Next year, you can definitely expect to find extravagant flower-studded ensembles out and about.
Marni Spring 2024Photo: Courtesy of Marni
Givenchy Spring 2024Stephane Cardinale - Corbis/Corbis Entertainment/Getty Images
Undercover Spring 2024Victor VIRGILE/Gamma-Rapho/Getty Images
Gabriela Hearst Held a Dance Party For Her Last Collection At Chloé
After three years, Gabriela Hearst's era at Chloé has come to a close, but it didn't end on a bittersweet note. Instead, the Uruguyuan designer, known for her sustainable efforts, celebrated the end of her tenure by turning her final collection into a carnival.
The show started off as usual — she sent down stunning ruffle pieces, leather ensembles, and punches of bright marigold silhouettes in the mix. Before it was time to bid farewell, she kept the energy upbeat, tapping Brazil's famous Mangueira samba school to close out the final moments. Going forward, Hearst will focus on her eponymous label, and tells WWD that the Chloé woman is "ready to soar." Designer Chemena Kamali follows as the house's new creative director.
WWD/WWD/Getty Images
WWD/WWD/Getty Images
WWD/WWD/Getty Images
BERTRAND GUAY/AFP/Getty Images
Balmain Still Held Its Show Despite a Heist
Just days before the start of PFW and Balmain's anticipated showcase, designer Olivier Rousteing took to his Instagram to announce that 50 of his pieces had been stolen from a truck en route from the airport to the Balmain headquarters. Despite the devastating news and uncertain circumstances, the show went on after re-creating about 70 percent of the missing items and recovering three out of the 50 boxes.
Rather than opting for quiet luxury, Rousteing made a statement of joy and color through flower embellishments and bold hues. Inspired by the house's archival floral emblems, the designer presented metal-encrusted rosettes, bouquet-shaped handbags, and bejeweled rosebud branches. A polka jumpsuit, adorned with flowers made out of recycled plastic bottles, was also shown and immediately after worn by Zendaya.
Victor VIRGILE/Gamma-Rapho/Getty Images
Victor VIRGILE/Gamma-Rapho/Getty Images
Victor VIRGILE/Gamma-Rapho/Getty Images
Peter Do Made His Debut at Paris Fashion Week
Peter Do's debut for Helmut Lang might've received mixed reviews, but his first-ever presentation in Paris was the opposite. As said best by the New York Times' Vanessa Friedman, Do saved his best looks for his eponymous label. The Vietnamese-American designer not only played around with his signature workwear silhouettes, but he gave a sneak peek into a few pieces ahead of his upcoming collaboration with Banana Republic to launch later this month – some of which included wide-shouldered blazers, pleated trousers, elongated white button-ups, and fitted tanks.
Victor VIRGILE/Gamma-Rapho/Getty Images
Victor VIRGILE/Gamma-Rapho/Getty Images
Victor VIRGILE/Gamma-Rapho/Getty Images