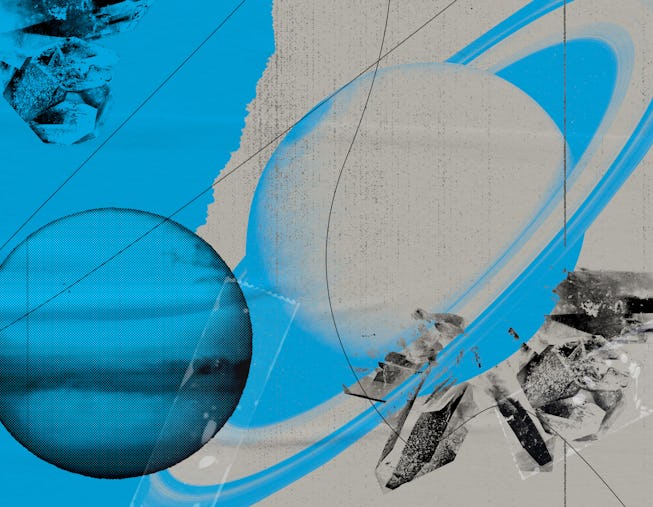 NYLON/Ariela Basson
Your February 2023 Horoscope Is A Breath Of Fresh Air
With zero retrograding planets in the skies, your February 2023 horoscope lets the dust settle.
Could it be? Dare we say it? Here goes: For the first time in what feels like ages, we're starting a month with no retrogrades and few planetary blowouts. That's not to declare everything suddenly chilled out, as if ongoing global armed conflicts and human suffering are off the table for a month, but February does promise some semblance of recovery and reboot. January's astrology got the year off to a rocky start with Mercury, Mars, and Uranus in retrograde. Now that everything's a bit more clear, where do you want to go? Who do you want to be?
The "don't dream it, be it" directive of fantastical self-projection is quite alluring this month. The Leo full moon on the fifth welcomes you out of your cave and into the shimmering light of self-declaration. Meanwhile, Venus, goddess of beauty and form, bathes in Pisces through the 20th, with a trippy Neptune conjunction on the 15th. Time to plunge all the way in, declare yourself an artist, and embrace spectacular, psychedelic possibility. How do you want to create yourself? Use the primary tools of Aquarius season — namely structure, form, and technology — to hone your gifts. Watch YouTube makeup tutorials, buy new screenwriting software, take a course on psychic channeling: anything to form a container for the new emerging you, dropping worldwide at the launch of Pisces season on February 18, and the Pisces new moon following two days later.
This promises to be an Aquarius season we won't soon forget, the last with Saturn in the water-bearer's domain for another thirty years. Since December 2020, Saturn has put us through an exhaustive cultural review which has yielded progress and backlash in nearly every arena of communal engagement. Before Saturn heads for Pisces in March, we'll have our hands full hashing out structural crises everywhere: school bans on books and funding cuts for cafeteria lunches; abortion-access bureaucracies; Supreme Court corruption; the ongoing Twitter meltdown; and, for what we hope will be the last time we ever have to talk about this in human history, Nepo Babies. Saturn in Pisces will shift the focus into a more primal discourse: Namely, how can human beings reckon with substances and technologies beyond their understanding? Hopefully, by the end of this Aquarius season, we'll at least be able to get along with one another. Is that too much to ask?
One way or another, the time of new beginnings is fast at hand. Venus enters Aries on February 20, joining Jupiter and the asteroids Chiron, Juno, and Vesta. The creative power is surging, and it's not always peaceful. Pisces season opens the floodgates. The planets are out of retrograde. There's no excuse to not express yourself.
ARIES & ARIES RISING
As the leader of the new age of heroes, your assignment is to cultivate authenticity at all costs. Until February 20, Venus goes full Persephone from Pisces, in your underworld house. Meanwhile, Lilith rages from Leo, in your fifth house of creativity, and the asteroids Vesta, Juno and Chiron tend to your recovery in your home sign. These archetypes aren't asking you to buck up for some false new beginning, but to integrate your nightmares, horrors, fears, and shadows into all means of expression. By the time Venus enters your home sign on the 20th, you'll be able to powerfully access both of her aspects: Inanna and Ereshkigal, Buffy and Faith, Lenu and Lila. The world needs your voice now more than ever. Stop compartmentalizing your dark side and start embracing it.
TAURUS & TAURUS RISING
A major checkpoint month. From August into January, the liberating planet Uranus was retrograde in Taurus, putting a halt on your great awakening. Much of the work these past few months, then, has been more interior, and not yet ready to be unveiled. Now that Uranus is direct, how can you reconcile the inner changes with your outer life? And what chaos within you — what tectonic, volcanic fury — shouldn't necessarily be reined in? Take the Leo full moon on the fifth, which aligns your career and home domains, to make peace with what's visible, presentable, and stable, and to understand what messiness within still needs to be embraced.
GEMINI & GEMINI RISING
Let's go. Mars is out of retrograde and burning hot in your home sign. Venus, meanwhile, delights in Pisces, in your tenth house of career and public glory, through February 20. Your assignment this month: be the girl at the party. Channel the pent-up fire of these past few months into encounters, interactions, and new patrons. Venus sets the stage for your optimal career collaborations; the advent of Pisces season on the 18th, and the new moon in Pisces on the 20th, gives you clarity on the vision you want to pursue. No matter how stymied you've felt these past few months, you're called to scrub it off, show up, look good, and ready yourself to be discovered.
CANCER & CANCER RISING
The asteroid Pallas, a.k.a. Athena, goddess of military strategy, goes direct in your home sign this month. Meanwhile, Venus launches into Aries, in your career arena, on the 20th. Mars continues to kick its feet in Gemini, waiting for its chance to ride hard in your home sign come March. February, then, is a major month for preparation. Serve Venus through exposure: Get clear on the people, institutions, and communities you want to be a part of, and start inching your way in. You don't have to set the destination just yet. Just make sure you're in motion by the time March arrives.
LEO & LEO RISING
Since December 2020, Saturn has been in Aquarius, in your seventh house of others. Before Saturn finally moves on to Pisces in March, it presents you with one final, climactic Aquarius season to synthesize the changes made in your relational life. Over the last two years, you've radically shifted your self-expression, and surrounded yourself with the people who really see you. This month, you'll confront the warps in those links of visibility, the distortions in the funhouse mirror blocking your way to clarity. Take the Leo full moon on February 5, and the sun hitting Saturn on the 16th, to understand what blocks still hinder your path to visibility, affirmation, and glory.
VIRGO & VIRGO RISING
Split a piece of paper into two columns. On the left side, write down your career ambitions for the year. On the right, list your dream collaborators. Then, start pitching. Venus spends the first twenty days of February in Pisces in your seventh house of others, making a psychedelic conjunction with Neptune, planet of dreams and imagination, on the 15th. The advent of Pisces season on the 18th, followed by a Pisces new moon on the 20th, will make the right relationships feel like doors to the future — and reveal which ones are holding you back from crossing. With Mars burning hot in Gemini in your career arena, now is the time to view every collaboration as a vehicle to your higher destiny. Invest in your relationships, set sacred boundaries, and make the asks that will change your life.
LIBRA & LIBRA RISING
Cue the makeover montage. Venus, the supreme beauty, cruises out of Pisces and your sixth house of the body into Aries and your seventh house of public visibility on February 20th. We're nearing the springtime of your pulchritude. Prime yourself for peak discovery by taking a creative role in your self-definition: your look, your boundaries, your rules of engagement. As Mars burns in Gemini, in your ninth house of expanding horizons, the surge is on for your debut. Take pride in what you're presenting, and they'll come rushing to you.
SCORPIO & SCORPIO RISING
It's going to be one of those months, again. The domains of home, relationships, and career are all in for reinvention, again. Though the Leo full moon on the fifth illuminates possibilities for power in your career arena, the real work is in the rooting. Aquarius season creates new structures for self-awareness in the domain of home and psychological stability. What new means of accountability have you cultivated these past two years with Saturn in this domain? And which blind spots must be confronted if you want to move forward with your lovers, partnerships, and lifelong ambitions? Ground down now, before the season of resolutions fades, and you'll ensure a year of sustained strength.
SAGITTARIUS & SAGITTARIUS RISING
Take hibernation season to collect inspiration. Watch stimulating movies, reconnect with childhood fascinations, hit your local library, and invest in new modes of therapy. Aquarius and Pisces season enrich the root of your chart, where you interface with the culture, people, and rules that make up your little world. By expanding your daily input, you'll create a more vast and interesting palette to draw from as the year progresses. Now is the time to open up the landscape of your imagination.
CAPRICORN & CAPRICORN RISING
This is about the time of the year when everyone's New Year's resolutions fall by the wayside. But not you! You're in it to win it. On February 7, the asteroid Vesta, archetype of the high priestess, enters Aries in your fourth house of home and psychological rootedness. Vesta commands a sacred ritual life, making your body and home domains into temples. With Venus joining Vesta (and Jupiter) at the core of your chart, you're called to double down on those new and revitalizing routines, structures, and modalities which balance you. Stay strong with your weekly workout plan, Kabbalah course, writers' group, or 12-step meeting: These rituals serve as essential investments in your sustained happiness and success.
AQUARIUS & AQUARIUS RISING
After over two years of reckoning and recovery, Saturn is about to leave Aquarius. Since December 2020, what have you learned about your limits and shortcomings? How have you actively reclaimed your narrative? In February, these firmaments will be put to a final gauntlet. The Leo full moon on the 5th lights up your house of others, and makes you face the ways you still keep yourself small to keep them happy. Clashes with Uranus in your fourth house of home test your self-determination in the face of instability and rootlessness. You're stronger now than you've ever been, and that's worth celebrating. But take this time to soberly examine those spots that need coverage, repair, and restrengthening. By the time Saturn leaves your sign next month, you'll be more powerful, and as unbreakable, as a T-1000.
PISCES & PISCES RISING
This is a spectacular period of creative discovery. Venus cruises in your home sign through February 20, melding ecstatically with the lord of dreams, Neptune, on the 15th. On the 18th, Pisces season launches, followed by a Pisces new moon on the 20th. Embrace any and all inspirations or callings which come through; with Mars in Gemini — the sign of versatility — in your fourth house of mental structuring, we know that your means of expression may change on a daily basis. What's important is that you're showing up and not judging yourself for being inconsistent, messy, or complicated. Whether you're processing it with a typewriter, a piano, or a set of worn crayons, try to enjoy this shimmering surge of passion. You're owed a breakthrough.