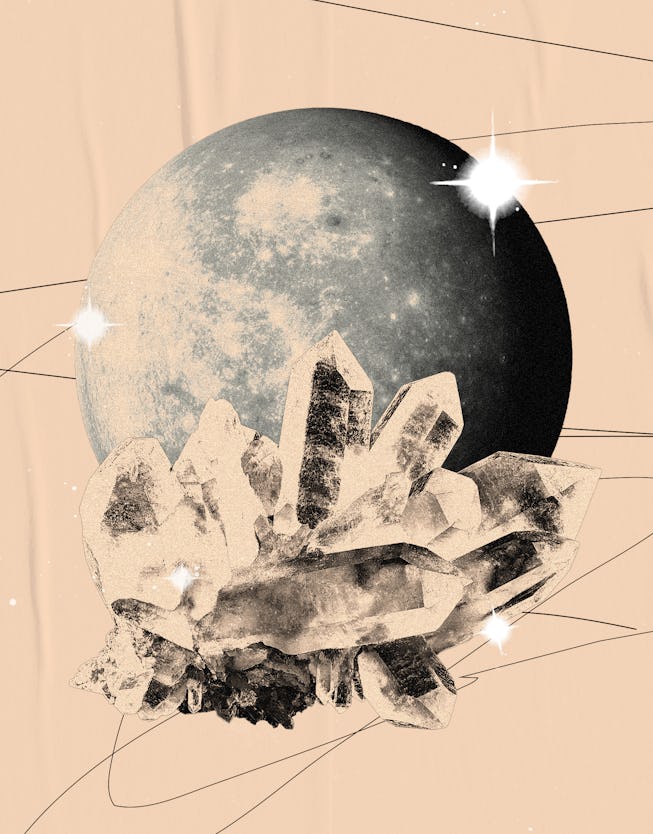 NYLON
Mercury Retrograde In Virgo Clears The Muck Before Fall's Renewal
As Mercury retrogrades in Virgo, it's time to reset the terms and conditions of your life.
Here we go again: From August 23 through September 15, 2023, Mercury goes retrograde in Virgo. After a summer of explosive planetary clashes, a chaos spree from the trickster planet feels like overkill. But Virgo — the sign of clarity and processing — is Mercury's home domain. Could this extended tour offer reinvention, renewal, and a vision for what's to come?
Mercury is the bridge between the abstract to the tangible, the possible to the practical. The god of communication and action rules two signs: Gemini, where they can indulge their passion for dialogue and discovery; and Virgo, the sign of form and definition, where they can shape and execute divine vision. Arriving in time for back-to-school season, Virgo excels in preparation, order and structured reinvention.
So a Mercury retrograde in Virgo, by all expectations, should be a classic: the systems we count on glitch, crash, and melt; perfectly formed plans fall to oblivion; semblances of control in a cruel and capricious world are bent in two. At a basic glance, sure. We know that the consequences will be tangible, felt in botched rent contracts, missing paychecks, and physical calamities. This one won't be subtle.
But Virgo is the sign of efficiency, which means that anything Mercury breaks down wasn't fit to endure. Maybe some flaws in the plan needed to be revealed. Perhaps you were supposed to discover his secret text affair before you stepped under the chuppah together. Maybe the sink had to flood for you to find the deadly mold you've lived with for years? As your life falls to pieces, count on Mercury to laugh at you. If you can't recognize the joke — that your carefully-arranged world is made of popsicle sticks and glue — then you're really asking for it.
MERCURY RETROGRADE IN VIRGO: LABOR AND MONEY
All of 2023's Mercury retrogrades go down in earth signs, which favor the physical and fiscal: Capricorn (stability), Taurus (cash), and Virgo (structure). Ruling the sixth house of work and the body, Virgo sets the terms of our labor: how much do we toil, what are the costs to our health, and how are we compensated?
With the arrival of Jupiter in Taurus in May, 2023 has so far been defined by battles over money — on the senate floor and even on the Hollywood Walk of Fame. First, there was the writers' strike, then, as soon as Venus went retrograde in Leo, the actors joined in on the march. Not to mention 15,000 hotel staffers striking in Los Angeles; taxi drivers striking in Cape Town; the ongoing rail strikes in the UK and beyond. Jupiter's May square with Pluto in Aquarius brought the threat of AI to the fore: what if the machines take away our livelihoods? And Jupiter's current squares with planets in Leo are kicking up issues of worth, unearthing ancient rage about how we've been overlooked, ignored, and sold short.
Whatever your fiscal situation or career future, it goes without saying that the tectonic plates are moving, and fast. Mercury's extended tour in Virgo offers a chance to get a grip of our vocations, compensations and financial realities. Though it's likely that many of these large-scale labor strikes will rage throughout Jupiter in Taurus, this retrograde offers a chance to to hash things out and set a firm path for the future. Take advantage of it. With the use of his winged sandals and caduceus, Mercury can travel between worlds and kingdoms in a blink. Repair your vessel now, so that you can ride with him, and not drown in the inevitable storms.
MERCURY RETROGRADE IN VIRGO: RENEWAL
This summer's Venus retrograde in Leo (lasting from July 22–September 3) began the day Barbie hit theaters. And so we all are undergoing an intrinsic and immediate makeover, stepping into our power and confronting the ways we've seen ourselves as abandoned, invisible, and unworthy of love and affirmation. Mercury can aid in the reinvention. This summer has been one of violent clashes and intense change, with squares between Taurus and Leo, and oppositions between Virgo and Pisces. Take this retrograde to make sense of what you've left behind, and to process all that you've integrated. Like Barbie, you've only just set foot in a liberated new world. Part with who you were, and blow her a kiss in the rear-view mirror.
On September 6, the sun and Mercury form a cazimi, a magical union in which closure and cohesion are possible. Mercury retrograde ends on September 15, followed the next day by Rosh Hashanah, the Jewish new year. On September 19, Hindus celebrate Ganesha, the god of new beginnings and clearer of obstacles, at Ganesh Chaturthi. Then it's the autumn equinox on September 23. Are you seeing the theme here? The season of rebirth is nearly here. Deal with your sh*t, integrate all the hard lessons, and then pack the convertible. We've only just begun.