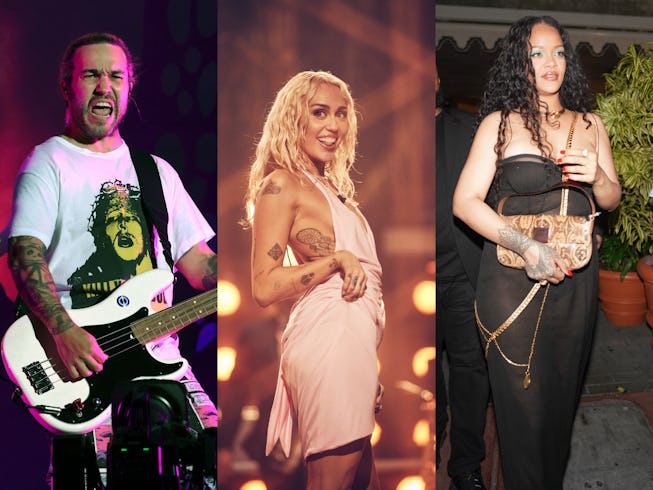 Getty Images
20 Albums We Can't Wait For In 2023
Mark your calendars accordingly.
The start of 2023 means the start of yet another chaotic year of new music releases. It may only be the first week of January but already a slew of major records have been scheduled for arrival throughout the next twelve months, from the return of major music industry veterans Blink-182, Paramore, Fall Out Boy, and Metallica, to what we hope will be next albums from Rihanna and — for the fourth year running — Sky Ferreira. Below, find the 20 biggest releases expected to come in 2023, and mark your calendars accordingly.
100 gecs
After shaking up pop music with their disorienting, internet-derived debut record 1000 gecs in 2019, the duo of Dylan Brady and Laura Les is returning with its long-awaited sophomore record 10,000 gecs on March 17. Details are scarce on what to expect, but given that it's 100 gecs, you can probably expect the unexpected.
Blink-182
Blink-182 is back in OG formation with Mark Hoppus, Tom DeLonge, and Travis Barker at the helm. Last year, they came back with "Edging," the three members' first song together in a decade. The group will follow that up with an as-of-yet unnamed studio album to go alongside their massive world tour kicking off March 2023.
BTS
BTS might be on a hiatus, but its seven members are busier than ever. As they all prepare to start their mandatory military service this year on a rolling basis, some members will have the chance to drop of a solo album right before they go. Last year, J-Hope and leader RM kicked off the releases with their respective excellent projects Jack In The Box and Indigo, and ARMYs can expect more where that came from this year. Specifically, four more, if the CEO of HYBE, Park Ji-Won, is to be believed. Suga, V, Jimin, and Jungkook may all release solo albums in 2023, news that should make all ARMYs very happy.
Caroline Polachek
Pop music hasn't been the same since Caroline Polachek dropped PANG! in 2019. Her sinewy, wry, and experimental brand of pop turned the former Chairlift founder into a striking auteur, and she's back with another reinvention with follow-up album, Desire, I Want To Turn Into You, due out Feb. 14. Its first single, "Welcome To My Island," points to the wacky direction the new project will take, exploring more unconventional sounds and melodies, and pushing her already impressive vocals further.
Ellie Goulding
After a momentous 2020 which saw her album Brightest Blue go no. 1 in the U.K., Ellie Goulding will release her new album, Higher Than Heaven, on Feb. 3. The record has already unleashed some bangers in the form of pre-release singles "Easy Lover," and "All By Myself," and promises more pop magic to come, with producers for Sia, Charli XCX, Dua Lipa, Maggie Rogers, and more involved.
Fall Out Boy
Pop-punk's most prodigious — and prolific — band is making its return. Patrick, Pete, Joe, and Andy, have more or less announced that new music is coming this year. Sadly, details are scarce right now — it's really just a few teaser images and cryptic postcards sent to fans — but we do know a pink seashell beach is involved.
Kelela
After disappearing from the public eye for a few years, alt-soul singer Kelela will release The Raven on Feb. 10. The 15-track project has already been described as a "sonically beautiful and lustrous experience," and we certainly get that vibe from the already released singles "Washed Away" and "Happy Ending."
Lana Del Rey
Did you know that there's a tunnel under Ocean Blvd is the title of Lana Del Rey's forthcoming ninth record, due out March 10. Jack Antonoff once again produces on the record, alongside Drew Erickson, and Zach Dawes, and it will include guest features from Jon Batiste, Father John Misty, Judah Smith, and Tommy Genesis — a mixed bag!
Måneskin
Måneskin, who made the whole world horny for glam rock all over again after winning 2021 Eurovision, will finally release their first studio album this year — and soon! Titled Rush!, the project drops Jan. 20, and will include previously released singles "Supermodel" and "The Loneliest."
Meet Me @ The Altar
In 2020, we called the young, female-led band Meet Me @ The Altar the future of pop-punk, and that title still stands. In 2023, the trio will finally drop off their debut LP which they've been teasing feverishly on social media, and have previewed with its first single "Say It (To My Face)." No release date nor title has been confirmed just yet, but we already have our eyeliners at the ready.
Metallica
With Blink-182 and Fall Out Boy coming back, 2023 is shaping up to be a big year for music's biggest veterans — and metal gods Metallica are also making their return. The legendary band's 12th studio album, 72 Seasons, will be its first full-length set of new material since 2016's Hardwired... To Self Destruct, scheduled to arrive on April 14, 2023. The band will then follow that up with a very long world tour kicking off in April 2023 and closing in July 2024. First single "Lux Æterna" is out now.
Miley Cyrus
Lest the cold winds of winter ruin our spirits, Miley Cyrus is returning with her eighth studio album titled Endless Summer Vacation. Out March 10, the album has been described as the singer's "love letter to L.A.," and is already a marked pivot from the grungy but glam rock that saturated her 2020 record Plastic Hearts. Per the album's trailer, this new era is all palm trees, sunshine, and glowing manta rays. Mentally, we're already there.
Paramore
It's been a longtime coming for Paramore who last released an album, After Laughter, in 2016. This year, thier next project, This Is Why, will finally arrive on Feb. 10. The band has already released two singles from the record, its energetic title track (which landed on NYLON's favorite songs of 2022 list) and the crashing "The News." Judging from these appetizers, we know the entree will be another classic.
Rihanna
With a Super Bowl halftime show in her pocket (and rumors of a Coachella headlining set), 2023 has to be the year we finally get R9. Let's manifest!
Sam Smith
There is nothing "Unholy" about Sam Smith's road to his new album, Gloria, set for release on Jan. 27. In fact, it's been quite charmed, with the singer's lead single smashing records last year to spend three weeks atop Billboard's Hot 100 chart. We still can't get the song's "oh-e-oh-e-oh" hook out of our heads, and we'll likely be singing it until Smith's 2023 tour, kicking off in July 2023.
Selena Gomez
In press interviews for the release of My Mind & Me, Selena Gomez' eye-opening and intimate 2022 documentary, the singer vowed that she would keep her head down to focus on work for the next few months. That includes her untitled but highly-anticipated next studio album, which seems to have a high chance of being released sometime this year (we're guessing Q3 or Q4). There's no release date or really, anything else for the project, as of yet, but in early interviews Gomez is already calling the music "really happy," and "empowering."
Shania Twain
Nearly three decades into her career, Queen of Country Pop Shania Twain is still going strong. The music icon releases her sixth full-length album, Queen of Me, on Feb. 3 via Republic Nashville, and it's already been preceded by blissed-out and vibrant singles "Waking Up Dreaming," and "Giddy Up!"
Sky Ferreira
🤷‍♀️. IYKYK.
Taylor Swift
Taylor Swift might've released Midnights just last year, but the star has a penchant for popping back up sooner than we expect her. It's been months since fans correctly speculated that Speak Now would be the next album to get a Taylor's Version, and it seems right that it would finally arrive in 2023. Rumor has it that the project will drop just before the commencement of her highly anticipated Eras tour.
Twice
Twice, one of the biggest girl groups in the world, is prepping the release of their forthcoming 12th mini album, Our Youth, expected to arrive sometime in March. But first, they'll precede that with the romantically titled "Moonlight Sunrise," the group's second all-English single expected to drop on Jan. 20. There's not much else out about the release right now, but if their track record is to believed, it'll be another smash hit.