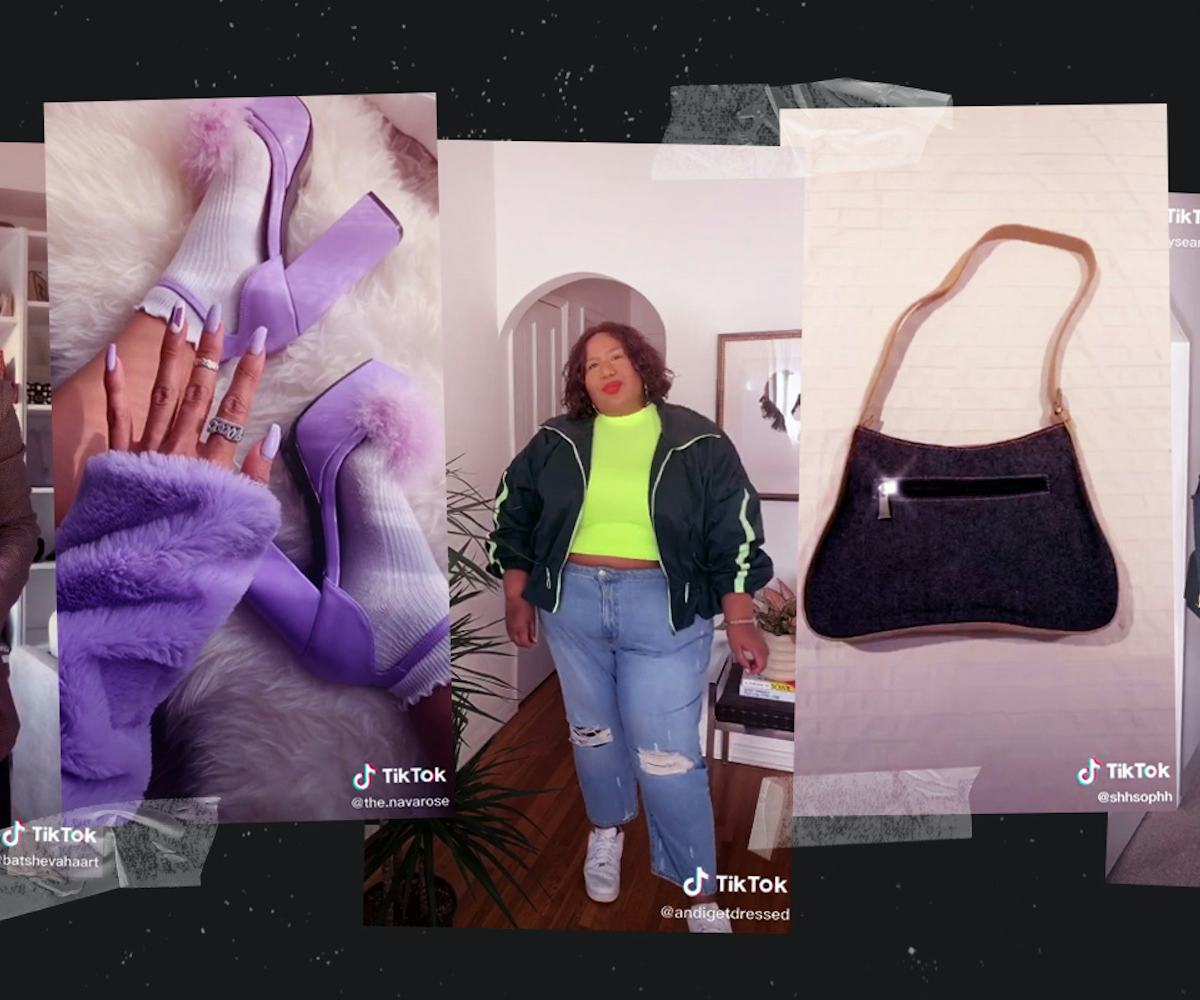 Screenshots via TikTok
7 Viral Ways To Create Fashion Content On TikTok
From DIY tricks to styling tips, give these FYP-worthy video ideas a try
There once was a time, not too long ago, where someone looking to get fashion advice would have to wait for a monthly magazine to arrive in the mail. Now, thanks to the internet and social media, accessible fashion content is available almost instantly and — here's the really amazing thing — anyone can be a part of creating it. If you're a fashion-minded person, you may have started exploring content creation through Instagram and Pinterest, but lately TikTok has quickly become a source for fashion-focused ideas. The social media platform is even starting to build its own roster of homegrown fashion influencers, too, and recently sent three creators to New York Fashion Week to cover the shows for viewers.
Existing completely in video form, TikTok provides the opportunity to more aptly show your personality and the way clothing moves versus an image stuck in time. Plus, the beauty of the app is how there's no need to curate heavily edited, perfect-looking content. Each post created is real and relatable to viewers, an especially important aspect for anyone seeking accessible guides to up their fashion game. If you're a fashion creator who's new to the platform or just looking to expand your style knowledge, here are seven viral ways to use TikTok for fashion content, below. From DIY tricks to styling tips, these video ideas are bound to show up on the For You Page.
Style A Specific Item
One of the most popular TikTok videos from fashion creators is all about picking an item of clothing from your closet and then demonstrating a series of ways to style it. Choosing something like a blazer or mom jeans that a lot of people are likely to have in their closets, as well, can help you reach a wider audience. And it's best to stay true to your own personal fashion sense, feature pieces that you like to wear and followers with a similar style will likely find you.
Copy A Celebrity's Outfit
It's no secret that celebrity style is often far outside of most people's price range. This type of TikTok video is an amazing way to make these high-end outfits accessible to your viewers. Don't get caught up in making each piece an exact replica of the outfit and focus instead on projecting the overall vibe of the look with key pieces. Pick celebrities with a style similar to yours so you can easily use the items in your closet, or go way outside of your comfort zone and replicate an outfit that's nothing like what you normally wear.
Show Off A Shopping Haul
Shopping haul videos have been around for some time, usually taking the form of long-winded recaps on YouTube. Thanks to TikTok, this type of content is getting a revamp with quick transitions and short captions. Plus, most of these hauls are from thrift stores or vintage shops. While laying all of your recent purchases out works fine, try using TikTok's editing features to quickly jump between cuts of you wearing your new pieces. This gives people a better sense of what they really look like and how you would style them.
Create A Theme-Inspired Lookbook
If you haven't gone shopping in a while or simply want to highlight the clothes you already have, video lookbooks have helped fuel some fashion inspiration on TikTok. Pick a theme, such as '70s-era style or the cast of Friends, and go all out. Not only is it a fun way to look at your clothes in a new way, but it's also an amazing way to connect with viewers looking to explore fresh styles of dressing.
Experiment With A Fashion DIY
Now only do Fashion DIY videos show off your artistic skills, but they can help viewers tailor their items to fit their style with a unique flare. Whether it's customizing an item or revamping an entire garment after a trip to the art-and-crafts store, it's all about exhibiting your creativity. This can include anything from painting a pair of shoes to bedazzling a jacket. Try to show the process from beginning to end and provide tips on how to replicate it.
Build An Outfit From Start To Finish
There's something truly captivating about watching someone put together an outfit from beginning to end. To create this type of content, start in sweatpants or pajamas (the true start of any look) and flip to a new shot with each item added until your full look is complete. These sartorial montages could soon become your signature source of fashion content.
Offer The Best Poses For Photos
Aside from all of the amazing outfit ideas, content on how to pose to show off said outfits has been steadily growing on TikTok. (Fit pics are still a big deal on Instagram, of course.) Whether in video form or through a slideshow of photos, this is a perfect opportunity to have your personality shine through. We love the funny take on posing for the camera in the video above.