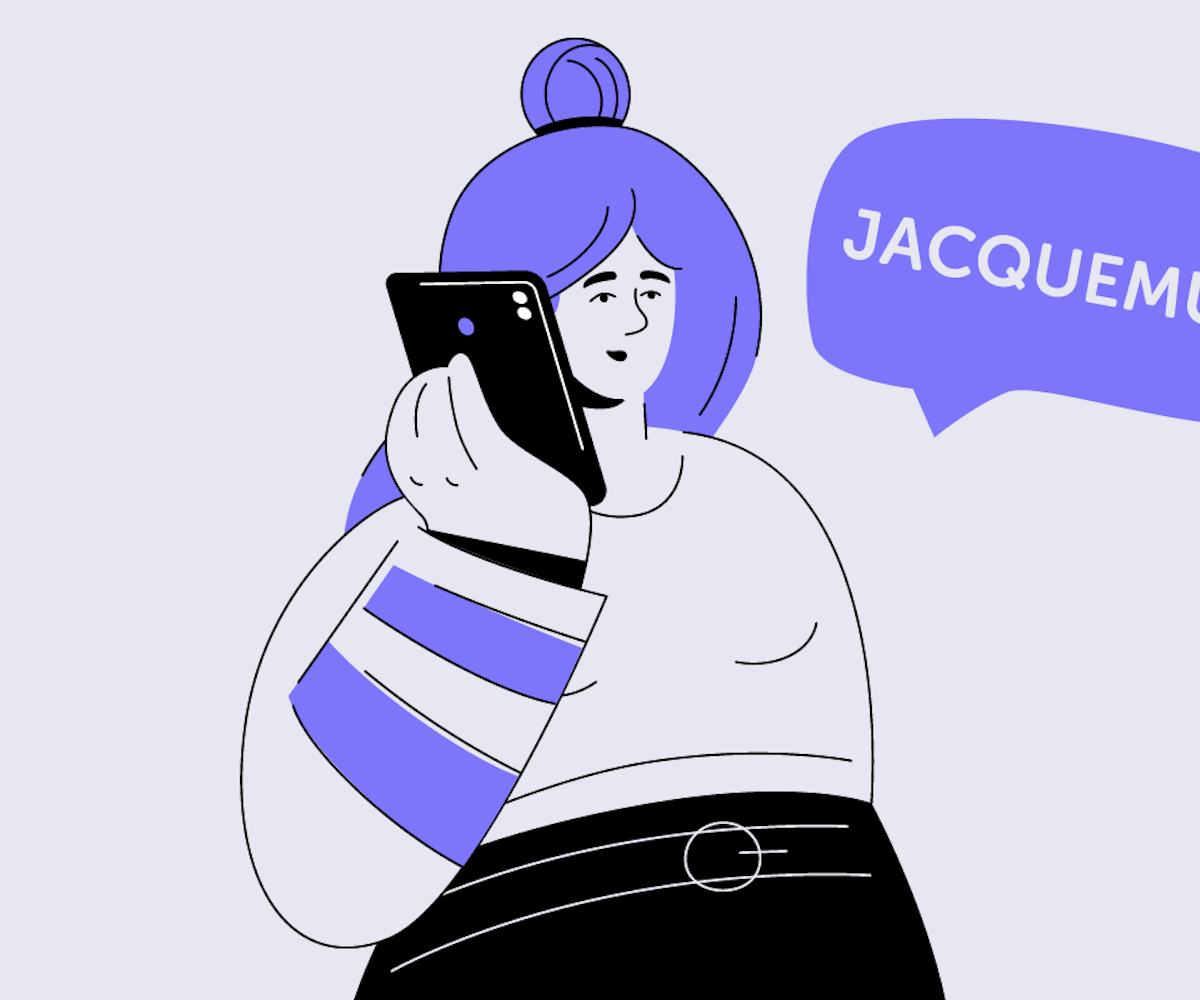 Illustration by Lindsay Hattrick
How To Properly Pronounce 33 Of Fashion's Biggest (And Trickiest) Names
From Jacquemus to Pyer Moss
Fashion Month has *officially* kicked off as of this morning, with the first full day of shows beginning in New York before continuing on to London, Milan, and Paris soon after. With that said, it's time to be prepared to have some very *intellectual* conversations with your friends and colleagues about your favorite collections—and we want to make sure you pronounce them correctly. If you've ever been too afraid to utter "Jacquemus" aloud, keep reading, this one's for you.
Even if you think you have fashion's designer encyclopedia locked down, chances are you might still be getting a few key names wrong. What could be more horrifying than mispronouncing Givenchy in front of your snobbiest co-worker? And even if you're well-versed with the industry staples, it's pretty tough to keep up with all of the newer, buzzy names that have emerged in recent seasons (think: Pyer Moss, Beaufille, and Eckhaus Latta).
Fear not, we put together a comprehensive pronunciation guide of some of fashion's biggest (and admittedly, trickiest) names, from the basics up to the newcomers. Read on (and out loud, obviously), below.
Alessandro Michele
Gucci creative director Alessandro Michele's last name seems to be a struggle for some: "ah-lay-sahn-dro mih-keh-leh."
Anna Sui
If we had a nickel for every time someone mispronounced "Sui," we'd be rich: "an-na swee"
Ann Demeulemeester
We promise it's not as intimidating as it looks: "ann de-mule-eh-meester."
Batsheva
Prairie dress connoisseur Batsheva Hay's eponymous label is pronounced: "bat-sheh-vah."
Beaufille
This one can be tough if you don't speak any French, as the ending "-le" is essentially silent, meaning the name (which translates to "handsome girl") is pronounced "bo-fee."
Comme des Garçons
Even after the 2017 Met Gala, we still hear this one mispronounced: "comb dey gahr-sown."
Eckhaus Latta
While the spelling may be intimidating, pronunciation is simple: "eck-house la-ta."
Givenchy
Another commonly mispronounced fashion staple, where the G is pronounced the soft French way, i.e. like a J: "jzee-vawn-shee."
Hermès
A classic! Please stop saying "her-meez," it's: "air-mehz."
Jacquemus
Jacquemus, the label behind the ultimate minuscule handbag, has been a buzzy name in the industry as of late. Except, how the hell do you say it? The trick is to ignore the "que": "jack-mahs."
Khaite
This one is simple: "kate."
Kim Shui
Buzzy NYFW designer Kim Shui's name is pronounced as follows: "kim shoo-wee."
Loewe
PSA everyone, the W is pronounced like a V: "loo-eh-vay."
Maison Margiela
Another soft G situation: "may-sohn mar-jhell-ah"
Marine Serre
Everyone seems to get confused when pronouncing this buzzy French designer's name: "mah-reen ser"
Maryam Nassir Zadeh
NYC-based contemporary label Maryam Nassir Zadeh should be pronounced as: "mary-um nah-seer zah-dey."
Monse
Yes, Monse is two syllables: "mon-say."
Moschino
Everyone's always like, "Is it she or key?" It's the latter: "mohs-key-no"
Olivier Rousteing
Balmain's iconic creative director is French, and therefore, his name should be pronounced as such: "oh-liv-ee-ay rhoo-stayn." (And for the record, Balmain should be pronounced: "bahl-mahhn," not "ball-maine.")
Olivier Theyskens
The prolific Belgian fashion designer, who's worked at the likes of Nina Ricci, Theory, and Rochas, is pronounced as follows: "oh-liv-ee-ay tay-skins."
Prabal Gurung
Prabal Gurung is unfortunately very often a victim of mispronunciation. Let's clear it up for you: "prah-bull goo-roong."
Proenza Schouler
Is it pronounced like school-er or shoe-ler?" The former: "pro-en-zuh skool-er."
Pyer Moss
In case you missed this, Pyer Moss designer Kerby Jean-Raymond cleared up the whole pronunciation debate on Twitter last year: Pyer is pronounced like "Pierre."
Rodebjer
I'll admit, I was slightly off on this one for some time. The Swedish-owned, New York-based label is pronounced "roh-duh-beer"–the J is silent!
Saint Laurent
If you want to pronounce this one properly, don't forget the Ts are silent: "sahn loh-ron."
Sies Marjan
This one is less intimidating than it may look: "sees mar-jahn" (the J is, in fact, not silent!).
Simone Rocha
Some may think the Irish designer's last name is pronounced with a hard "ch," but it is in fact "sih-mone row-sha."
Thakoon
Thai-American fashion designer Thakoon Panichgul's namesake label is pronounced as follows: "tuh-koon."
Tomo Koizumi
This Tokyo-based newcomer, who will be debuting his much anticipated second collection this week in New York, has a semi-intimidating name to pronounce: "toh-moh kai-zoo-mee."
Versace
Remember that time Donatella Versace herself called out Americans for pronouncing her last name incorrectly? We do. It's not "ver-sah-chee," guys, it's: "ver-sah-cheh." (It's definitely not Ver-say-ss.)
Vetements
A classic in terms of fashion mispronunciations! For those of you that don't know by now, it's "vet-mahn," with the T silent. (Bonus? The label's head designer Demna Gvasalia is pronounced "deem-nah vah-sal-eeyuh."